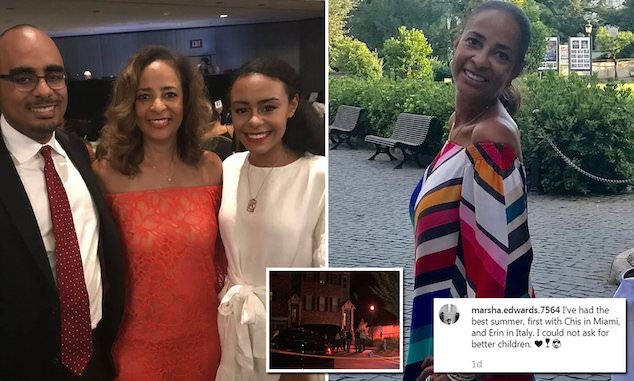 What led to Marsha Edwards Cobb County, Atlanta mother killing her two children along with herself in suspected murder suicide? Deaths follow social media post praising son & daughter as 'best ever.' 
A Georgia woman is suspected of having shot dead her two adult children before turning the gun on herself – days after the woman having posted on Instagram, 'I could not have asked for better children.'
Notice of the suspected double murder suicide came after police conducted a welfare check at a home in the upscale gated community of Vinings, just outside Atlanta – on Wednesday at the request of a concerned family member – whereupon they discovered the bodies of Marsha Edwards, 58, along with her daughter Erin Edwards, 20, and son Chris Edwards, 24, Wednesday evening.
Cops determined the brother and sister dying of gunshot wounds – while saying their mother Marsha died of 'an apparent self-inflicted gunshot wound', The Atlanta Journal-Constitution reported. 
Cobb County police in a press release said it was not clear exactly when the shootings happened. Of note- the murder suicide occurred sometime after Marsha Edwards having just days earlier returned with her daughter from a vacationing in Italy.
Cobbs County murder suicide: 'Prominent' family had everything to live for.
NBC reported Marsha Edwards having a doctorate degree in medicine who owned medical supply company MME Enterprises, which she founded in July 2015, according to the company website.
The medical entrepreneur was in April voted as one of Atlanta's 100 most powerful and influential women of 2019 by the Women Works Media Group. An acknowledgement that Marsha Edwards daughter proudly reveled in on social media WTHR reported.
Erin Edwards was a junior student at Boston University studying journalism. The budding reporter had just finished a summer internship with NBC 4 New York.  
Chris Edwards was digital content manager for the City of Atlanta and worked in the Mayor's Office of Entertainment, according to WXIA. 
Marsha was divorced from her children's father Dr. Christopher Edwards, a prominent orthopedic surgeon in the Atlanta-area who leads the Atlanta Housing Authority board and also sits on the board of trustee for the Morehouse School of Medicine according to the Atlanta Journal-Constitution.
Just two days before the killings, Marsha Edwards had posted on social media about enjoying a vacation with her daughter Erin in Italy, sharing holiday photos from Vatican City, Rome and Venice. 
'Fortunate to have dinner at The Vatican after our tour,' she wrote in a post on Monday.
On Wednesday, the same day as the killings, Marsha posted on Instagram: 'I've had the best summer, first with Chis in Miami, and Erin in Italy. I could not ask for better children.' 
Marsha Edwards is suspected of killing her two adult children, Erin Edwards and Chris Edwards, then herself in what police believe was a double murder-suicide.https://t.co/VwFyvjzzsH

— Doha Madani (@DohaMadani) August 23, 2019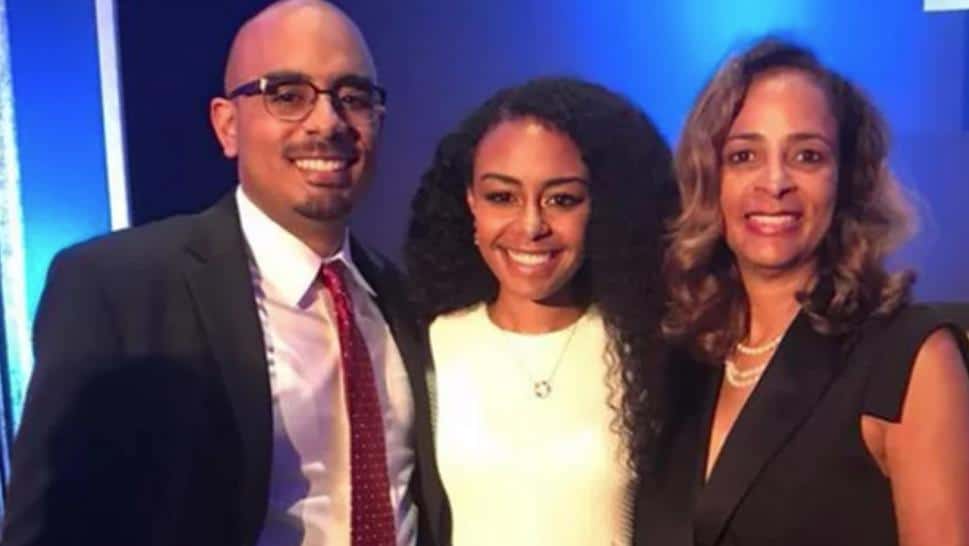 Edwards family traveled in gilded circles: 
The Edwards family was well known in the community and mingled in the medical and media circles in the city, and boasted a close friendship with Mayor Keisha Lance Bottoms.
Dr. Christopher Edwards was the son of the late Delmar Edwards, who was the first black orthopedic surgeon in Columbus, Georgia and respected figure in the medical community. 
The killings came a shock to neighbors who described the Edwards as a 'happy family'. 
'From our knowledge, no malice between the children or nothing like that. They just seemed like a normal happy family,' one neighbor said to WTVM. 
It remained unclear if the mother and her children having incurred any recent enmity towards each other and whether unknown affairs threatened to unravel their standing.
Not immediately clear is how the mother was able to obtain the weapon used in the shootings and whether she may have been on prescriptions or other drug substances.
The family was close friends of Atlanta Mayor Keisha Lance Bottoms who shared a statement Thursday night mourning their deaths. 
'Derek and I joining the greater Atlanta community in mourning the loss of three members of the beloved Edwards family. Chris and Erin were beautiful, vibrant, and brilliant young adults, whom we had the pleasure of knowing their entire live. They filled the lives of all who met them with joy, compassion and kindness,' she said. 
The family were members of the National Association of Black Journalists and the three recently attended an NABJ event in Miami.  
The organization shared a statement following their deaths. 
'The #NABJ family has lost three of our own. Our prayers and thoughts are with the family, friends and colleagues of Marsha Edwards, Christopher Edwards II and Erin Edwards. This tragedy has claimed the lives of three members, but touches countless more.'
Police have yet to determine why Marsha Edwards may have taken the lives of her two children before then shooting herself dead.