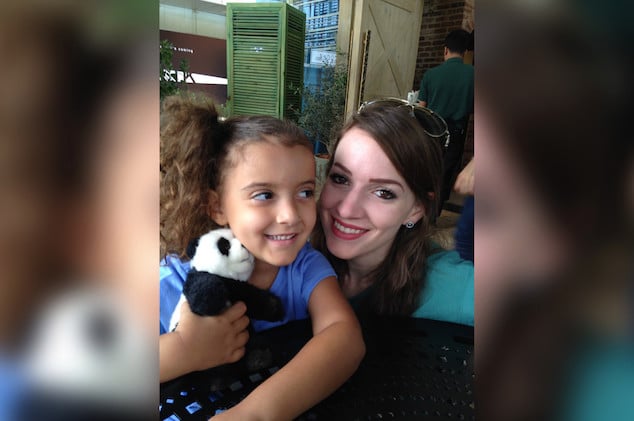 Saudi Arabia court removes 4 year old daughter from American mother Bethany Vierra for being too Western as the Washington State native files an appeal to retain child custody.  
An American woman living in Saudi Arabia has until the end of Sunday to lodge an appeal after a court decision in July led to her losing custody of her infant daughter after she was deemed 'too Western to raise the child' in the strict Islamic country.
Bethany Vierra, 32, a Washington state native who moved to the Middle East nation in 2011, fought for custody of 4-year-old Zaina after divorcing her husband, Ghassan al-Haidari in 2017, accusing him of being verbally abusive and abusing drugs, her family told CNN over the weekend.
The yoga teacher lost her bid for custody after the Saudi Arabia court deemed her a bad parent under the principles of Sharia law —in part as a result of images on social media revealing her having gone to Burning Man along with instances of 'nudity' on her feed.
'The mother is new to Islam, is a foreigner in this country, and continues to definitively embrace the customs and traditions of her upbringing,' Judge Abdul-Ellah ibn Mohammed al-Tuwaijri wrote in his judgement, according to CNN.
'We must avoid exposing (Zaina) to these customs and traditions, especially at this early age,' the judgement warned.
Saudi Arabia court room drama: 
Vierra's family say the young mother has now filed an appeal seeking to contest the court's ruling. Zaina had been allowed to stay with her mother until Sunday. 
If she loses, Zaina will be given to her Saudi grandmother after the judge claimed that 'it is in men's nature not to stay at home and not to honor/fulfill parental role themselves,' according to the report.
Adding fissure are claims that Vierra has been banned from leaving Saudi Arabia for the next 10 years, for reasons that remain unclear. Vierra's family also say the young mother has a warrant for her arrest after missing a child visitation that she had no knowledge of.  
'She may lose her life doing this, or we may never see her again,' Vierra's father, Myron Vierra told CNN on Saturday.
Adding, 'She wants to have the rights to go and come. She used to have that right.' 
It remained unclear if the US government now intends to intervene on behalf of Vierra and her family.
A US State Department official told CNN that it was aware of the case, but would not comment 'due to privacy considerations.'
'Speaking generally, the Us Department of State and our embassies and consulates abroad have no greater responsibility than the protection of US citizens overseas. US citizens abroad are subject to local laws,' the official added.
I feel very bad for Bethany Vierra and think that our state department should address this. That being said, if you marry a Muslim man and move with him to a strict Islamic country, do you think what could possibly go wrong?

— Infidel realist (@wittwer_brad) August 18, 2019
#vision Free Bethany Vierra now!🙏 https://t.co/UG9oufmc6o

— Princess Isobel Aura (@IsobelAura) August 17, 2019