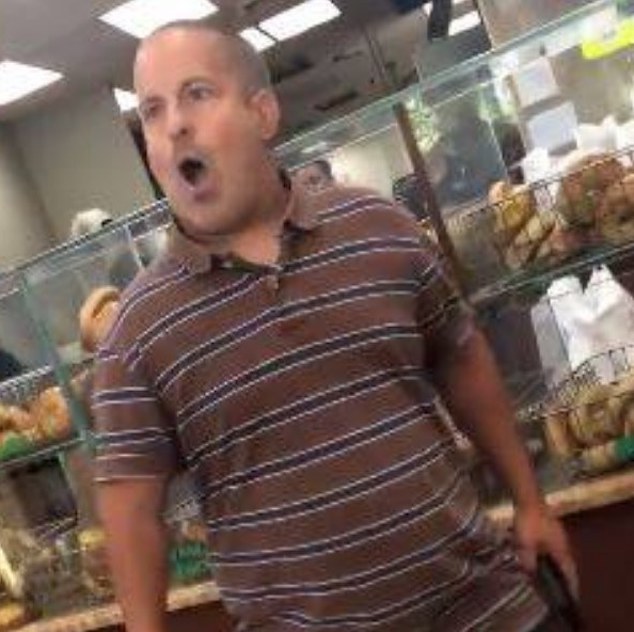 Chris Morgan aka Bagel Boss Guy caught on video going on misogynist tirade after female staff member taking his order at Long Island venue. Video filmed by

Diana Reyes.
Going viral is video of a Long Island bagel shop customer, Chris Morgan, 45, lashing out at other patrons about women rejecting him because of his short stature.
'Why is it OK for women to say, 'Oh you're 5 feet' on dating sites — you should be dead. That's OK?' the Bagel Boss Guy customer roared in a video shared to social media following Wednesday morning's tirade. 
The 45-second clip showed the vertically challenged customer at the Bay Shore location lash out at a female customer Wednesday morning before he was tackled by another, much larger man in the store.
'Women in general have said it on dating sites. You think I'm making that shit up?' the man since branded, Bagel Boss Barry shouted.
Adding, 'Everywhere I go I get that same fucking smirk, with the biting lip.'
so in bagel boss this morning, the misogynistic douchebag seen in the video was degrading almost all of the female staff as well as other patrons. fuck this guy. pic.twitter.com/LZh1Uk4UXZ

— olivia shea 🏳️‍🌈 (@oliviabradley88) July 10, 2019
BREAKING: We have another angle and footage of what happened at the Bagel Boss AFTER the angry guy went down. The girl at the end with the glasses and the pineapple bun just nodding and smiling at the end is the best part. (via @mikelivorio_ ) pic.twitter.com/Y3DwWbfD2O

— Amee Vanderpool (@girlsreallyrule) July 10, 2019
In search of a good lay: 'Shut your mouth. You are not God or my father or my boss'.
Employees at the Bagel Boss chain said Morgan, a 45 year old divorced, childless cleaning company owner from Long Island — who didn't appear to be a regular — walked in around 9 a.m. Wednesday 'screaming about the dating sites and how women hate him.'
'This is crazy but the man was very upset he was short; he went off on the women about dating sites,' a store manager told via the nypost.
The manager said a female worker was serving the man when the woman looked up and smiled at him.
'He just went totally nuts. He said 'why are you smiling at me?' she said. 'He started saying it's because I'm short and nobody wants me.'
Diana Reyes, who filmed the unfolding scene, said that she and her three friends were waiting to order when they overheard the Bagel Boss customer seemingly degrade a female worker.
'My friend was like 'She's just trying to do her job, leave her alone,' 18-year-old Reyes said.
But the comment released a rush of rage from the man as he hurled misogynistic comments at the line of customers.
'It was insane. I personally never have heard anyone say that but to be there in person, it's insane to see that someone has that mind process,' said Reyes, who began recording in case 'God forbid anything happened.'
In the video, another man could be heard telling the angry customer to "calm down."
'Shut your mouth. You are not God or my father or my boss,' Bagel Boss Barry responds. 'Dude, do you want to step outside?'
After getting an earful, the Good Samaritan lurched at the customer and took him down.
Explained Morgan via the dailymail of his frustration with dating: 'They don't have a job, or a job as good as mine. They don't have a car. They are more overweight… and they are judging ME?
The 5ft-even sprite proclaimed himself as a 'prophet' and also referred to himself as 'the modern day Martin Luther King.'
'I have a mission. The girls hate me, they don't like me, that's fine,' Morgan added. 'I'm not stopping and the world is going to hear me. I want equality for everybody. '
Suffolk County cops said they responded around 9:20 a.m. to the bagel store fight. There were no injuries and there weren't any charges filed, authorities said. Morgan has since said he feels 'vindicated' for his comments. 
And then there were these responses on social media- see what you think?
Here's the thing though isn't the Bagel Boss guy like clearly mentally ill? Not excusing his bad behavior just wondering is making him go viral is the right move here.

— Michelle Collins (@michcoll) July 10, 2019
Because it's how all the women treat him….I'm going to go out on a limb and say it's not his height that's keeping him from getting dates.

— Sara (@GeekySara) July 10, 2019
Already got my Bagel Boss Guy halloween costume lined up pic.twitter.com/7XNsjfcgzc

— Angle's Landing (@sthmrrll) July 10, 2019