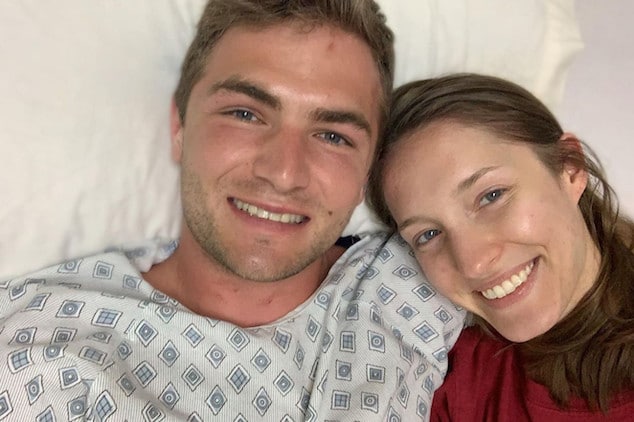 Clay Chastain a newly Indiana married man survives 70ft fall into dormant volcano with the help of new wife during honeymoon. Couple were also facing costs of $35K for medical transport.
An Indiana man who plunged 70 feet into a dormant volcano on the Caribbean Island of St. Kitts during his honeymoon has survived his ordeal only to face a new ordeal- his insurance company refuses to pay for an air ambulance back to the US costing over $35K.
Clay Chastain and his wife, Acaimie, had traveled to the exotic island after their wedding in the city of Crawfordsville last month, The Indianapolis Star reported.
On July 18, four days after their arrival, the newlyweds hiked two miles up Mount Liamuiga — with Clay saying that he wanted to climb into it for a better view of the lush greenery inside. 
Acaimie stayed behind, fearful of the treacherous climb —only to witness her husband who she only just married plummet 70ft below. 
'One second I'm climbing, the next second the world is spinning, and I can hear her calling down to me,' Clay told the Indianapolis Star.
This is Clay, my brother. While on his honeymoon he fell 70ft, fractured his veterbrae, has air in his skull, a concussion, and is stuck in a St Kitts with his new wife. He needs an air ambulance. It's 35k and insurance won't cover. Help us #BringClayHomehttps://t.co/QkcdJRAFyK pic.twitter.com/1dhEb7CLUt

— Hunter Chastain (@hchastain008) July 19, 2019
A newly married Indiana couple prove the virtues of marriage:
Clay believes his fall may have been caused by a rope that he was hanging onto during his descent snapping. The next thing he knew, his wife was calling out to him, asking if he was OK, and there was a pile of bloody vomit next to him.
He didn't respond at first, so Acaimie made her way down herself.
'I was freaking out about what I was going to find at the bottom,' Acaimie told the media outlet.
When she finally found her husband, she assured him that they'd get out safely.
'We're going to have to be strong,' Acaimie said at the time. 'We're going to have to climb out of here.'
Somehow, Clay had enough energy to climb out and walk two miles down to the volcano's base — but not without stumbling and vomiting. He leaned on his wife for support.
'It was a miracle that he was able to support himself for as long as he did with the injuries he had,' Acaimie recalled. 
About halfway down, Acaimie had cell phone service and called 911. Paramedics rushed Clay to a local hospital — where he was treated for a severe concussion, cracked vertebrae, a skull fracture and loss of hearing in his right ear. 
Air had also gotten into his brain tissue, preventing the couple from taking a commercial flight home. So the pair instead arranged to take a medical flight to Fort Lauderdale, Florida, Wednesday.
Fortunately for the couple – a GoFundme fundraiser managed to cover the $35K cost of medical transport, with funds raised in just over five days- averting a potential another near disaster.