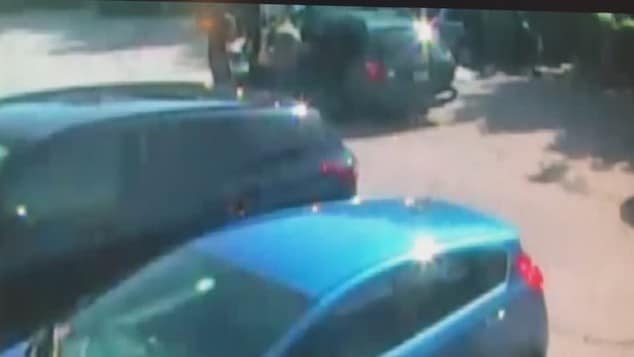 Ann Garnett, Jamestown, RI resident charged with animal cruelty after leaving her three dogs inside a hot car only for the animals to later die that day as temperatures soared.
A Rhode Island woman has been charged after leaving three dogs unattended for an extended period of time in a hot car on Sunday- only to die – as temperatures skyrocketed past 90 degrees, police said.
Booked with the dogs' deaths was 65 year old, Jamestown, RI woman, Ann Garnett.  
Officers were called to the parking lot of a local grocery store about 4 p.m. for a report of three dogs unresponsive inside a vehicle, according to the Jamestown Police Department.
Cops and bystanders tried to revive the animals, but they were pronounced dead after being taken to Newport Animal Hospital, the Newport Daily News reported.
The dogs were described as a 4-year-old gray keeshond and two black Labrador retrievers, a 7-month-old and a 4-year-old. It was not clear how long they were left in the car, which police said was running.
Cops said the air-conditioner in the car was not working, with the car's windows rolled up with no water for the dogs.
'I think any temperature, regardless of whether the air conditioner was on, the windows were down, to be in a vehicle for that extended period of time is clearly unacceptable,' Police Chief Edward Mello told reporters.
It remained unclear what may have motivated the dog owner leaving the animals in extreme heat conditions without necessary provisions.
Upon her arrest, Garnett, was charged with three felony counts of unnecessary animal cruelty and three misdemeanor counts of confinement of an animal in a motor vehicle. Each felony count carries a penalty of up to five years in prison and a $1,000 fine.
A close friend of the woman reportedly told WPRI that the suspect loves dogs and would never leave them in extreme heat conditions on purpose.
'That's just terrible,' contemplated local, Tina Tillinghast. 'That's just common sense. You don't leave an animal any kind of animal a child or anything in the car for any amount of time in this kind of heat.'
Garnett, upon being arraigned at police headquarters was later released.
#New– surveillance video we obtained shows people attempting to do CPR on the dogs, ice them. It also shows them/first responders loading the dogs into a van to be transported to the hospital. @NBC10 pic.twitter.com/RcWUcm4Jbt

— Sam Read (@NBC10_Sam) July 22, 2019