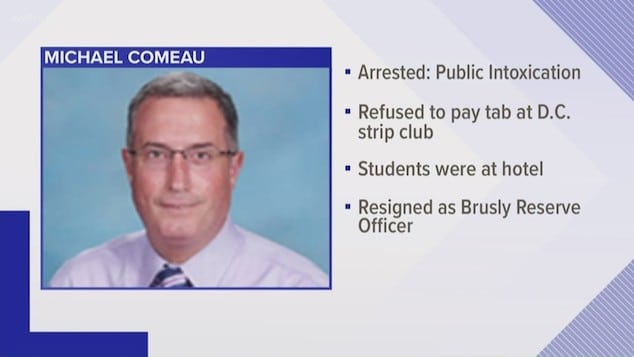 Michael Comeau Louisiana Catholic school principal resigns after strip club drunk arrest incident during student field trip in Washington DC.
The principal of a Louisiana Catholic school has resigned after he was arrested at a strip club in Washington, D.C., while students were in town for a field trip.
Michael Comeau, 47, principal of Holy Family Catholic school in Port Allen, relinquished his post last week following the Thursday incident at Archibald's Gentlemen's Club in Washington WAFB-TV reported.
Police said Comeau, 47, was 'standing in the roadway, refusing to move' when officers arrived at the club circa 2.30am, Friday morning to investigate a complaint of 'an intoxicated man refusing to pay his bill.'
Can you guess who the intoxicated man was kids?
Comeau was eventually arrested on public intoxication and open container charges according to a police report.
Witnesses told WAFB that Comeau, who also was a Brusly Police Department reserve officer, had brought a service dog into the club circa midnight. He reportedly resigned from both jobs after the arrest. Following Comeau's resignation, it continued to remain unclear whether the educator had put a support dog to the adult venue, and if so, on what pretense?
Comeau had traveled to Washington with a group of seventh- and eighth-grade students on a school trip. On the evening of Comeau's arrest, the students were 'in their hotel rooms' and 'under the supervision of other chaperones,' the Diocese of Baton Rouge said in a statement.
Prior to his resignation, Comeau had been principal of Holy Family School for five years while also having served in public education in the surrounding area prior to his engagement at the 'religious' school.
The school administrator started teaching in Florida, earned a master's degree from Northwestern State in Natchitoches, coached soccer at Centenary College before joined the Baton Rouge school system in 2006 before moving to Holy Family School in 2014.
It remained unclear what may have 'motivated' the Catholic school principal to visit the strip club during the school field trip.