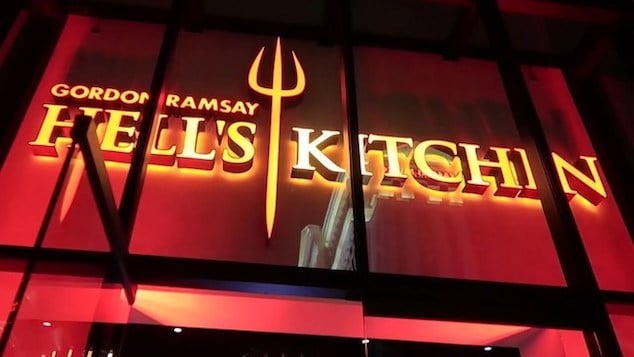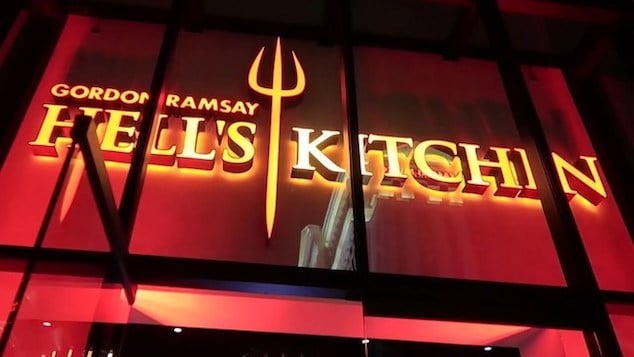 Las Vegas restaurants: Everyone comes to Vegas to enjoy the nightlife and get away from the daily grind at home. Usually that entails a whole lot of gambling and partying (and eating very well too!). 
It also includes stuffing your face with good food.
You're going to need energy to stay sharp at the casino tables and Vegas is loaded with exceptional restaurants to hit up during your stay. If you're preparing for your first trip to Las Vegas, be sure to consider heading out to these can't-miss eateries:
Hell's Kitchen at Caesars Palace
To be frank, you can't really go wrong when eating in Vegas. Got a specific type of food in mind? Want to eat close to your hotel? Prefer to sit down somewhere close to the casino?
It's all covered. If you're breaking down the best Las Vegas restaurants, it's truly a list that could go on and on and differ based on who you are.
While subjective, I'll start things off with a Gordon Ramsay classic. Some will point you to Gordon Ramsay Steak (and they wouldn't be misleading you), but everyone knows the hit show, Hell's Kitchen.
Popularity isn't the only reason to come here, but it doesn't hurt. Hell's Kitchen pays homage to the hit show with a wide open kitchen just like you see on TV and the food is as sublime as it looks on your screen.
From the Beef Wellington to the appropriately named Eggs in Purgatory, you're sure to find a dish you crave while dipping your toe into some reality television nostalgia.
Looking for more pop culture eateries to sink your teeth into? Consider hitting up Vanderpump Cocktail Garden, Giada and Bobby Flay's Shark.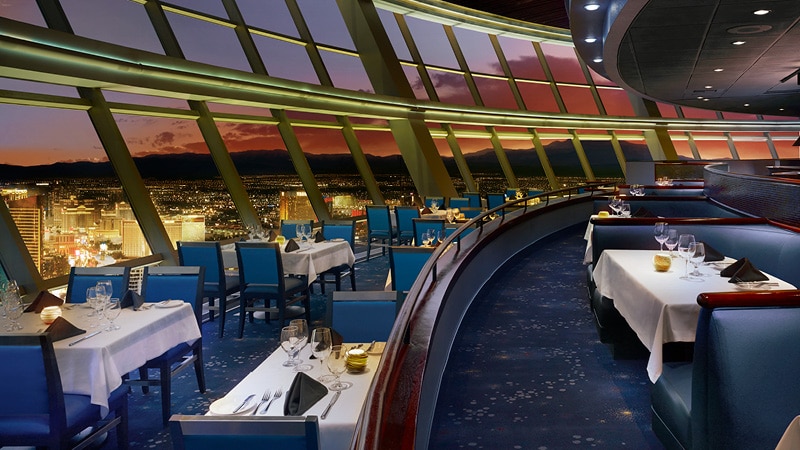 Top of the World
Diners looking for some combination of great food, perfect ambience and an unmatchable view will want to head to Top of the World.
This is a dining experience you quite simply won't find anywhere else. Watching over Vegas with a 360 degree view at the Stratosphere Casino, Hotel & Tower, foodies have included this spot among the most romantic eateries in the world.
Top of the World has racked up the awards since arriving in 1996 and even won the 2018 Best Fine Dining Restaurant award. The lobster bisque is a headliner, while the amazing samplers at Top of the World and the four-course special are fan favorites.
Putting Top of the World at the front of the line? Their amazing customer service. This isn't a spot to save cash, but it checks off all of the boxes and is one of the more unique restaurants in Vegas.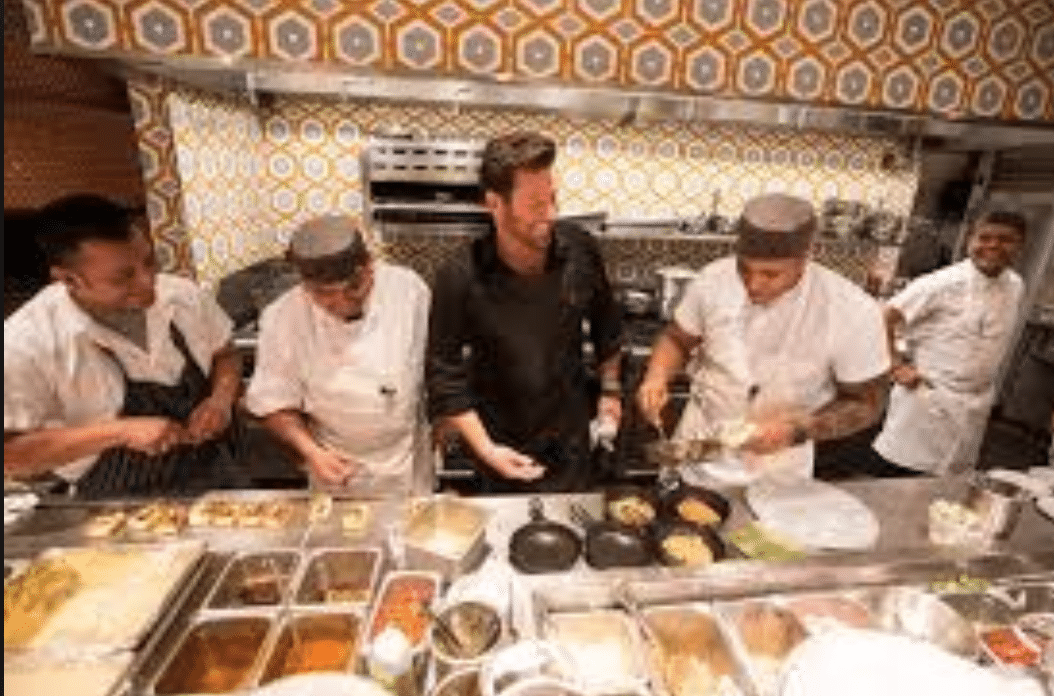 Masso at Red Rock
Renowned chef Scott Conant fuels this brilliant Italian restaurant that blends affordable cuisine with high-end atmosphere and service at Masso Osteria.
Diners can access Italian greatness at the Red Rock Casino, Resort & Spa, where they'll find perfect ambiance, friendly customer service and stellar Italian dishes.
You can go anywhere for Italian, but Conant's imprint is felt throughout the list of spot-on Rustic Italian plates, while Masso draws rave reviews for its ambiance, tasting menu and wine.
Desire amazing Italian food that will make you think of Italy, but want to stay close to the casinos? Masso may be the restaurant for you.
#97. Pizza Rock in Las Vegas (@PizzaRockLV) makes an outstanding Margherita pizza using owner and 12-time pizza making champion Tony Gemignani's award-winning recipe. But only 74 are made each day, so get them while they're hot. https://t.co/L4JYXYM4lM pic.twitter.com/Er84izohzS

— The Daily Meal (@thedailymeal) September 27, 2018
Pizza Rock
If you're feeling a pizza pie while on the strip, there's no better joint to head to than Pizza Rock. Everyone has a different opinion on what the best pizza looks like and tastes like.
At Pizza Rock, you're looking at a massive menu that caters to almost all pizza specialties. Order it by the slice (which aren't small) or roll with a massive group pie.
Diners can also be choosy as to what type of pizza they can indulge in. Sicilian, Chicago, Italian, Detroit, New York and other variations are available, not to mention Pizza Rock's own salads and sides.
Named to The Best of Las Vegas in 2015, Pizza Rock is brought to you by 13-time World Pizza Champion, Tony Gemignani. Authentic, creative pizza can't be done much better and if you're trying to find superior pizza in Vegas, you'll be on the hunt for some time.
The Heart Attack Grill: The Hamburger Restaurant that Celebrates Unhealthy Food https://t.co/GtN9Dr7nh9 pic.twitter.com/SngHq2FLAl

— Joel Comm (@joelcomm) June 4, 2019
Heart Attack Grill
No list of Vegas restaurants you need to visit is complete without an isolated burger joint. And what's possibly going to hit the spot better than Heart Attack Grill?
I'll admit there are a lot of burger places to consider.
I partially love this place just for the humor. Go ahead and search Heart Attack Grill online and you'll see questions asked about the restaurant. One is if they serve anything vegan and the only answer? Ice.
Funny, but true.
This themed restaurant sets the tone immediately with the wait staff dressed like nurses. The customers get their own hospital gown and (if you agree to it) you can get a spanking for not finishing your meal.
If not, pass it along to someone else in your party.
The name suggests danger is afoot, but hardcore burger lovers won't be disappointed. You may not be able to finish the generous portions, but you'll fall in love with the heaping mounds of beef done in the way you choose.
If you're not up for the theatrics and want something a bit more laid back, perhaps Umami Burger or FukuBurger could do the trick. But if you want an experience and an amazing, mouth-watering burger, there isn't a better burger joint to try in Vegas.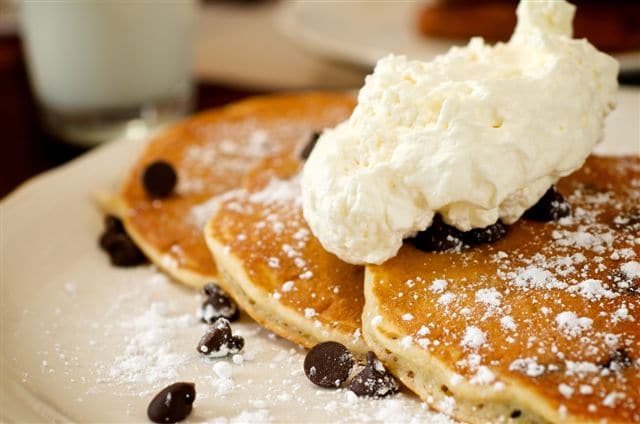 The Original Pancake House
No tour through the top restaurants to eat at in Vegas is complete without a nod to the best breakfast joint. After a long night of eccentric (and pricey) dishes, you can start the next day fresh with a trip to The Original Pancake House.
No, this isn't IHOP and it's not watered down breakfast, either. The Original Pancake House offers some of the best breakfast you'll find anywhere – let alone during your stay in Vegas.
Amazing service gets things started off right, while customers can choose between signature items like the Apple Pancake or Dutch Baby, while breakfast staples like omelettes, corned beef hash, waffles, crepes and so much more can be found – all with an original spin.
Feel free to peruse other fantastic breakfast pits like The Egg & I, Mr. Mamas and Rise and Shine. Heck, you can even play it safe with Hash House a Go Go. Just know nobody does the first meal of the day better than The Original Pancake House.
There are honestly so many great Vegas restaurants to name. I almost want to put In-N-Out Burger in here just because.
Yeah, it's a chain and as mainstream as it gets, but awesome and in Vegas, nonetheless.
You can go insanely high-end with Restaurant Guy Savoy. You can hit up another resort hit like CATCH at the Aria Resort & Casino. You can try amazing sushi at Kabuto, authentic Japanese dishes at Abriya Raku or enjoy a craft beer with American dishes at Sparrow & Wolf.
It's Vegas. There are celebrity chefs and rising culinary artists just looking to appease your taste buds. Not every place is necessarily going to be kind to your wallet, but few spots in Vegas will disappoint the mind, soul and most importantly, your palate.
No matter where you go, the aforementioned Vegas restaurants are worth checking out. Hopefully if you visit them, your experience is as good as I think it will be.