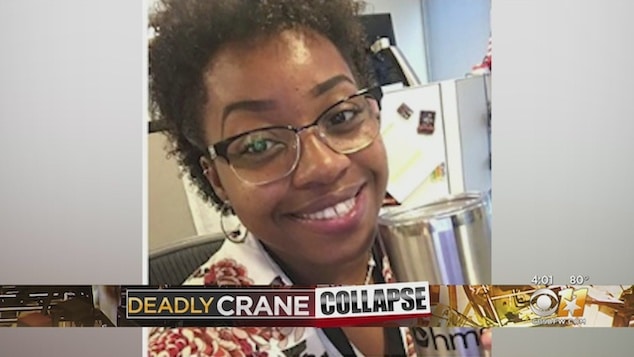 Kiersten Symone Smith identified as the fatal victim of Dallas crane collapse which also injured five others following storm. Crane manufacturer had been cited for previous safety standard concerns. 
The fatal victim of a crane collapse in Dallas following a storm was identified on Monday as friends and family paid homage to the victim which also included five other individuals being hospitalized.
Kiersten Symone Smith, 29, was killed when a crane fell on an apartment building in the city on Sunday amid severe thunderstorms that uprooted trees and left thousands without power, according to Dallas officials. The incident follows in the backdrop of the crane manufacturer previously being plagued with 'safety issues' (more below).
Notice of Smith's untimely death led to an outpouring of solidarity and good will for the woman who was credited as having an 'unbelievably big heart.'
'My younger sister, Kiersten went to be with the Lord on June 9th, 2019,' Toni Smith posted on Facebook.
'What gives me peace is that I know she was HAPPY. She was in love with a great guy, soon to start a new job, and had so many other wonderful things to look forward to. She was taken from this earth WAY TOO SOON. She was my best friend and this hurts so much right now.'
The sister added: 'I will miss you terribly. Your big beautiful smile, your random singing and dancing, your advice, and your unbelievably big heart.'
Smith was pronounced dead at a hospital, according to the Dallas County Medical Examiners' office. Her exact cause of death has not been determined.
Smith worked as a human resources operations specialist for Tenet Healthcare Dallas CBS local reported.
'We are deeply saddened to have lost one of our colleagues in this tragic accident. Kiersten was a valued member of our team, a dedicated employee and a good friend to many of us. Our heartfelt condolences go out to Kiersten's family during this difficult time,' Tenet Healthcare said in a statement.
CRANE COLLAPSE: Powerful storms battered Dallas, Texas, this morning, causing a massive crane to collapse into a building, with at least two injuries reported, and with power temporarily knocked out one Dallas airport. Complete storm coverage tonight. https://t.co/Tefy9G86WF pic.twitter.com/qZccI1q2Gr

— World News Tonight (@ABCWorldNews) June 9, 2019
Dallas crane collapse: Did crane manufacturers strictly adhere to safety standards that may have preempted tragedy? 
The construction crane crashed into the five-story building, wrecking apartments and turning a parking garage into a pile of concrete and mangled cars.
According to Dallas Fire Department Public Information Officer, Jason Evans, Smith was located in the area of the building that received the greatest impact.
Five other people were hospitalized after the collapse. Of those injured, two were listed in critical condition, two suffered serious injuries and one suffered minor injuries and was later discharged from a hospital, all five individuals are all expected to recover, Evans said.
The dailymail reported the company that owned the crane, Bigge Crane and Rigging Co, said they will be 'cooperating with any investigation'.
According a violation document from the Occupational Safety and Health Administration (OSHA), Bigge Crane has been issued at least 17 violations since 2013. The firm has contested some of the citations.   
In 2013, a Bigge crane was involved in a collapse that killed one worker at a nuclear plant in Arkansas. Eight other workers were injured.
OSHA found that Bigge's crane did not meet certain safety standards, contributing to the hazards that caused the collapse.
The company was fined $56,700, an amount that was later reduced in a settlement.
It remained unclear what action if any Dallas authorities will take against the crane's owners and whether all safety standards were adhered to.