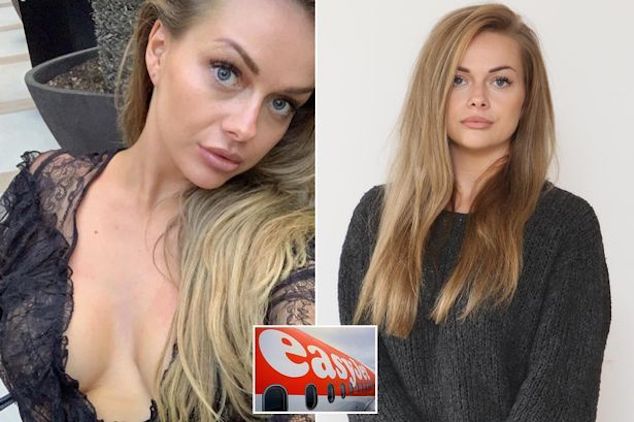 Harriet Osborne EasyJet passenger kicked off discount carrier after wearing sheer low top- or because of disruptive behavior? UK mom of two accuses airliner of being sexist. 
A female passenger was recently kicked off an EasyJet flight after passengers allegedly complained about her revealing outfit (see below and all the way below too), but the airline has since said it was her behavior, not her outfit, that caused disconcert and the woman getting into trouble. Shall we then?
The woman, identified as UK woman, Harriet Osborne reportedly became 'disruptive' after being asked to change her top, which other passengers on the EasyJet flight reportedly found too 'revealing.' Define revealing?
While Osborne a 31 year old makeup artist and mother of two- reportedly agreed to wear a new top provided by the airline, she continued to act in a disruptive manner according to the discount airliner. This case could be a great subject to research for lawyer students to write their best college essays.
Osborne was originally wearing a sheer top which left her nipples 'clearly visible,' MSN reported. Other passengers on the flight from Malaga, Spain, to London Stansted Airport, reportedly complained to the flight crew about the outfit. The crew offered Osborne an additional top to wear, which she agreed to wear.
Easier said than done.
A WOMAN was booted off an easyJet flight — because her outfit was too low-cut.
Stunned mum-of-two Harriet Osborne, 31, was told…https://t.co/XAGEBKNyPE pic.twitter.com/vqlPaGLMPg

— Networkofnews UK (@NetworkofnewsUK) June 29, 2019
Defining flying etiquette: 
Osborne is alleged to have continued to act disruptively, with the woman eventually being removed from the flight. EasyJet says that had she not behaved in that manner, she would have been allowed to travel, Independent.co.uk reported.
A spokesperson for EasyJet told Fox News, 'We can confirm that a passenger traveling from Malaga to Stansted on 23 June was unable to travel due to behaving disruptively. Following concerns about her clothing crew politely requested that the customer wear an additional top for the flight which the customer agreed to. However, she then proceeded to act disruptively towards a member of our crew,'
'Our cabin and ground crew are trained to assess all situations and to act quickly and appropriately. We do not tolerate abusive or threatening behavior towards our staff.'
Not so told Osbourne via the UK's Sun.
Explained our collective hero, 'The crew were horrible and made me feel cheap. This air hostess confronted me in front of the whole plane and said I wasn't allowed on in that top. She said to me, 'Oh no, move to the side,' and tried to cover me up with my hands. She said, 'You're not coming on my plane like that — you need to put a top on'. Then she ordered me off the plane, so of course, I put a top on.
'When I tried to get back on she turned to the ground crew and said, 'She's not coming on my plane.' I was escorted away from the aircraft,' Osbourne continued. 'I was in shock. It was so sexist. I just burst out crying. We had to walk back through the terminal where Spanish police stopped to question us. They were baffled when I told them why we'd been kicked off.'
Osbourne didn't make it home until the next day after saying she was forced to sleep on the floor at Malaga Airport with her friend before paying an extra £149 ($189) to fly home the following day.