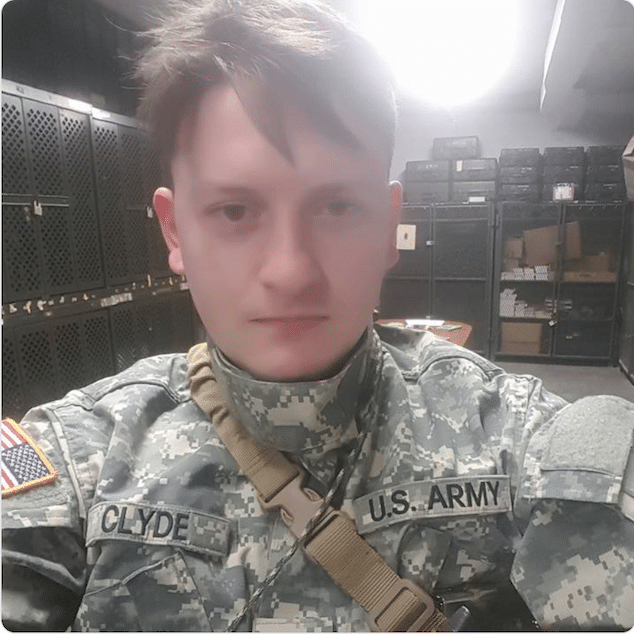 Dallas federal courthouse gunman, Brian Isaack Clyde mystery shooting: What motivated a former army man to go on a shooting rampage o

utside the Earle Cabell Federal Building? 
A former army man who opened gunfire on a federal courthouse in downtown Dallas has been shot dead during a police shoot-out. 
Brian Isaack Clyde, 22, died shortly after exchanging gunfire with officers Monday morning outside the Earle Cabell Federal Building.  
Brian Clyde had claimed on social media to be a veteran of the US Army, with the Dallas Morning News reporting  that Clyde had been on active duty with the Army from August 10, 2015, through February 17, 2017. Clyde left the army after being discharged. It wasn't clear what led to him being discharged ABC News reported.
Multiple witness told NBC DFW that they heard between 15 and 20 shots fired.
'I just ran,' said Don Miles, who had a 9am appointment in the building. 
'I just started hearing rapid shooting. I was right at the door getting ready to walk in when everybody started running out. When I heard those shots, 10-15 shots going off, I just ran across the street.'
Not immediately clear was the man's residence at the time of shooting, with Clyde having lived in both Corpus Christi and Austin and originally hailing from Dallas.
Local media reported the man not appearing to have a prior criminal history. FBI, ATF, FPS, U.S. Marshals and the Dallas Police Department were investigating the incident.
ACTIVE SHOOTER: A gunman who opened fire outside a courthouse in Dallas did not survive after police officers engaged in a shootout, with video shot from above showing gunshots exchanged before the suspect, 22-year-old Brian Clyde, fled into a parking lot. https://t.co/ezRA2BtTte pic.twitter.com/dzVzLhZu9H

— World News Tonight (@ABCWorldNews) June 17, 2019
Brian Clyde was killed by federal officers during a shootout in Dallas. His Facebook page is filled with photos of guns and magazines, pro-Confederate pictures, anti-government conspiracy theories, rants about liberals and men's rights/incel talking points https://t.co/G8nRNWDS5z pic.twitter.com/tkBzsOMdi7

— Tom Cleary (@tomwcleary) June 17, 2019
Brian Clyde was clearly living in a fantasy world pic.twitter.com/ALqEyvDPNJ

— Chris Sampson (@TAPSTRIMEDIA) June 17, 2019
Brian Isaack Clyde Facebook:

'A modern gladius to defend the modern Republic.'
A regard of Clyde's social media accounts (since removed) revealed the gunman posting the day before an image of himself with a knife with the caption, 'A modern gladius to defend the modern Republic.'
He also shared an image of magazine clips on Friday, writing, 'No cosplay for me for A Kon because i decided to finish getting all of my mags. 2 40 rounders and 8 30 rounders total. A tad bit late though since everyone is going over to 7.62 nato because level 4 plates are now widely available and affordable and will stop almost anything.' 
Photos posted on Clyde's social media account also showed him in a US Army uniform.
Another image shows him with longer hair, standing in front of the American flag and flags of the armed forces.
In one image posted to social media on July 27, 2015, Clyde is shown dressed in period clothing with another person, apparently taking part in a war reenactment.
Clyde had posted a drawing to Facebook  on Wednesday showing a person talking to a cat, saying, 'In this state, I am in a realm of euphoria. Not because of a false god, but because I am enlightened.'
Yet perhaps most disturbing was chilling video Clyde posted on Youtube where he is seen saying into the camera , 'I don't know how much longer I have, but a expletive storm is coming,' before leaning over and picking up a weapon and saying, 'expletive, let's do it!'
The Dallas gunman, identified as Brian Clyde, was obsessed with weapons, dark internet subcultures/dank memes, anti-government conspiracies, and misogynistic memes.

He posed in armour, with an anime body pillow, and a rifle last year.https://t.co/nMZm0i6ye2 pic.twitter.com/oPEm1L1EpC

— Steve Rose (@steveplrose) June 17, 2019
Dallas federal courthouse gunman: Inspired by militia and anti-government proponent.
Clyde was a prospective graduate at Del Mar College in Corpus Christi, set to participate in the May 10 graduation ceremony, according to a release published online by the school. 
'Military has always been big in my family, so has education,' Clyde said in a video he shared on Facebook (since removed) where he appeared to be receiving an outstanding student award from the school. 
'When I got out, I really didn't have any other options, so I figure go to school.'
Clyde said in the video that he was stationed at Fort Campbell in Kentucky. 
With a photo of a rifle shared online in September of 2017, Clyde wrote, 'an identity crisis.' 
Other images showed him practicing at a shooting range, and showing off a 40-pound weighted vest, writing, 'Now the real training can begin.' 
Clyde also shared 'don't tread on me' signs and a meme showing a green swastika. In 2013, he shared a drawing of Adolf Hitler as Colonel Sanders. The cover read 'HFC: Hitler Fried Citizens.'
A post as recent as April 27 saw Clyde post, 'God I love gun shows.'
Clyde wasn't limited to celebrating weapons and violence but also also posted memes that referenced the incel movement, which stands for involuntary celibate as well as political affiliations (see below).
To date authorities have offered no motive as to why Clyde might have fired at  the courthouse.
Federal agents have asked anyone with information about Clyde or the incident to call 1-800-CALLFBI. People can submit video and photographs at tips.fbi.gov.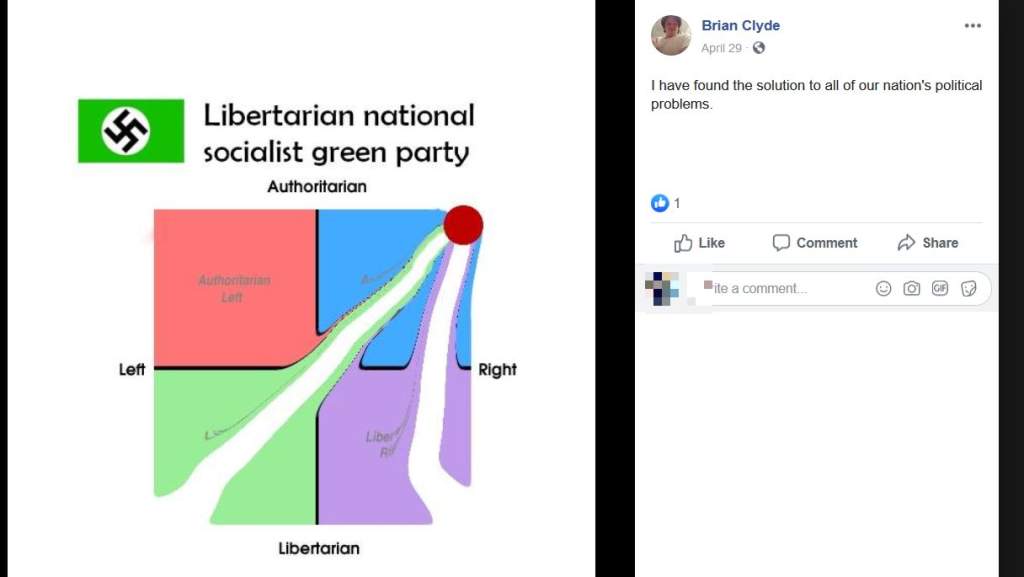 posts from the #ActiveShooter this morning in #DowntownDallas. And his family will say they had no idea he was capable of something like this.
….. really? #BrianClyde pic.twitter.com/RTWuGtA4R6

— Gracen Daniel (@gracendaniel) June 17, 2019
More from Brian Clyde's Facebook: "No taxation without annihilation," he's not a big fan of Spanish, a Chad sighting (incel alert), and talking about getting around California gun laws pic.twitter.com/N5NiQADTWn

— Joshua Benton (@jbenton) June 17, 2019