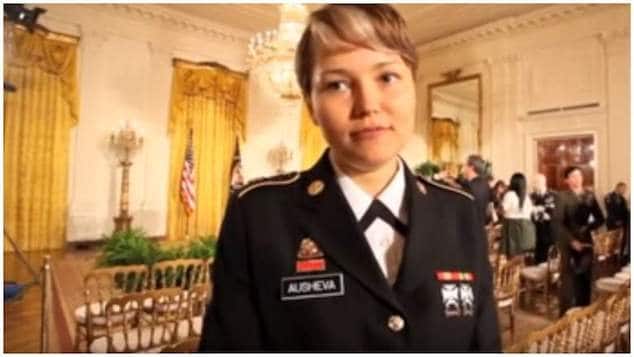 An

Air 

National Guard

member & her two toddler children are murdered at their Staten Island home by the children's father, Shane Walker. 
'I always wanted to live here.' An Air National Guard member and her two toddler children were found murdered at their Staten Island home on Saturday — seven years after the mother was sworn in as a U.S. citizen and spoke words of hope of her new country.
Alla ­Ausheva, 37, and siblings, Ivan, 2, and Elia, 3, were found dead circa 10:45 a.m., the nypost reported, citing law enforcement sources.
Shane Walker, 36, the children's father, was arrested in connection with their deaths. The man's arrest follows him making an attempt on his own life along the Brooklyn-Queens Expressway after having driven off from the crime scene. Cops picked up the 'distraught man' as he walked along the expressway circa 7.45a.m. 
Walker was seen on surveillance video stumbling out of the family's brick two-story home and into his car, apparently drunk, soon after the massacre, law-enforcement sources said.
A neighbor told Staten Island Live of Walker, 'I haven't seen him in a very long time. He was somewhere and recently came back.'
Charges against Walker were pending.
Alla ­Ausheva American dream: 'I always wanted to live here.'
Notice of the mother and the children's murders followed reports of smoke filling their Staten Island home. Respondents were met with the grim sight of the infant children drowned in a bathtub. Their mother was found deceased after incurring severe head trauma. She was reportedly found face-down on a bed Pix11 reported. 
The children's father's arrest follows their mother's estranged boyfriend having been charged with misdemeanor assault in an earlier incident at the home on Palisade Street near Lily Pond Road, officials said.
A motive for the slayings remains unknown.
The New York National Guard told Fox News in a statement that Ausheva served as a logistics planner with the 109th Airlift Wing. She initially served in the Army National Guard after joining in July 2011, but transferred to the Air National Guard in November 2014.
She was born in Russia, and became a naturalized citizen in 2012. Ausheva worked at Fort Hamilton in Brooklyn on state active duty with the homeland security force, officials said.
'She was a member of the Air Force, and a beautiful person who loved her children,' a friend told SILive.com of Ausheva.
Of note, Ausheva was sworn in as a U.S. citizen at the White House in 2012, according to a published article at the time. She reportedly moved to the U.S. in 2011 after winning a green card lottery, and three months later signed up for the New York Army National Guard.
'I always wanted to live here,' Ausheva said at the time. 'This is really a country where you can pursue your dream and do what you want to do.'
Ausheva's ceremony was presided over by former President Barack Obama. She said at the time that she 'still cannot believe that I saw the president, and he said he is proud of me. … It's incredible.'