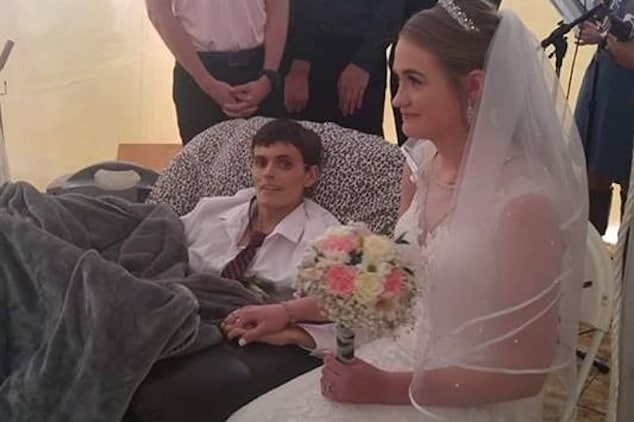 20 year old Iowa army veteran, Tristin Laue marries girlfriend, Tianna- 5 hours before dying of liver cancer. Community comes together to honor last wish. 
A 20-year-old army veteran from Iowa married his girlfriend five hours being dying from a rare form of liver cancer.
Tristin Laue, of Waverly, proposed to his then-girlfriend Tianna on Easter and married her in his family's backyard less than a week later, according to KWWL.
The April 27 marriage fulfilled Tristin's last wish.
'He's the love of my life,' explained Tristan's wife. 'And even like talking to my mom and everything, she said some people don't get what you two had in the amount of time, like they'll be together for years and still not have the same connection that you guys did.'
Reflected Tianna Laue further, 'Make sure you tell people you love them, because you never know when you'll be able to, and just make sure you cherish every day. Even if they're having a rough day or getting really upset.'
Tianna called it 'incredible' how many people cared about Tristin and wanted him to be happy. In just 48 hours, the community came together to make the ceremony happen.
Tristin enlisted in the United States Army in July 2016, but was medically discharged in April 2018. 
From there he attended the University of Northern Iowa for a year.
A GoFundMe page has been established to help raise money for his family and a memorial bench honoring him. How bittersweet life is. 
Death cannot stop true love…RIP to a groom who died on his wedding day,Tristin Laue. The 20-yr-old vet proposed on Easter…5 days later he was diagnosed w/fatal cancer.They still married after a quick arrangements.5 hrs, he died.Heartbreaking https://t.co/XISJKo8ZvN via @6abc

— Monica Malpass (@monica_malpass) May 7, 2019