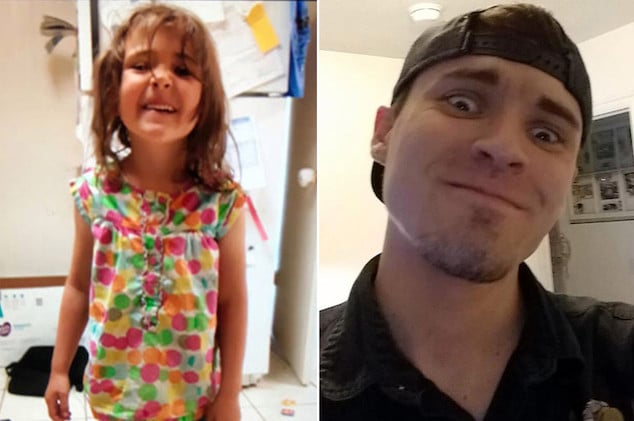 The body of missing 5 year old Logan, Utah girl, Elizabeth Shelley found as her uncle, Alex Whipple admits killing her and leading authorities to the location of her body.
The body of a missing 5-year-old Utah girl was discovered less than a block from her home on Wednesday after her uncle informed authorities about the child's location. 
The remains of Elizabeth 'Lizzy' Shelley were found hidden under trees after 21-year-old Alex Whipple, told his lawyer where he had hidden her in exchange for taking the death penalty off the table, Logan Police Chief Gary Jensen said.
The disclosure led to the closure of five days of frantic searching for missing girl, Elizabeth Jessica Shelley after the girl first being reported missing by her parents, Saturday morning. 
An advocate for the girl released a statement from the mother, Jessica Whipple.
'There are not words to express the sadness and heartbreak we feel today,' Whipple said.
'This did not end the way we wanted to do but in the sadness we are comforted by the effort people put in to find Lizzy. We would never have expected this outpouring of love and support. It was beautiful.'
At the time of the five year old's disappearance, Whipple who was understood to be the last person seen with 'Lizzie' was transported to Logan City Police Department where he made several inconsistent statements along with lying about his whereabouts. Police said he has been uncooperative throughout the interrogation.
Come Wednesday, Alex Whipple was linked to the child through DNA evidence and was charged with murder, kidnapping and desecration of a human body, abc4 reported.
Few stories in my career have disturbed me as much as this one. #LizzyShelley's body was found today just blocks near her home. #AlexWhipple told investigators where she was, in exchange for no death penalty. I am thinking and praying for her family at this time.#ElizabethShelley pic.twitter.com/jwn3GtloUa

— Andrew Reeser (@andrewreeser) May 30, 2019
Authorities have located the body of a 5-year-old girl who had been missing since Saturday morning, according to the attorney for her uncle, who was charged in connection with the case. https://t.co/onVpUAWcsi

— KSL (@KSLcom) May 29, 2019
Elizabeth Shelley found dead: Lawyer releases statement saying client recognizes having done 'something inexcusable.' 
The missing five year old's body was found after officers spent days combing the city set in a valley near the Idaho border about 80 miles north of Salt Lake City.
Crews previously searched the area where the body was buried but didn't find her, police said.
Alex Whipple's attorney Shannon Demler released a statement saying his client 'knows he did something that's inexcusable.'
'He wanted at least the family to know … she had passed away so that they could get some kind of closure,' Demler said.
It remained unclear what exactly Whipple did to the 5 year old child and what may have motivated him.
Whipple hadn't previously acknowledged involvement in his niece's disappearance but did tell police alcohol makes him 'black out' and sometimes do 'criminal things,' prosecutors said.
Whipple is next scheduled to appear in court, June 3.
#BREAKING: attorney for #AlexWhipple tells me client has informed him where #ElizabethShelley's body is located. Police are searching near her home based on his statement. pic.twitter.com/DIXgZ1jsak

— Andrew Reeser (@andrewreeser) May 29, 2019