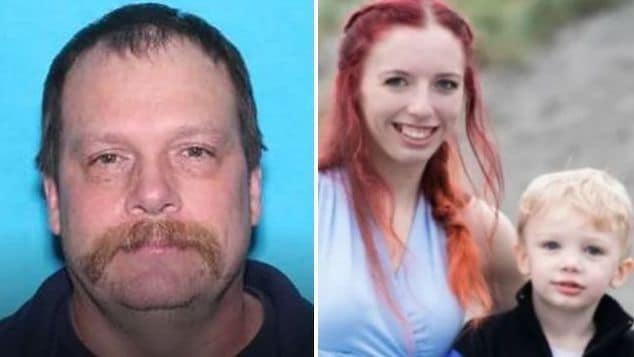 Married Oregon man, Michael John Wolfe charged with the kidnapping and murder of his mistress, Karissa Fretwell and ther son, William (Billy) Fretwell after recent child support claim. 
A married Oregon man has been charged with the kidnapping and murder of a missing woman – believed to be his mistress and their son. Both mother and son vanished two weeks ago, with investigators yet to have discovered what they believe to be their deceased bodies.
Michael John Wolfe, 52, of Gaston was arrested Friday in connection with the May 13 disappearance of Karissa Alyn Fretwell, 25, and their 3-year-old son, William (Billy) Fretwell, according to the Salem Police Department.
Mother and son's disappearance follows the woman being engaged in a custody battle with Wolfe when the pair were reported missing from their Salem home, Oregon Live reported.
Fretwell and her son were last seen on May 13 and were reported missing four days later when Fretwell did not show up for work. Authorities have not released a motive for the alleged killings, but said they had enough evidence to charge Wolfe with aggravated murder and kidnapping.
Search teams continue to scour rural Yamhill County looking for the pair.
We have a very sad update to share. We've just learned Michael Wolfe is in custody, charged w two counts of aggravated murder & two counts of kidnapping. Investigators continue to look for Karissa Fretwell & her 3yo son William. Wolfe is the boy's biological father. @fox12oregon pic.twitter.com/sZ208hWeTT

— Kelsey Watts (@KelseyWattsKPTV) May 25, 2019
He was arrested yesterday afternoon at 1:45 at Blue Star Donuts in Portland. He wasn't booked until after midnight, which likely means he was questioned for hours. His biological son, Billy and the boy's mother, Karissa Fretwell are still missing. pic.twitter.com/0QAQ7IGQfx

— Dan Tilkin (@DanTilkinKOIN6) May 25, 2019
"I immediately thought William's biological father was involved."

Megan Harper has been friends w/ Karissa Fretwell for yrs. The 25-y-o Salem mom & her 3-y-o son William are missing. Salem PD just charged William's dad Michael Wolfe w/ 2 counts of kidnapping & aggravated murder. pic.twitter.com/4TH8hgyUYM

— Maggie Vespa KGW (@Maggie_Vespa) May 25, 2019
Michael John Wolfe child support ruling: 
A recent paternity test determined that Wolfe was Billy's biological father —with the married man ordered to pay $900 a month in child support, according to court documents.
The boy was conceived during a fling the two had when they both worked at a McMinnville steel mill.
'There was never a relationship there. She never knew he was married until after a couple weeks of her being pregnant,' Fretwell's friend Megan Harper told KATU. 'Then he offered to pay for an abortion.'
Harper said 'her first thought' when Fretwell went missing was that Wolfe was responsible.
'There were all of these warning signs,' Harper said. 'Like, he would send her creepy things in the mail.'
Of disconcert, in an interview with the Statesman Journal, Harper said Wolfe had asked the missing mother about her installing a security camera at her home.
Wolfe is charged with aggravated murder and kidnapping. He was booked at Yamhill County Jail as authorities continue to search for the missing mother and son.
Just in – 52yo Michael Wolfe is identified as person of interest in disappearance of Karissa & William Fretwell pic.twitter.com/vIngQdeYJr

— Mike Benner (@MikeBennerKGW) May 23, 2019