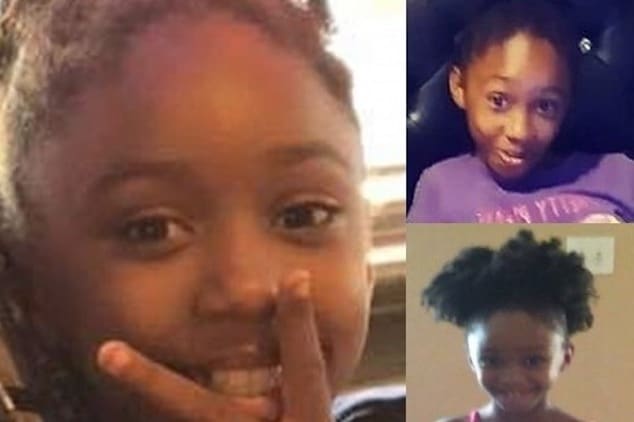 Summerbell Brown 

road rage shooting death leads to arrest of Phoenix, Arizona, violent career criminal 

Joshua Gonzalez.
Arizona police have arrested a 20-year-old man for allegedly shooting dead a 10-year-old girl in an apparent road rage incident. The shooting also led to the girl's father who was driving the family car also being shot at- but with non life threatening injuries.
Joshua Gonzalez, 20, was booked on one count of first-degree murder and three counts of aggravated assault on Friday in connection with the killing of Summerbell Brown- Wednesday evening. The girl was also identified as Summer Mellody Bell on a fundraiser page set up her family.
During a Friday press conference, Phoenix police said Gonzalez started following the family's car after they cut him off in traffic on Wednesday. At the time, Summerbell was sitting in the back seat with her sister, while her father drove the family car, with her mother sitting in the front seat.
Sgt Vince Lewis said Gonzalez was arrest following a tip- with the man known to have an extensive 'violent' criminal history.
Lewis said the truck the suspect was driving when he allegedly shot Summerbell and her father along with the murder weapon had been recovered.  
Police said Gonzalez had tried to 'alter the truck's appearance' to avoid being recognized after photos of it and a composite sketch of the suspect were released. 
Please help #Phoenix PD identify a suspect who shot and killed 10-year-old Summerbell Brown Wednesday night near 35th Avenue and I-10. Sketch and vehicle have been released. Call @SilentwitnessAZ 480-948-6377. #AZNEWSMEDIAhttps://t.co/XAUmEBm5vQ pic.twitter.com/ve4abTVfDE

— Chris Caraveo (@ChrisCaraveo31) April 4, 2019
UPDATE: NEW: Surveillance camera in the area caught the shooter from Moreland on camera following the victims vehicle. SOMEONE out there knows this waste of atoms PLEASE turn him in. 10 yr-old Summerbell Brown should be in school today, not the morgue. pic.twitter.com/Fl6VRenNbn

— jonathan roy (@JRFox10) April 4, 2019
Summerbell Brown road rage shooting death: 'I got out my vehicle and I asked them what's going on, what's up?'
Lewis said prior to the shooting, the Browns' car, got 'very close' to Gonzalez' vehicle when it turned onto their street. 
'As soon as the truck was behind the victim, he stayed relatively close, as if he was intentionally following the victim,' Lewis said.   
Surveillance video showed a white Ford pick-up trailing the Brown family towards their home.
When the car parked in the driveway, Gonzalez allegedly opened fire.  
Summerbell was sleeping in the backseat of the car when she was shot. 
A bullet also struck her father, Dharquintium Brown, who was injured but is expected to make a full recovery. 
'I got out my vehicle and I asked them what's going on, what's up, because he stopped my house,' Dharquintium told ABC15 after the shooting.
'And I asked him "what's up", and he just got to firing. He shot my car and he shot me right here and he shot up my house and he killed my daughter.'
Phoenix police identify and arrest suspect in shooting of Summerbell Brown, 10. https://t.co/5efmxi1hfs pic.twitter.com/wtA4voXwh6

— azcentral (@azcentral) April 5, 2019
Summerbell Brown mother: 'I looked at him dead in the face, he had this deranged look.'
Summerbell's mother, Taneisha Brown, described locking eyes with the gunman seconds before he opened fire. 
'I looked at him dead in the face, he had this deranged look. He looked like he was high on something' Taniesha told KXNV, noting that the man's pupils were dilated. 
'As soon as I looked at him in his eyes, he just "boom, boom, boom, boom, boom" through the car. He didn't even reach the gun outside the window, he shot through his door.' 
Lewis said there was no immediate indication that the family and the shooter knew each other. 
To date authorities have not determined what substances, if any, Gonzalez was on when he shot into the vehicle.
'She was just a baby. There was no reason for her to be taken like this,' Taniesha said of Summerbell, a straight-A student who loved dancing and gymnastics. 
'I'm going to miss her every day, think about her every day. This nightmare is going to replay in my head every day. I can't sleep. I just hope she is at peace. I just hope she's at peace.'  
A GoFundMe has been set up for little Summer following her shooting death.