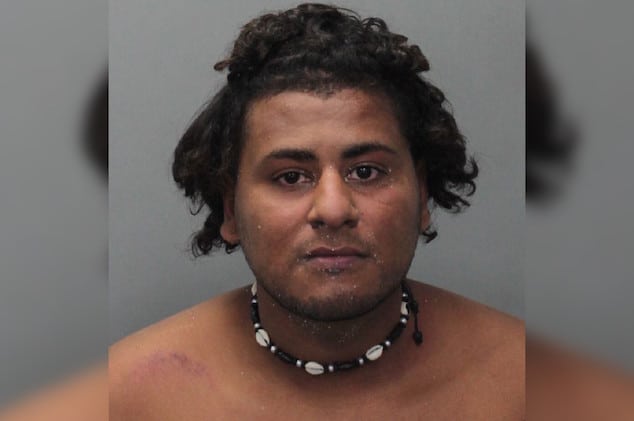 Raul Martinez wedding crasher: A Florida man is arrested after crashing a private wedding at Miami Beach only to assault guests. 
Talk about uninvited- a beach wedding in Miami descended into chaos after a 31-year-old man crashed the nuptials and attacked guests, according to cops.
Raul Martinez, 31, allegedly showed up announced Wednesday to the private event in Miami Beach — only to refuse to leave the beachside ceremony, WPLG reported.
The media outlet reported witnesses saying the uninvited guest entering a roped off area off Ocean Drive and Ninth Street where the wedding was being held, placing his backpack and shoes on a table that was being used for food and drink items.
When two guests tried to send him packing, the beach bum hit one of them in the mouth and nose, according to cops. The guest told cops he hit Martinez back in self-defense.
Other beachgoers then swooped in to save the wedding and attempted to restrain the party crasher.
Look past the rolling waves, wonder to myself- this is not the perfect beach wedding my heart had always been set on….
But there's more.
When cops arrived, Martinez resisted arrest and allegedly tried to headbutt an officer. The unruly crasher then spat at the cop and told him in Spanish he was 'going to kill his f–king ass,' officials said.
Can someone pour me a dollop of champagne now!
Authorities said Martinez was placed in the back of a patrol car, where he struck the window.
When an officer opened the door and told Martinez to stop hitting the window, Martinez screamed profanities and spat at the officer, authorities said.
Martinez was then removed from the vehicle and a spit mask was placed over his head.
Police said he had slurred speech, bloodshot eyes and his breath smelled of an alcoholic beverage.
He faces charges of assault, battery, battery on a police officer, resisting an officer with violence and assaulting a police officer.
Martinez appeared to still be covered with sand in his mugshot taken at a Miami-Dade County jailhouse, where he was being held on $18,000 bail.