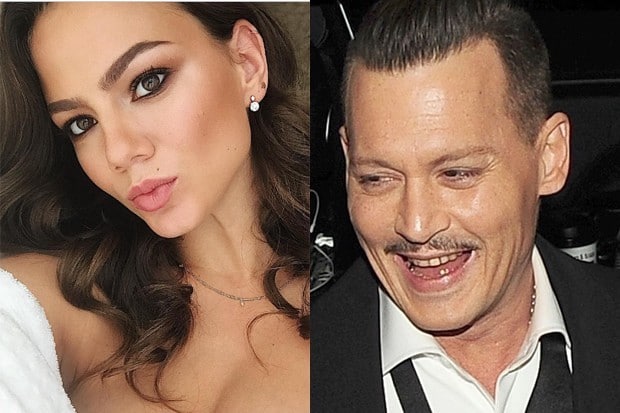 Johnny Depp new girlfriend revealed to be Russian go-go dancer, Polina Glen who the Hollywood actor is said to now plan marry. Source denies love interest is a gold-digger.
In the latest twist involving Johnny Depp's love life is news of the Hollywood actor dating a Russian go go dancer who the besmirched 55 year old is now planning on marrying.
In an exclusive via the dailymail, the tabloid reveals Depp being smitten with 20 something Polina Glen, after the pair met at a party in Los Angeles last year.
The revelation follows the controversial actor being photographed in a passionate embrace with a 'mystery woman' earlier this year at a hotel in Belgrade, Serbia – since identified as Polina. She was also pictured walking alongside him in May 2018 while he was on tour in Moscow with his band, The Hollywood Vampires.
Polina, who is originally from St. Petersburg, is a trained dancer and choreographer. She has been living with the actor at his Sunset Boulevard mansion.
Told a source (aka publicist) of Johnny Depp's new girlfriend , 'Polina met Johnny at a party in LA. She gets invited to a lot of stuff and ran into him. She's a dancer and a hot girl.
'She was just chilling at the party and didn't know who he was when he came over to introduce himself. They hit it off.
'He's got legal issues with his ex-wife and then here's this beautiful young Russian dancer, that doesn't want anything and doesn't even know who he is. The Russian girls don't know him. They have no clue about actors and people always look different in person.
'When she found out who he was, she was happy.'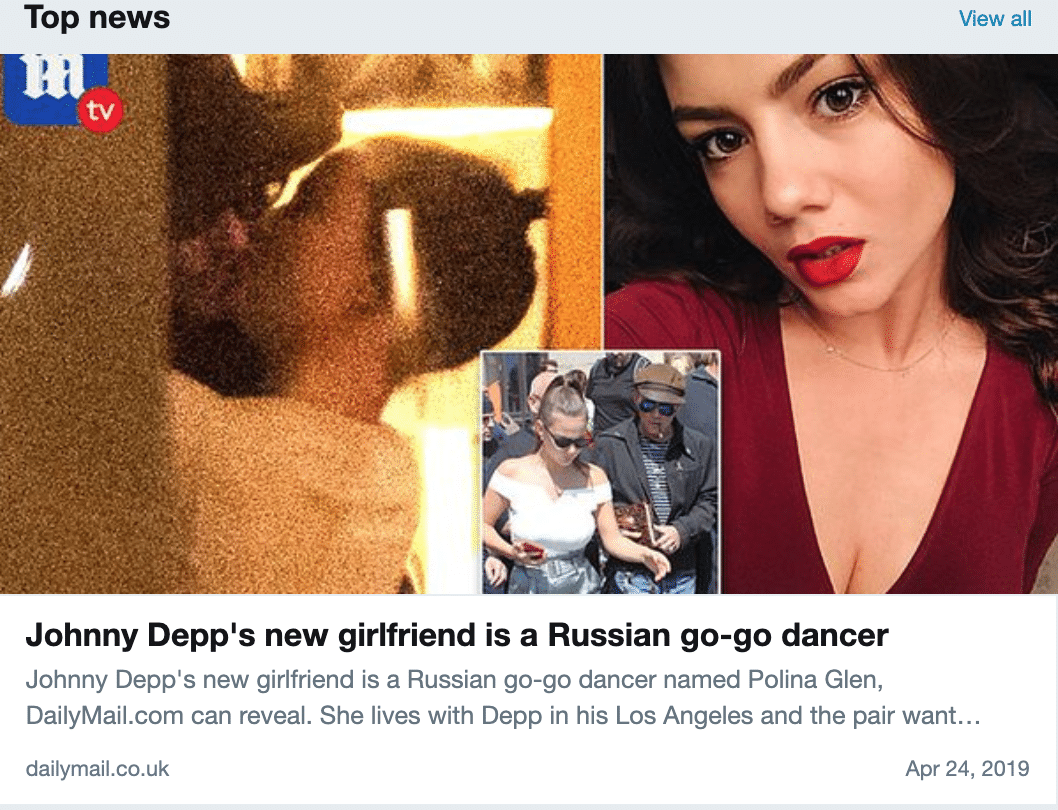 Will 

Johnny Depp succeed with new girlfriend Polina Glen where he failed with his ex wife?
News of the actor opening up about his new relationship follows the Pirates of the Caribbean star not being romantically linked with anyone since separating with ex wife, Amber Heard.
The actress filed for divorce from Depp in May 2016 stating that he had been 'verbally and physically' abusive towards her. Their divorce was finalized in January 2017, with Heard receiving a $7million divorce settlement.
Depp and Heard were married for 15 months before the 'battered' actress filed for divorce.
Of note, Depp continues to deny domestic violence allegations against him- instead claiming that his ex-wife repeatedly violently attacked and severely injured him.
Johnny Depp and Polina Glen – Very much in love says source
Polina, whose family live in Russia, is believed to have come to the US two years ago to further her career as a dancer.
Revealed the dailymail's source, 'She's really sweet and caring. She's very talented. I'm sure Johnny assists but she's off doing her own thing.
'She is very low-key. She goes to her dance choreography from his place and she comes back. I don't think anyone knows she's living there.'
The source told the tabloid that the couple are very much in love and that he wants to marry her. Define love? 
'Polina said that they are going to get married and that he wants to go to Russia to meet her parents.'
Her parents, Irina and Gennady Glen, live in St. Petersburg. 
Is the age difference too much?
Continued the source, 'She's not looking for anything from him. She's real. She's young. When you're 55 and you meet a twenty-something, there's no drama. It's fresh. You're completely head over heels. She's got a beautiful body.'
While emphasizing, 'She's not a gold-digger. She's very down-to-earth and I think that's why he loves her so much because she's not the LA crowd, she's not looking for money.
'I think for a superstar that's very comforting. Someone that doesn't already know you and wants your money? That's a big thing.'
The insider said that although the couple have traveled to Russia and other parts of Europe together, they spend most of their time together settled in his luxury Hollywood home.
'He doesn't like spending time away from her but she understands that he's got a band and he's touring. When he comes back, they are together all the time.
'They are a puppy love couple. They sit together. I think he shows her old movies in his theater. He falls asleep a lot in his chair during the movies.
'Johnny is really busy, he works all the time. He's exhausted a lot.
'There's alcohol in the house. I'm sure he's drinking. There's weed in the house. He's smoking but I don't think that's a big deal.
'She loves his music, he plays the piano for her.'
Prior to his marriage to Heard, Depp was in a 14-year relationship with 46-year-old French actress and singer, Vanessa Paradis. The couple have two children, Lily-Rose, 19, and 17-year-old Jack.