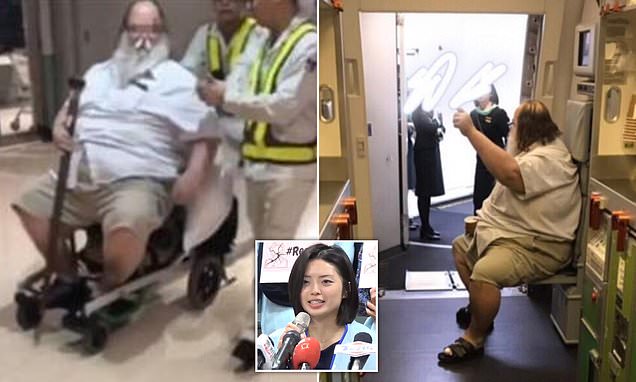 EVA Air overweight passenger who forced an EVA Air- Taiwan airlines flight attendant to wipe his butt after using the lavatory has died prior to being scheduled for a May flight (with the same airline). 
An American passenger who caused disconcert after 'forcing' an EVA Air flight attendant to undress him while using the lavatory along with having to wipe his 'butt' has died.
Notice of the obese passenger's 'untimely' death follows EVA Airlines contacting the man following the January 21 incident advising him he would not be allowed to board the 'return' portion of his flight- only to be informed the 200kg (440 pound or 31.4 stone) plus passenger having died of a personal illness in Ko Samui, Thailand.
The Taipei Times reported the US based passenger having passed away in February- with the man's return flight scheduled for May 17, 2019. 
During his initial flight, the overweight passenger aboard the Taiwanese airliner allegedly forced flight attendants to remove his pants so he could use the toilet — only to then demand a steward wipe his butt after having 'injured' his right hand. Reports told of he man being audibly heard moaning in pleasure. 
The incident followed the passenger, who was confined to a wheelchair 'demanding' he needed assistance in using the lavatory- two hours into the flight.
'I felt that as a flight attendant, removing a passenger's underwear was beyond the scope of my responsibilities,' the involved flight attendant, identified only as Kuo told during a news conference describing the January 19 flight from Los Angeles to Taipei. The woman was accompanied by reps from the Taoyuan Flight Attendants Union.
Of note- EVA Airlines, a Taiwan based airliner only hires female flight attendants.
Eva Air overweight passenger: A history of bad behavior. 
Following the incident, the involved flight attendant told of shutting herself in a toilet cubicle, vomiting, and crying.
The union labeled the incident as blatant sexual harassment and asked that EVA sue the passenger, who in a previous incident- defecated in his underwear during a flight in May 2018. That incident led to a 'foul' smell lingering in the cabin for 10 hours. It was also noted the 'infringing' passenger having flown withe the Taiwan airliner no less than 20 times in the past – and having other previous incidents. It remained unclear how the passenger continued remaining in good stead with the airliner. 
Ultimately a decision was made to not allow the man to make good on his upcoming return ticket.
The involved flight attendant was diagnosed with acute stress disorder after the incident, with EVA Airlines agreeing to grant the woman occupational sick leave following approval from the Bureau of Labor Insurance. The Airliner was later fined NT$60,000 for failing to protect its employees from physical and mental harm caused by others while executing their duties.
Not immediately clear is the nature of the personal illness that led to the overweight passenger's recent death.