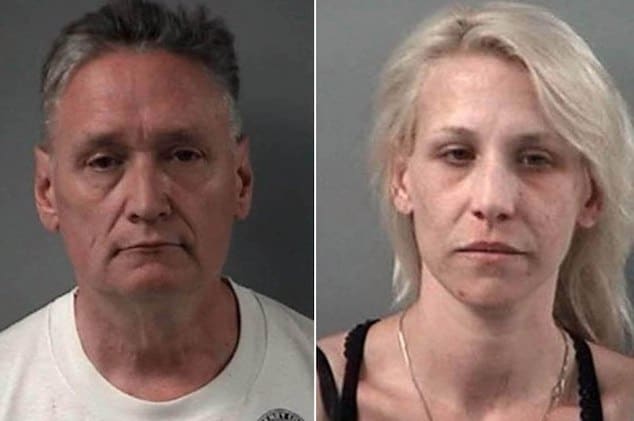 Andrew Freund Sr. & JoAnn Cunningham charged with the murder of their missing son, Andrew 'AJ' Freund after his body was found in a shallow grave near the family home.
The Crystal Lake, Illinois parents who reported their 5-year-old son missing last week murdered the boy, wrapped his body in plastic and buried him in a shallow grave, officials said.
Andrew Freund Sr. and JoAnn Cunningham were charged Wednesday after Andrew 'AJ' Freund was found dead about seven miles away near Woodstock, according to Crystal Lake Police.
Discovery of AJ's body followed parents having 'provided information' that ultimately led to authorities locating the child, authorities said.
Soon after beginning their investigation, police said it was unlikely AJ was abducted or ran away. Instead, police focused on the home itself.
'AJ is no longer suffering and his killers are being brought to justice,' Police Chief James Black said at a Wednesday press conference.
Police in Crystal Lake, Illinois, have found the body of 5-year-old Andrew "AJ" Freund, who had been missing for about a week. His parents are being charged with first-degree murder https://t.co/DyHps9Mrwi pic.twitter.com/BGftW9u73g

— CNN (@CNN) April 24, 2019
WATCH: The body of 5-year-old Andrew "AJ" Freund was found in Woodstock, Illinois Wednesday, nearly a week after he was reported missing, authorities say; AJ's parents have been charged with murder, battery and other counts https://t.co/t6NU9XvnEX pic.twitter.com/TVflWbBfrr

— CBS Evening News (@CBSEveningNews) April 24, 2019
Andrew Freund Sr. & JoAnn Cunningham previous DCFC custody concerns:
The Illinois Department of Children and Family Services had been in contact with the family since the child was born with opiates in his system in 2013, according to the Chicago Tribune, which also reported a younger son of the couple had been placed in DCFC custody.
His cause of death wasn't released pending further investigation.
AJ's parents first told police he vanished after they put him to bed around 9 p.m. last Wednesday at the family home.
In a 911 call released by authorities Tuesday, the boy's father told a dispatcher that he had gone to a doctor's appointment on the morning of Thursday, April 18 and when he returned to his Crystal Lake home, his son was gone.
Later that morning, AJ's parents reported him missing, with investigators later saying the boy's mother having stopped cooperating with authorities searching for her child.
BREAKING: Both parents of missing Crystal Lake 5-year-old Andrew "AJ" Freund have been charged with five counts murder EACH in his death.

Earlier this afternoon, investigators found his body wrapped in plastic in a shallow grave in a rural area of Woodstock. @fox32news pic.twitter.com/ExZMavy5Th

— Dakarai Turner (@Dakarai_Turner) April 24, 2019
#AJFreund Missing child
"grandmother accused Cunningham and Andrew Freund Sr. of forcing Cunningham's oldest son to live in "constant fear, hunger and filth," as well as denying him medical care, food, clean clothing healthy living environment" https://t.co/hPyW7ANDgZ

— sandy (@sandycompany) April 24, 2019
Andrew Freund Sr. & JoAnn Cunningham Crystal Lake family home: House did not have acceptable standard of living.
The day Andrew was reported missing, his mother was arrested on an outstanding traffic warrant stemming from a December 2018 incident for driving with a suspended license. According to the incident report, JoAnn Cunningham drove to a nearby fast-food restaurant to have someone call the police to report an alleged burglary at her home.
In the report, Crystal Lake police officers expressed concern over the squalid living conditions at the home. One officer wrote that the house did not have an 'acceptable standard of living' and said there was dog feces and urine inside. Several windows were broken and the fireplace did not appear to work, the officer wrote.
Following their arrest on Wednesday, both parents were charged with multiple counts of first-degree murder. The boy's mother also faces charges for aggravated battery, aggravated domestic battery, and failure to report a missing child or child death.
Freund Sr. faces charges for aggravated battery, aggravated domestic battery, concealment of a homicidal death and failure to report a missing child or death.
'No one was going to sleep, and no one will sleep until justice is brought to AJ. This is the beginning of the process,' said Jeffrey Sallet, special agent in charge for the FBI's Chicago Office.
Not immediately clear is why AJ's parents sought to murder their five year old son.
With 5-year-old Andrew "AJ" Freund missing, authorities in Illinois, say they're now focusing their attention on his family, as there is "no indication that an abduction had taken place."

Authorities say Andrew's mother is no longer cooperating w/ police.

Here's Dean Reynolds pic.twitter.com/QHvrzi4A9N

— CBS Evening News (@CBSEveningNews) April 22, 2019