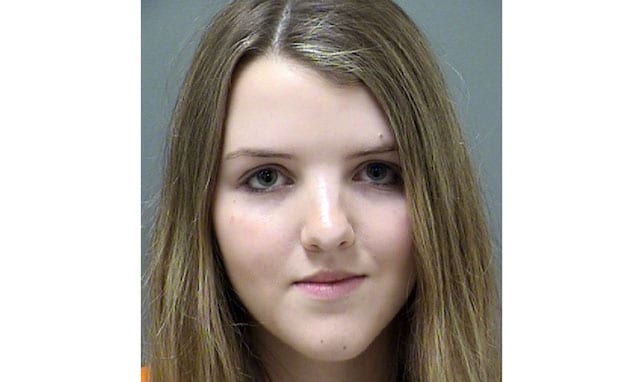 Zoe Reardon sentencing: An Atlanta teen is spared jail time after killing three pedestrians crossing street as questions of legal system come to the fore.
An Atlanta teen who killed two women and a three-month-old baby while they were crossing the road has avoided jail.
Zoe Reardon, who was 17 at the time, hit Kaitlin Hunt, her daughter Riley and their friend Kathy Deming in Woodstock, Cherokee County, Georgia, in 2017.
Riley died on the night of the crash, with Hunt being taken off life support a few days later, and Deming dying 10 days after the incident.
Reardon, now 18, pleaded guilty to misdemeanor charges, saying she did not want to put the victims' families through a trial WSB-TV reported.
She was handed 36 months on probation, $4,000 in fines, 240 hours of community service and a year-long suspension on her license.
Had she gone to trial, Reardon faced 36 months behind bars.
Right now: Impact statements have ended, slideshows of have just started. First up is 3 month old Riley and her mother Kaitlin. They died along with 61 yo Kathy Deming when 17 yo Zoe Reardon hit the group. Reardon was driving keep, group was walking to Woodstock concert @wsbtv 4 pic.twitter.com/ZrxidtCGTM

— Nicole Carr (@NicoleCarrWSB) March 11, 2019
Zoe Reardon sentencing: Jilted legal system?
During sentencing, Judge Alan Jordan said: 'You're pretty young. You've got a lifetime ahead of you. I expect this is something you're going to have a hard time dealing with the rest of your life.'
Reardon claimed she never saw the group as they made their way across the road, which had no pedestrian crossing on it.
As Reardon is a first-time offender, her record will be cleared after the 36-month sentence. 
During impact statements, family members expressed their anger, saying Reardon hadn't reached out directly to apologize – instead only to publicly voice her remorse during a televised interview.
Hunt's stepfather, David Lickman, described it as a 'slap in the face' to the family, while Deming's widow, Mike, accused her of only starting the conversation to help herself.
Told the family following sentencing, 'Our desire has always been for the woman who killed our daughter, Kaitlin Hunt; granddaughter, Riley Hunt; and dear friend Kathy Deming to be held accountable for her actions.
'What happened is a tragedy on multiple levels, and there is no outcome that will make our family whole again. Court actions cannot heal us — we must continue to heal ourselves.'   
Upon finishing her first year of probation, Reardon will get her license back.
And then there were these responses on social media which caught this author's eye, see what you think?
Gonna leave this here for the ppl who tend to go all #BirdBox when it comes to acknowledging discrepancies in our justice system. Too bad Jussie Smollett didn't kill a few people & a 3-month-old baby. I guess Zoe Reardon lived an otherwise blameless life.https://t.co/w1BEex5m7g

— Neale (@AbeFroman) March 11, 2019
16 yr old Kaleif Browder spent 3 yrs on Rikers Island awaiting trial on accusation that he stole a backpack. Much of the time was spent in solitary confinement.

18 yr old Zoe Reardon is getting probation after killing people.

This is white privilege…https://t.co/WxD6TYnBba

— Kristen Clarke (@KristenClarkeJD) March 12, 2019