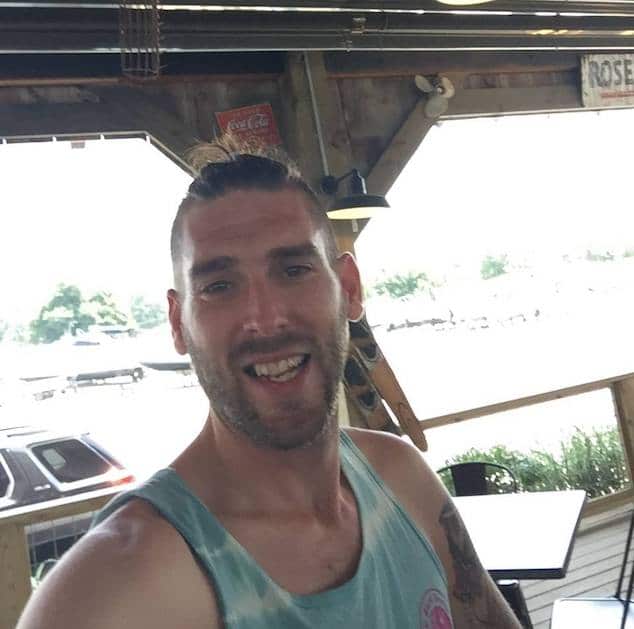 Hunter Hardesty pelican assault becomes most hated on the internet after viral video shows a Maryland man manhandling a protected bird at a Key West lagoon. 
An individual who filmed himself jumping into a Key West, Florida lagoon and manhandling a pelican has found himself becoming a social media pariah. 
Hunter Hardesty, of Davidson, Maryland, posted video of himself dangling a small fish off the edge of a dock, luring the bird closer before suddenly lunging into the water and setting on the pelican.
Video shows the pelican becoming momentarily submerged before Hardesty lofts it like a trophy.
In the video a woman can be heard in the background telling him, 'If you don't get out of there right now I'm going to call security. Knock this party off right now.'
The pelican is visibly distressed before biting Hardesty in the face and flapping away.
'Next time Ima [sic] eat him for dinner !!' Hardesty posted alongside the video. 'Wonder what they taste like.'
The video, posted Thursday, had been viewed 93,000 times by midday Sunday, EST.
But there's more. Brace yourselves.
Other photos on Hardesty's Facebook page show the man who lists himself as an electrician gloatingly antagonizing additional wildlife, including holding aloft a seagull and a newborn deer (why limit yourself to birds?).
Commentators on the man's page took him to task, with many demanding his arrest and jail time while some linked to a capitalgazette.com story from 2016, detailing his arrest on charges he and a friend beat up a man at a bar in Crofton, Md., and stole his wallet.
Of note, Florida law mandates feeding or trying to attract a pelican illegal, the Miami Herald reported.
'The intentional feeding or the placement of food that attracts pelicans and modifies the natural behavior of the pelican so as to be detrimental to the survival or health of a local population is prohibited,' the Herald quotes the law saying.
Florida authorities are considering whether Hardesty will now face animal cruelty charges.