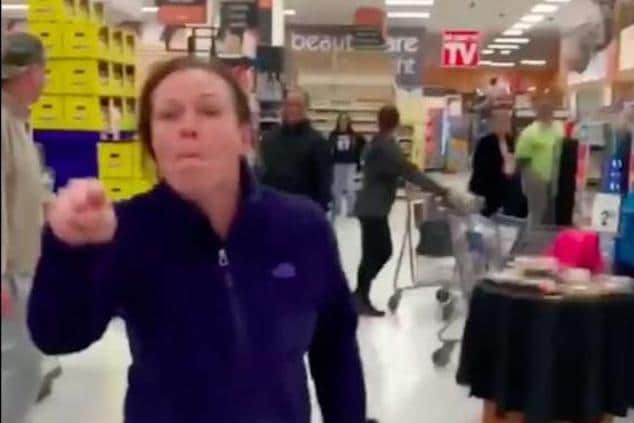 Corinne Terrone Hamden Connecticut school district secretary loses job after viral video shows her going on racist rant at an East Haven Shoprite. 
A secretary for a Connecticut public school district is out of a job after being caught on video (see below) getting into an argument with two black people, using the N-word along with spitting at them at a grocery store. 
Corinne Terrone, who worked for the Hamden school district, is seen on the video shouting at one man and repeatedly calling him the racist term at an East Haven, ShopRite in Friday night.
In the footage, posted on Facebook by a user whose profile name is 'Tatiana Winn,' Terrone yells the n-word three times and spits at two people, a black man and woman. It is unclear how the encounter began.
What kind of raw, deep HATRED causes people like Corinne Terrone to say "Don't you dare talk to me like that in front of my kids motherf***er…cause they're f****g niggers and he's taping." IN FRONT OF HER OWN KIDS?

Thoughts & Prayers for her kids.pic.twitter.com/KmJIovcRJq

— BrooklynDad_Defiant! (@mmpadellan) March 17, 2019
The Hamden school district releases statement: 
The Hamden school district investigated the altercation after the video went viral, with Terrone promptly resigned from her post, a Hamden Public Schools Superintendent Jody Ian Goeler said.
'The language the employee used in the video is in conflict with the values of the Hamden Public School System,' the school district said in a statement.
'Someone who will use that sort of language in any setting, whether public or private, is not someone we want anywhere near our children,' they added.
A report via the New Haven Register told of Terrone's next door neighbor being black. According to the media outlet, the neighbor said they'd lived next to Terrone for more than eight years while noting she was an 'excellent' neighbor.
'She's always been the sweetest woman in the world' the man said.
It remains unclear whether Terrone now faces charges.
Told East Haven Police Lieutenant Joseph Murgo in an email to heavy.com:  '…we are interested in exploring criminal charges and that we want the recipient of these vicious slurs and spitting to come forward.'
For those of you are willing to stomach the un-edited outburst- see the embedded twitter post below:
Corrine Terrone of Hamden High School. pic.twitter.com/lozTAPz7Q9 https://t.co/GpL5H7ZzmD

— DBoone (@carolinaslim40) March 17, 2019