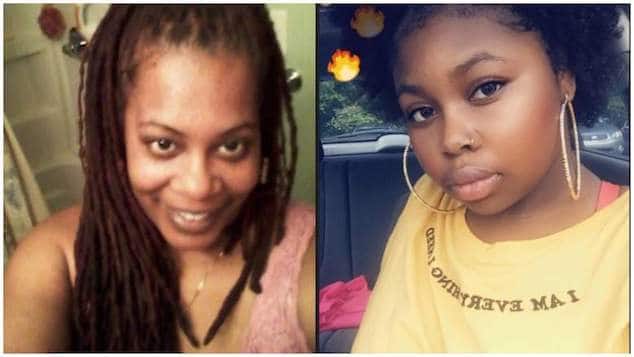 Shana and Dominique Decree: Pennsylvania mother & daughter kill 5 relatives after saying the end of the world was near and coming under the influence of a cult. 
A Pennsylvania mother and daughter have been arrested after killing five relatives- slayings that occurred after the pair said that the end of the world was coming according to a family friend. 
Taken into custody was 45 year old mother, Shana Selena Decree and her 19 year old daughter, Dominique Klaran Decree– after the pair were found Monday afternoon sitting in a bed in their ramshackle Morrisville, home surrounded by the bodies of two of Shana's children, Naa'Irah Smith, 25, and Damon Decree Jr., 13; Shana's sister, Jamilla Campbell, 42; and Jamilla's twin 9-year-old daughters, Imani and Erika Allen.
The victims are believed to have died after the accused killers, Shana and Dominique Decree's strangled family members FOX29 reported.
Notice of the mayhem came around 4 p.m. Monday when a caseworker went to the Robert Morris Apartments housing complex to conduct a wellness check – and thereafter asking a maintenance worker to check the apartment when no one answered. 
Four of the victims were found on the floor, while Damon's body was lying in bed.
A regard of the first floor apartment revealed furniture turned over and 'broken glass and clutter throughout'.
"TALKING ABOUT DEMONS BEING ALL AROUND THEM"

A Raleigh man is speaking out about his estranged wife, Shana Decree, who's accused of killing 5 of her family members in Bucks County. Damon Decree Sr. spoke to our sister station WTVDhttps://t.co/VSkkMokvVa pic.twitter.com/4Dp4oficOV

— Brandon Longo (@brandonlongo) February 26, 2019
Latasha Harris, 46, whose daughter is the half-sister of the massacre's two youngest victims, said the family had grown concerned about accused killers Shana and Dominique Decree's increasingly bizarre behavior.
Told Harris via the nypost, 'They said something about [how] the world is supposed to be coming to an end in February of 2019.'
Harris, who lives in the same housing complex — about 30 miles north of Philadelphia — where cops found Shana, 45, and Dominique, 19, surrounded by the bodies, said she thought the family was under the matriarch's dominion.
'I think the whole family was brainwashed by the mother, Shana,' said Harris, who added that she thought the massacre was a botched murder-suicide. 'I'm thinking [Shana and Dominique] were waiting to die, also. They were all supposed to go, but it just didn't go according to plan.'
Further augmenting the notion that the family was under the influence of a delirious matriarch were statements from Damon's father, Damon Decree Sr., the estranged husband of Shana who told local media that he was told by his niece that '…apparently they had dissected into some type of cult that they materialized online.'
Added the father, 'I don't know how what kind of cult. And they were talking about demons being all around them." Decree wants his wife and daughter "in jail for the rest of their life.'
Of note, investigators said no illegal drugs were found in the home, although there was prescription medication. Shana is understood to have suffered from lupus, they said.
Monday's attending caseworker reported the mother and daughter pair appearing to be disoriented and 'under the influence of something'.
Shana and Dominique have each been charged with five counts of homicide and one count of conspiracy.
They have offered wildly divergent and often contradictory accounts of what happened, with Shana at one point telling cops that the victims 'wanted to die,' according to a probable cause affidavit released Tuesday by the Bucks County District Attorney's Office.
A growing vigil still remains at Robert Morris Apartments, which is still considered a crime scene. Police believe the family of eight people lived inside the cramped apartment.
All 7 found in small bedroom with Queen size bed. Two women alive found in bed. 9yr old twin girls on top of each other on floor. Two adult women&son,13,found on both sides of bed. All lived in 3 bedroom apt. Morrisville has been here for two disturbance calls in past 2mos 1/2 pic.twitter.com/5owiXChpbR

— Steve Keeley (@KeeleyFox29) February 26, 2019