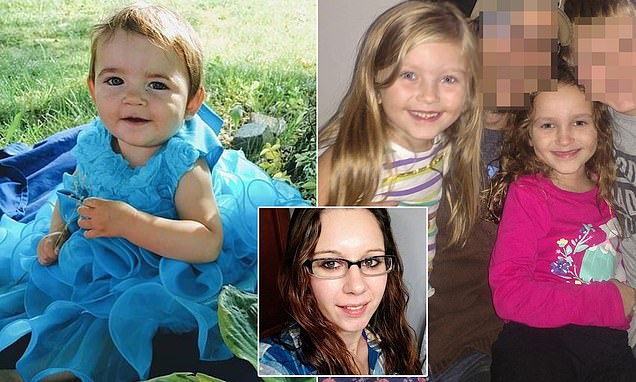 Aubrianne Moore guns down kids then self: 

A Kent County mother suffering from mental illness has shot dead her three children then self in a suspected murder suicide. 
A mother and her three young children have been found shot dead at their rural Michigan home on Monday.
The bodies of Alanah Moore, two, Cassidy Graham, six, Kyrie Graham, eight, and their mother Aubrianne Moore, 28, were all discovered by a woman in Kent County who then called 911. 
Family members told WOOD-TV that Moore killed her children and then herself. 
They added that Moore had a history of mental illness and had been previously admitted to a mental health facility.
Of disconcert, a social worker filed paperwork to have Moore committed to a psychiatric hospital months before Monday's shooting.
It was also revealed Moore having been previously hospitalized last September- it was during that time the social worker recommended having Moore committed to a mental institution.
It remained unclear why Moore was being treated at hospital during September's hospital visit.
Aubrianne Moore, who was found dead Monday along with her
three children in northern Kent County, was diagnosed with schizophrenia based on visual and auditory hallucinations. She believed her food was being poisoned and that people would break into her home, court records show. pic.twitter.com/1qCzxangdO

— John Hogan (@JohnHoganWZZM) February 19, 2019
Efforts were being made to remove 

Aubrianne 

Moore's children from her custody:
Kent County Sheriff Michelle LaJoye-Young told of authorities responded Monday at around 3 p.m. to a property in Solon Township, near Cedar Springs, a community about 30 miles north of Grand Rapids.  
Authorities indicated two crime scene existing- with investigators revealing Moore taking the children's lives at the family home before going to a second location, her boyfriend's home in Kent County's Solon Township- where she then took her own life.
LaJoye-Young would not say whether it was a murder-suicide but did say there was no threat to the public and that authorities did not believe a shooter was on the loose.
The sheriff called the scene 'a horrific thing to be called to' and said 'my heart goes out to the families involved here and the community.' 
Of note, family members said efforts were being made to remove the children from Moore's custody. It remained unclear when those efforts were made and whether those efforts ultimately prompted Moore to take her children's lives and her own.
Authorities continue to investigate.
Today, Aubrianne Moore shot her three young daughters aged 2, 6 and 8 before she turned the gun on herself.

It sounds like she shot some of the children elsewhere and moved their… https://t.co/6P2SOAoV5i

— mydeathspace (@mydeathspace) February 19, 2019
Neighbors tell me this home along 19 Mile Road in northern Kent County is where Aubrianne Moore and her three daughters lived. @WOODTV pic.twitter.com/ft2uwBD0Tm

— Justin Kollar (@kollarjustin) February 19, 2019