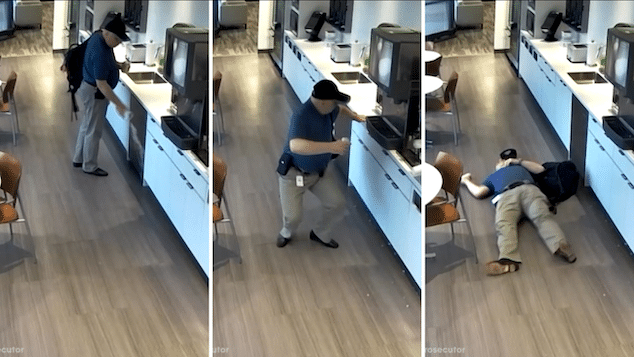 Alexander Goldinsky insurance scam: Randolph, NJ man caught faking slip and fall to defraud insurance claim on video.
A Randolph, NJ man has been arrested after faking a slip and fall at a business in a bid to score insurance money.
Prosecutors say Alexander Goldinsky, 57, was subcontracted to work at a company in Woodbridge when he faked the fall in 2018.
Authorities say surveillance video captured (see below) Goldinsky filling a cup with ice from a soda machine in the cafeteria, then walking away a short distance before deliberately spilling the ice onto the floor. 
From there our collective hero turns around, takes small steps walking back to where cubes are visible and quickly looks around before gingerly lying down on the floor.
They say the subcontractor waited until he was discovered before filing an insurance claim for hospital treatment later that day. 
Middlesex County Prosecutors: 'We will aggressively prosecute those who illegally manipulate the system.'
Goldinsky was arrested Jan. 15 and charged one count of insurance fraud in the third degree and one count of theft by deception in the third degree for the insurance claim. 
'Fraudulent claims cost everyone and we will aggressively prosecute those who illegally manipulate the system,' said Middlesex County Prosecutor Andrew C. Carey.
The prosecution of Goldinsky is part of the New Jersey Attorney General's statewide crackdown on insurance fraud crackdown through the County Prosecutor Insurance Fraud Reimbursement Program.
He is scheduled to appear in court Feb. 7.
Alexander "Gold Digger" Goldinsky.
Good job Alex. But you will NOT be receiving an Academy Award for best actor.

— ROBIN (@tmigratorius808) February 1, 2019