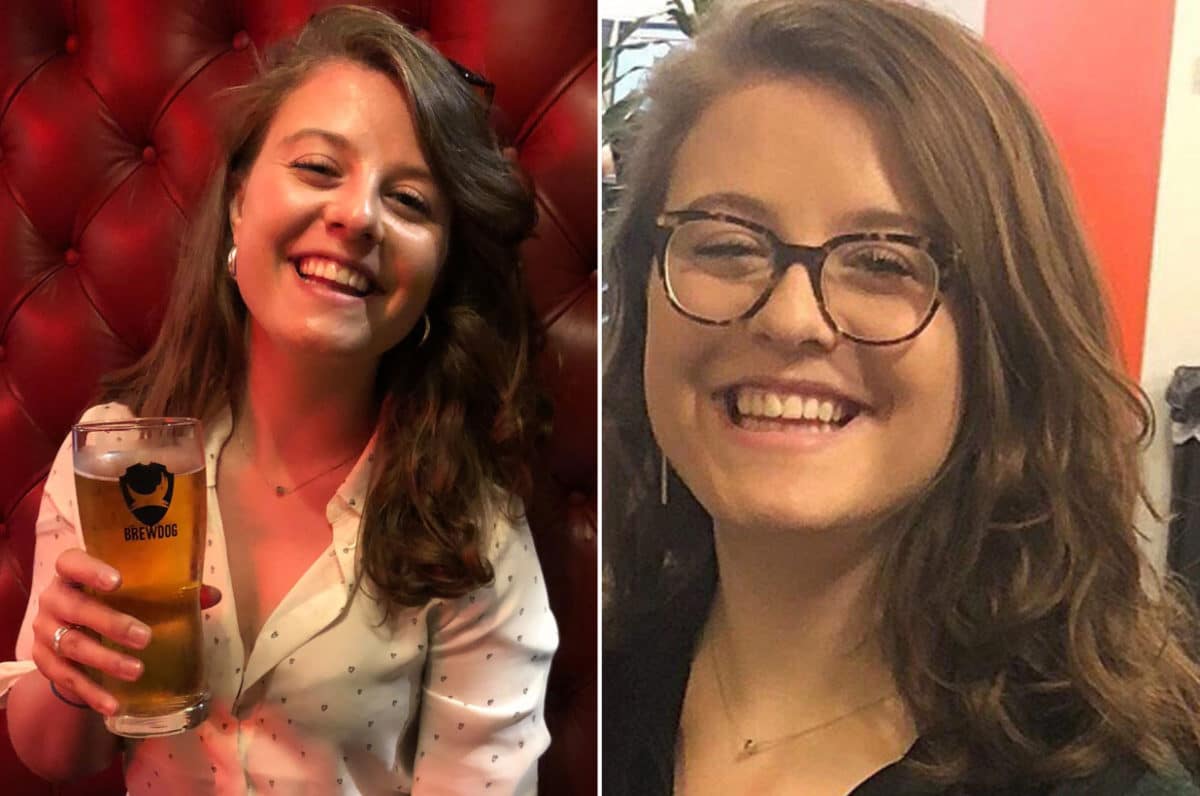 Missing Boston woman, Olivia Ambrose found after being kidnapped by Victor Pena after leaving bar. Found alive at housing project where serial stalker lived.
A 23 year old woman abducted after leaving a Boston bar has been found alive in her kidnapper's apartment- after going missing while visiting a local bar over the weekend.
Olivia Ambrose was located Tuesday at a Charlestown housing project with 38-year-old Victor Pena, who was arrested in her disappearance, the Boston Police Department said.
'When we made entry [Ambrose] was observed standing in the apartment near the suspect,' Boston Police Commissioner William G. Gross said at a Tuesday press conference. 'We eventually separated them and the suspect was apprehended.'
Ambrose was last seen around 11 p.m. Saturday leaving a bar near the city's Faneuil Hall neighborhood, where she'd spent the evening with her twin sister and friends.
The missing woman's sister, Francesca reported her sister leaving the bar with a man and becoming concerned when she didn't hear from her the next morning. The man Ambrose originally left the bar with has been identified, questioned, and eliminated as a suspect.
Police say this is Victor Pena. The man accused of kidnapping Olivia Ambrose. Ambrose was found alive in his apartment in Charlestown. Missing for 3 days. He'll be arraigned tomorrow morning in court. Police are still looking into his criminal history @NBC10Boston pic.twitter.com/B80NfxsUTT

— Perry Russom NBC10 Boston (@PerryNBCBoston) January 23, 2019
Olivia Ambrose abductor had restraining orders and previous incidence of stalking women: 
During the press conference, Gross described Ambrose being approached by two other men after leaving the venue and 'invited' to join them.
Surveillance footage captured one of the men walking ahead while the second man, identified as 38-year-old Victor Pena, put his arm around her and directed her toward a nearby MBTA train station. She was captured again about 20 minutes later exiting another MBTA station in Charlestown with Pena, his arm still around her.
Gross described Pena 'physically guiding and holding onto' Ambrose a few blocks away from the bar.
'She wasn't in a physical state to possibly acknowledge going along with Mr. Pena,' Gross said.
Authorities said she was taken Tuesday to an area hospital, where she is being evaluated.
Kidnapping charges were filed against Pena in connection to the case- who is known to authorities following previous run ins with the law including violating restraining orders in 2008 and 2013- both charges were dismissed.
In 2009, Pena who at the time was homeless was accused of stalking a number of women. The arrested man also had other criminal violations out of state.
The investigation is ongoing and authorities are still looking to question the second man Ambrose was seen walking with.
Not immediately clear is how Ambrose came to be targeted and what designs her abductor held.
JUST IN: Man charged for abduction of Olivia Ambrose identified as 38-year-old Victor Pena of Charlestown. #OliviaAmbrose pic.twitter.com/B2XZqzH5Bx

— nik hatziefstathiou (@nikthehat) January 22, 2019
Crazy how #VictorPena had two restraining orders that were DISMISSED by the state of Massachusetts and then KIDNAPPED a young woman! The legal system in this state is disgusting @Rollins4DA

— coco ⭑ (@ColleenMarini) January 22, 2019
Re: Victor Pena

What many women have been saying for a long time is that it shouldn't be this easy for predators to remain on the streets. Men like this are slapped on the wrist, time and again. There need to be serious consequences for stalkers. And there aren't.

— 𝕙𝕚𝕝𝕒𝕣𝕪 𝕤𝕒𝕣𝕘𝕖𝕟𝕥 (@lilsarg) January 22, 2019