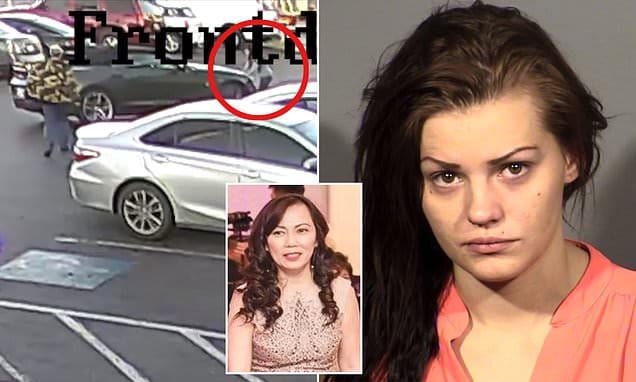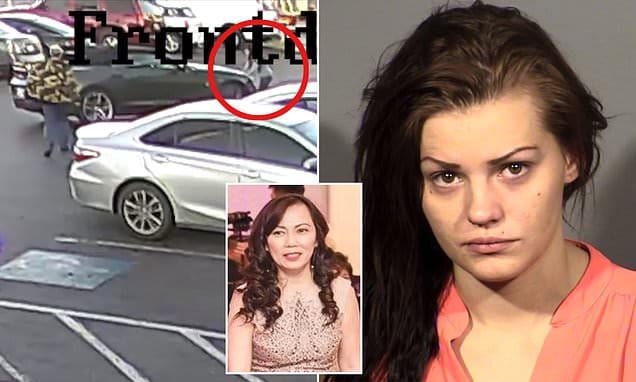 Krystal Whipple is identified as the Las Vegas woman who fatally ran over a local nail salon owner after running out on a $35 manicure bill. 
A 21 year old Las Vegas woman is being sought after being identified as the customer who killed a manicurist in a hit and run incident over the weekend after running out on a $35 bill.
Krystal Whipple was identified as the suspect who allegedly used a stolen vehicle to run over and kill nail sail owner, Ngoc Q. Nguyen, 51, who chased the non paying customer after her credit card was declined.
Released video showed Nguyen attempting to block Whipple as she proceeded to drive off in a black sedan only to be dragged 50 feet beneath the car as the non paying 21 year old sped away.
The Las Vegas Sun identified the salon from which Whipple tried dodging located a mile off the Las Vegas strip along a shopping center on Flamingo Road and Decatur Boulevard.
Krystal Whipple prior criminal history: 
Homicide Lt. Ray Spencer said Whipple tried to pay for her manicure with a fraudulent credit card and told Nguyen and her husband that she was going to her car to get cash before beginning to drive away. 
The husband can be seen in the security footage holding onto the vehicle from behind.
Told Sonny Chung, Nguyen's partner of 13 years via the Las Vegas Review-Journal, 'She ran off for $35 and killed my wife — $35 to run my wife over.'
Police said the car was a rental that had been stolen last month and was later found abandoned at a nearby apartment complex.
Whipple was convicted in 2017 in Las Vegas of attempted possession of a stolen vehicle, according to Clark County District Court records. She was sentenced to four months in jail last year for violating probation in that case.
Told the victim's sister via ABC Las Vegas, 'It's probably going to affect us every day for most of our lives. If God felt that it's time for my mom to go then, it's time for her to go. It's all in God's hands.'
A GoFundMe page for Nguyen, which described her as a mother of 3 girls, has raised more than $25,000. The page went on to note, Nguyen being a refugee from Vietnam who worked seven days a week to support her three daughters, as well as her mother, siblings and grandchildren.