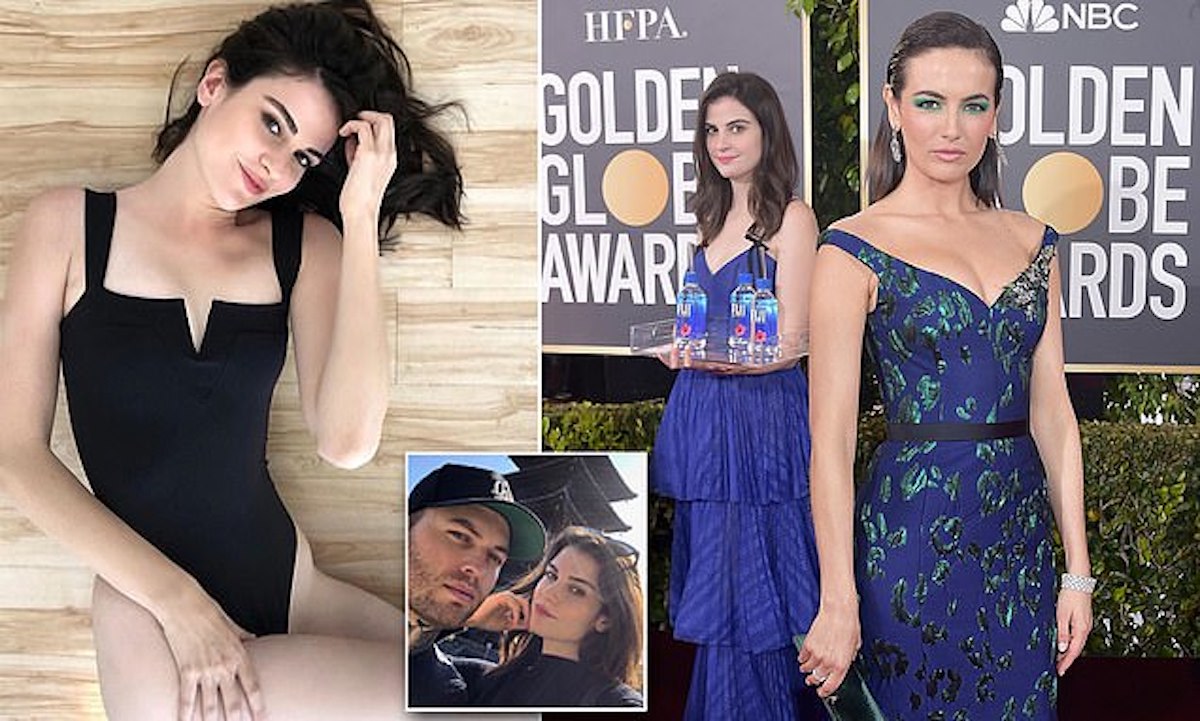 Los Angeles based model, Kelleth Cuthbert aka Fiji water girl becomes surprise breakaway Golden Globes star after photobombing Hollywood stars.
The 'Fiji Water lady' who captivated viewers at the Golden Globes by photobombing celebrities has been revealed to be a married Canadian model with a degree in social work who was also previously featured in Maxim. 
Kelleth Cuthbert became the unlikely standout star from Sunday night's awards ceremony in Los Angeles after posing behind celebrities carrying a tray of the bottled water. 
She was one of several models hired for the event but Kelleth, who moved from Toronto to Los Angeles in 2015, ended up taking center stage with her red carpet placement and the camera's ongoing love affair with her during the course of the event. 
Kelleth Cuthbert aka Fiji water girl: A rising star.
Before the Fiji Water job, Cuthbert mostly worked in risque fashion, lingerie and bikini photoshoots along with promoting vitamins and face masks on Instagram. 
In 2016, she was interviewed by Maxim where she told of her weakness for men with 'devilish' smiles, tattoos and a sense of adventure.' Indeed!
She is married to photographer Christopher Von Steinbach, who she met in 2010 on a photoshoot she set up to bolster her portfolio. 
She convinced him to move to Toronto, she said, and the pair relocated to Los Angeles in 2015 to pursue their careers.  
View this post on Instagram
View this post on Instagram
Kelleth Cuthbert aka Fiji water girl: 'It's all strategic.'
In an interview earlier this year with Toronto Verve, the model told how she previously worked as a counselor and said her degree in social work helped prepare her for modeling because, she said, she can related to people. 
'I used to work in mental health and addiction counseling. I think it's made me a better listener,' she said. 
In the same interview, she spoke of ditching a 9-5 lifestyle in favor of a more spontaneous life.  
'I absolutely wanted no part of that. I wanted a different kind of life than my parents and peers had. I've learned to not be afraid of completely upheaving your life to pursue something different,' she said.  
Responding to her sudden fanfare, Cuthbert posted on Facebook, 'Needless to say this has been the strangest day of my life.' 
Speaking to the LA Times at the event, Cuthbert admitted having worked out a strategy for achieving the best photobomb. 
'It's all strategic,' she explained. 'You've got to angle.' 
All of which has led to the 30 something model gaining countless new fans on Twitter.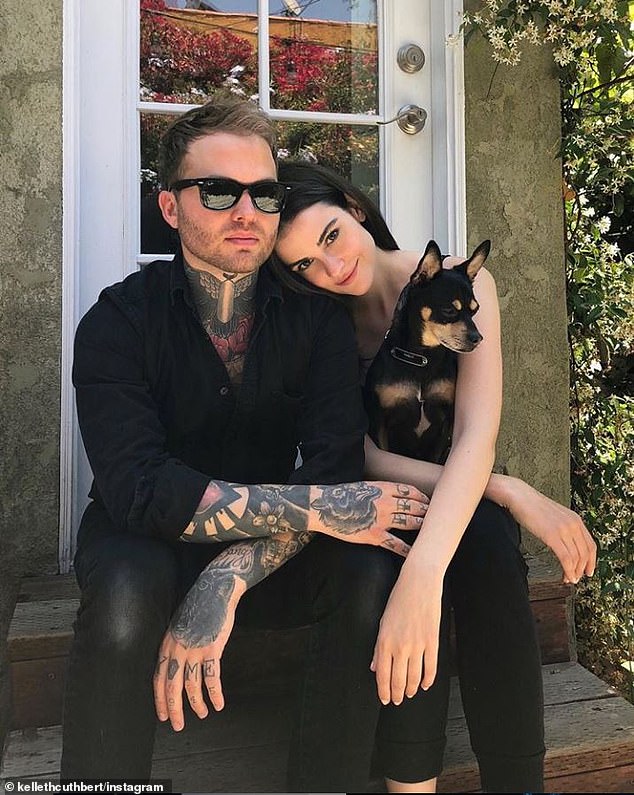 Best Picture: The Water Girl (2019). #GoldenGlobes pic.twitter.com/TQrDD2WTkB

— FIJI Water Girl 💧 (@watergirlGG) January 7, 2019
Rumor has it @ladygaga has traded her Golden Globe for a bottle of FIJI water after seeing Me on the red carpet. #GoldenGlobes⁠ pic.twitter.com/r2xjDS6Hd0

— FIJI Water Girl 💧 (@watergirlGG) January 7, 2019
Spoiler alert! It was me. #birdbox #GoldenGlobes #fijiwatergirl pic.twitter.com/zGdILYCg6Y

— FIJI Water Girl 💧 (@watergirlGG) January 7, 2019
Kelleth Cuthbert aka Fiji water girl memes galore:
'If Bradley Cooper doesn't bring the Fiji girl out on stage to perform 'Shallow' with him I'm turning this show off,' one new fan wrote on Twitter. 'FYI: I have already written 200 pages of the Fiji Water girl's inner monologue tonight,' said another.
'Fiji Water lady owned the Golden Globes,' another tweeted, while another chimed in: 'The Fiji Water girl is literally living her best life!' 
One user even added: 'The Fiji water girl is my spirit animal for 2019.' 
Some have Kelleth's sudden spotlight would lead to bigger and better things for her – while also poking fun at her slightly sinister expression in a few of the photo.   
'By the end of the night Fiji water lady is going to have a movie deal or will have murdered several celebrities,' one person wrote.  
Meanwhile Glamour magazine praised her ability to take advantage of the situation, tweeting: 'This woman isn't nominated for anything, she's just holding Fiji water for the celebs on the red carpet whilst milking it for all it's worth and we are living. SERVE IT, QUEEN.'  
To name a few,  Kelleth who was snapped with actress Judy Greer, Bodyguard star and Golden Globe winner Richard Madden, Crazy Rich Asians' Costance Wu, Lucy Boynton of Bohemian Rhapsody fame, and breakthrough star Kiki Layne. 
Kelleth even managed to sneak into the background of a romantic kissing shot of Heidi Klum and her new fiance Tom Kaulitz.    
Within minutes of her images spreading across the internet, someone had already set up a spoof Twitter account under the name Fiji Water Girl, with one of the first tweets posted reading: 'I am just serving Fiji water and been cute. 
'Who's the real star now, Sandra?' 
Also delighted was Golden Globes sponsor, Fiji Water: the water brand, which has been an official sponsor of the Golden Globes since 2015, is not likely to have had such a huge amount of social media attention since it first began working with the awards ceremony. 
The brand posted a collage of images of Kelleth photobombing celebrities on Facebook and wrote: 'And the award for Best Supporting Actress in Every Picture goes to… #FIJIwatergirl' 
It also tweeted: 'We're so glad everyone is talking about our water! *senses ominous presence* She's right behind us, isn't she? #FIJIwatergirl.' 
It was not a dream. I gave you the most entertaining Sunday of 2019.#GoldenGlobes pic.twitter.com/62DshTQkEe

— FIJI Water Girl 💧 (@watergirlGG) January 7, 2019
Thank You xxx❤❤❤ #fijiwatergirl #GoldenGlobes #GoldenGIobes #kellethcuthbert pic.twitter.com/LU57uxcNhV

— Kelleth Cuthbert (@CuthbertKelleth) January 7, 2019