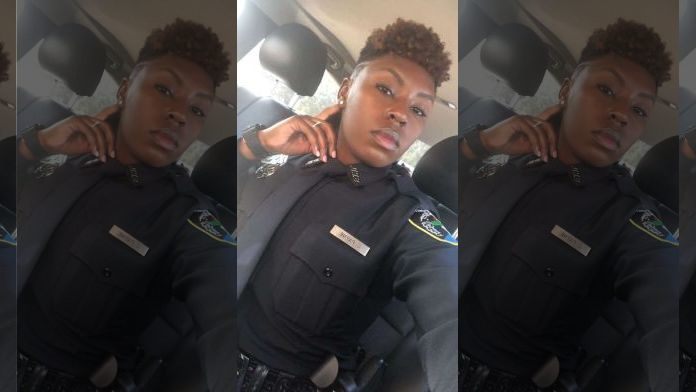 Shreveport, Louisiana Police Officer Chateri Payne fatally shot down as she made her way to start her Wednesday evening shift. Victim of domestic violence.
A female police officer in Shreveport, Louisiana has died after sustaining a barrage of gunfire as she headed off to work Wednesday night- believed to be her estranged boyfriend, the father of her young child. 
Officer Chateri Payne, 22, was shot at least four times, including at least once in the head The Shreveport Times reported. Despite being rushed to hospital the female officer died from her gunshot wounds.
The shooting occurred in the 1600 block of Midway Avenue. Authorities would say nothing about the circumstances of the shooting.
No motive for the shooting was immediately reported.
Cpl. Marcus Hines said Payne, a newly graduated 'rookie' officer was gunned down as she made her way to work to begin her late-night shift just on 8.20pm. It remained unclear if Chateri Payne was specifically targeted or fired upon because of her role as a police officer. Others on social media wondered if her death was retribution over a failed relationship. 
Come Thursday afternoon, KTBS cited a police source saying, 'Officer Chateri Payne was about to get in her patrol vehicle when she was shot. The vehicle was running. Her boyfriend, by whom she had a child, was taken into custody. His name has not been released and no charges had been announced Thursday morning.'
Early Thursday, the Shreveport Police Officer's Association posted a statement on Facebook about the tragedy.
Noted the post in part, 'We have lost one of our own. She was young, and she was beautiful. She was proving herself to be a capable professional, dedicated to serving the Citizens of Shreveport.'
According to her Facebook page, Payne was a 2014 graduate of Captain Shreve High School, where she ran track. She completed officer training in November.
At least one person had been detained for questioning, but it was unclear if that person was considered a suspect in the case. It is now believed the man is the father of Payne's young child. 
Officer Chateri Alyse Payne, 22 years old, just recently became a Police Officer for the Shreveport Police Department in Louisiana. As she was on her way to work the night shift last night, Officer Payne was shot in the head and died at the Hospital. #officerdown #ThinBlueLine pic.twitter.com/LGfn1e7DBP

— Duane Carpenter (@GonzalesPD101) January 10, 2019
#BlackAndBlue .@ShreveportPD Chatéri Payne, May God keep you in his tender care #BlackLivesMatter https://t.co/KT23F9ixra pic.twitter.com/KEhvq3Ap6o

— Nolite (@deiustitiaadrem) January 10, 2019
"My personal mission is to become that positive influence. To Protect those who can't protect themselves & to at least try to push someone to being a better version of themselves!"

Fallen @ShreveportPD Officer Chatéri Payne pic.twitter.com/8TrorORTMN

— Hilary Scheinuk (@hscheinukphoto) January 10, 2019