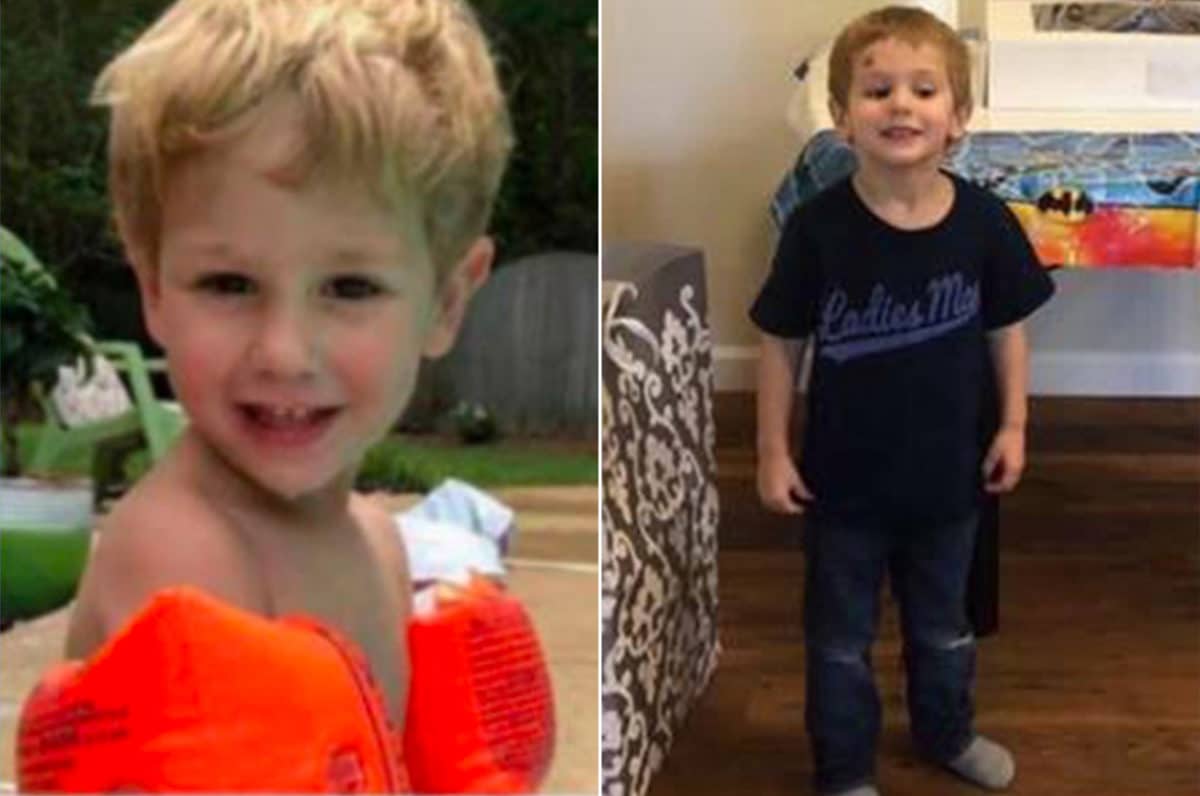 A three year old North Carolina toddler, Casey Hathaway is found alive and well after fears for his safety after going missing while playing in a backyard. 
A 3-year-old boy who went missing from his grandmother's North Carolina backyard earlier this week has been found alive in a heavily wooded area in Craven County, Thursday night.
Casey Hathaway, who had been missing since Tuesday afternoon, was in good health and taken to the hospital for an evaluation, according to WECT-TV.
The boy was found by police entangled in a briar patch near where he was last seen. Authorities responded to the area after a tip and found him the boy crying for his mother.
'He's good. He's up and talking. He's already asked to watch Netflix — so he's good,' his mother, Brittany, said at the press conference after the boy was found.
'Thank you all for coming out. All the prayers. It means a lot,' the boys father, Chris, added.
Casey Hathaway found: A community rallies to bring back a boy back to his family.
Casey was playing outside with two other kids Tuesday afternoon before he vanished. His grandmother searched for 45 minutes after the other children returned inside without him.
Hundreds of people from the community were searching for the little boy until he was found safe on Thursday night.
Local police credited the search parties with the boy being found safe.
'It was folks giving us tips and leads, and the rescue teams, and everybody that was out there jumping right out there and following every lead,' Craven County Sheriff Chip Hughes said. 'Let me tell you we had a lot of them come in.'
'It's heartbreaking. I have two children so I can only imagine what the family is going through and we're a small community so you don't really expect anything bad to happen here," Jonathan Ipock, youth pastor of New Haven Church, told WTVD.
'Casey is healthy, smiling, and talking. He said he hung out with a bear for two days God sent him a friend to keep him safe,' the boy's aunt, Breanna Hathaway wrote on Facebook. 'God is good God. Miracles do happen.' At least this time….
BIG BREAKING NEWS: They found Casey Hathaway and he's alive.https://t.co/U23p1mjJSl

— NewsChannel 12 (@wcti12) January 25, 2019
#CaseyHathaway Update: he has been found alive on a roadside and is in route to a hospital for observation and treatment. Our team member Capt. Shane Grier and the CHOCO SAR played a major role. We will keep you posted. Thank you for all your prayers.

— S.T.O.R.M. Search & Rescue CERT (@STORMSAR1) January 25, 2019