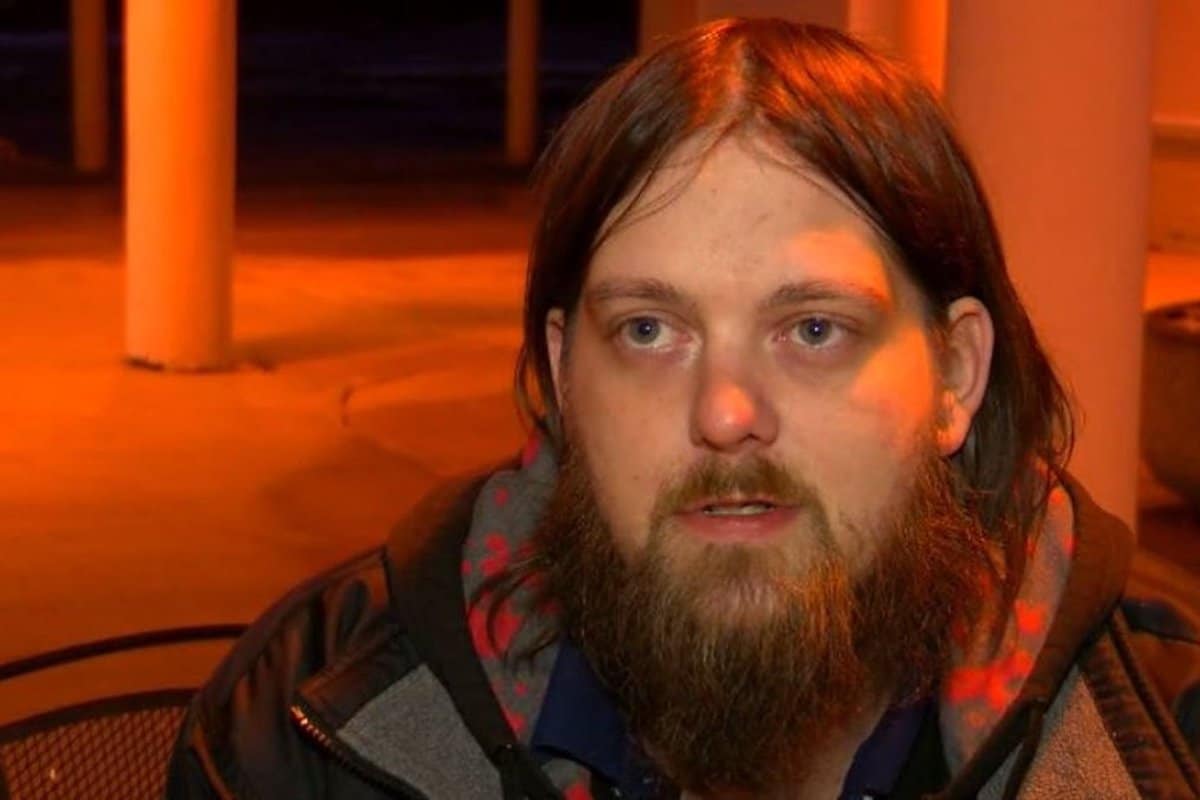 Zac Phillips a Greenfield, Indiana CVS worker and pharmacist are fired after physically engaging a would be robber, Jagger Maupin seeking drugs on the premises. 
A CVS worker and a pharmacist at an Indiana outlet have been fired after fighting off a man seeking to steal oxycodone.
CVS axed Zac Phillips, from the Greenfield outlet, days after he and an un-named pharmacist tackled Jagger Maupin, 22, to the floor on Nov. 8 after threatening to make off with the opiod synthetic.
Phillips' firing comes after having worked for CVS for five years. 
'You really don't have time to think in these situations, it happened in a flash,' Phillips told via WISH-TV. '(They) showed my pharmacist a note saying 'This is a pharmacy robbery."
Zack Phillips CVS worker: 'Your instinct is to protect.' 
Phillips said CVS told him and the pharmacist that they violated store policy after 'initiating a physical confrontation.' But Phillips claims he was merely acting in defense after seeing the suspect push the pharmacist.
'I was defending myself, defending my pharmacist,' Phillips told Fox 59. 'If we get attacked, we are not even allowed to defend ourselves.'
Surveillance footage from the incident shows Phillips and the pharmacist wrestling Maupin to the floor as he tried running out the door.
Cops arrested Maupin a block away and charged him with robbery, resisting law enforcement, obstruction of justice, theft and battery. He was not armed.
Phillips believes if he hadn't prevented Maupin from getting drugs, something worse could have happened.
'When you have a half-second to think about something, you don't think about policy; you think about your life, your friend's life, who this guy might endanger if he had gotten drugs,' Phillips told via WBTV. 'People are human; they react to things, especially if you see somebody going after somebody you consider a friend. Your instinct is to protect them.'
CVS has since released the following statement: 'The safety and well-being of our customers and employees is always our highest priority. We have stringent security policies and procedures in place to prohibit actions by employees that would jeopardize their safety and the safety of others. The actions of two employees at our Greenfield store during a recent attempted robbery violated those policies and procedures by initiating a physical confrontation, which led to our decision to separate them from the company.'
And then there were these reactions on social media that made this author wonder, see what you think?
Pretty disgusted with CVS for firing Zac Phillips, a hero who tackled a robber in defense of his coworker. They care more about their insurance premiums than their employees. @cvspharmacy @CVSHealthIR @CVSHealth

— MO (@SamuriMichelle) December 11, 2018
@cvspharmacy #CVS doesn't value anything. They'd rather get robbed. They'd rather fire their own long time employees. I was a loyal customer but this incident makes me sick. I'll never shop at CVS again. Zac Phillips, you'll find a better position. CVS doesn't deserve you.

— cinnamonbunn (@cinduts) December 11, 2018
@cvspharmacy, your response and actions you have taken against Mr. Zac Phillips are ridiculous. What if that robber had killed everyone in the store? What if your employee had not acted? NEVER, will my family shop at any of your stores ever again due to your intolerance and greed

— Greg C. (@gregcav) December 10, 2018