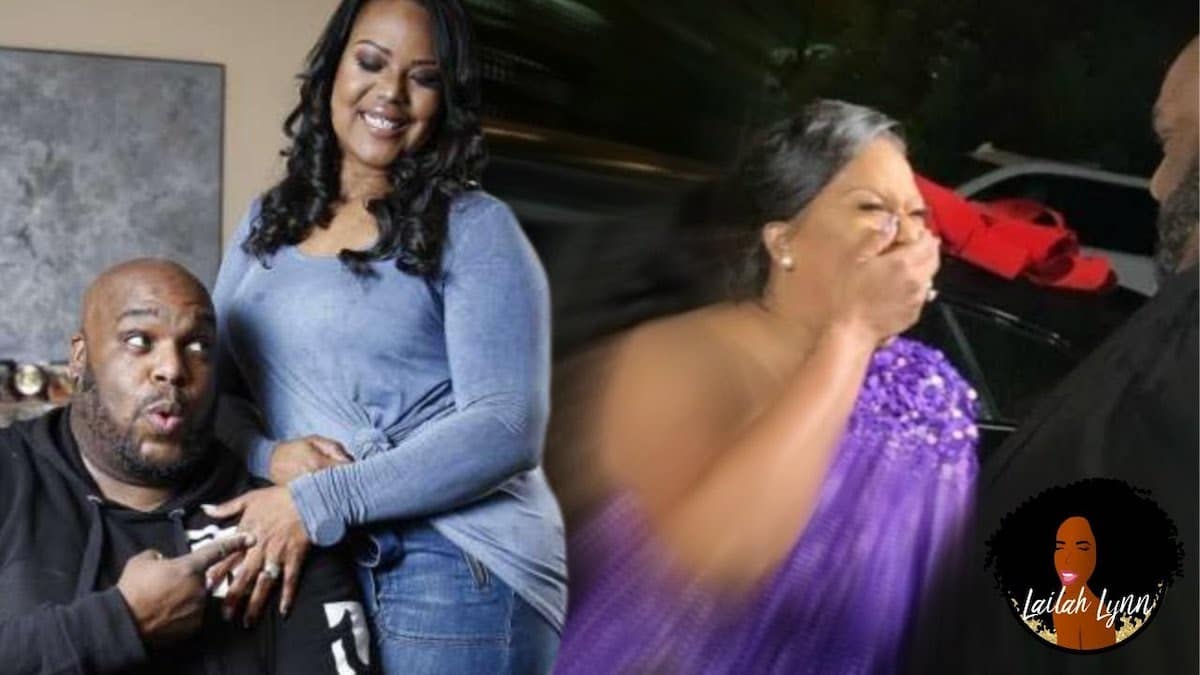 South Carolina Pastor John Gray of the Relentless Church comes under criticism after bequeathing his wife a $200K 

Lamborghini. 
Pulpit pimp? A South Carolina pastor has come under scrutiny after buying his wife a $20K, $200,000 Lamborghini Urus as an eighth wedding anniversary present.
Pastor John Gray, the leader of Relentless Church in Greenville, S.C., came under fire for presenting his wife, Aventer, with the expensive vehicle, December 11th. A video that went viral, which has since been deleted, showed the pastor 'surprising' his wife with the keys to the luxury vehicle last week, the Charlotte Observer reported.
The 'gift' led to social media users 'questioning' how Gray could afford the car. In a Facebook Live video Thursday (see below) Pastor John Gray defended the purchase while all the while tearing up.
'Pastor buys his wife this expensive car,' Gray said. 'First of all it wasn't a pastor who bought the car, it was a husband that bought the car. Get that in your spirit.'
He also addressed the speculation that he used some money from the church to pay for the Lamborghini.
'Did this man use any money from the church to do this?' Gray asked. 'And the answer is no. Absolutely not. And God, take my life on this live feed if I did.'
Nevertheless the question remained how in fact God's 'humble worker' was able to afford the $200K purchase, solely off his salary?
Pastor John Gray Lamborghini: Out of step with worshippers?
The pastor continued that the car was bought with money he saved from his second book deal and the fourth season of his reality show 'The Book of John Gray' which airs on the OWN Channel. Welcome to reality pastors shaking up the world- you wonder…..
'My wife has pushed for my dreams and my vision and she has toiled with a man who is still trying to find himself,' he said. 'That carries a weight. I wanted to honor her for how she's covered me.'
Gray said he has put a deposit on the car but has not fully paid it off. In an Instagram post, his wife defended her husband.
'My hubby is a hard worker,' she wrote. 'He worked his whole life and he saved to bless his wife.'
Gray has previously defended preachers such as Osteen who live lavish lifestyles, telling The Greenville News last year that 'if you work hard and pay your taxes, then you should be able to live where you are able to afford.'
He acknowledged, though, that pastors 'do have a responsibility to be wise with the things that they have.'
Some people criticize megachurch leaders who show off their riches, contending that the practice is unbecoming and out of step with the message they preach from the pulpit.
'I do, however, see something wrong with people who will pimp the church and pimp people and manipulate emotions to enrich themselves,' Gray said addressing worshippers concerns. 'That I do have a problem with.'
In his Facebook Live video, Gray said he is not a 'pulpit pimp' or 'prosperity preacher.'
Not all of the reaction to the gift has been negative. Some people have supported the Grays, asking why it's wrong for them to have the Lamborghini when they help others.
Posted one social media user, 'I don't see anyone screaming about how basketball players drive what they do while you paying $$$ to see them play in arenas and on fields. We don't live for people! We live for God!'
Amen for God's humble workers….who have now joined the ranks of their brethren elite and their mega reality deals.