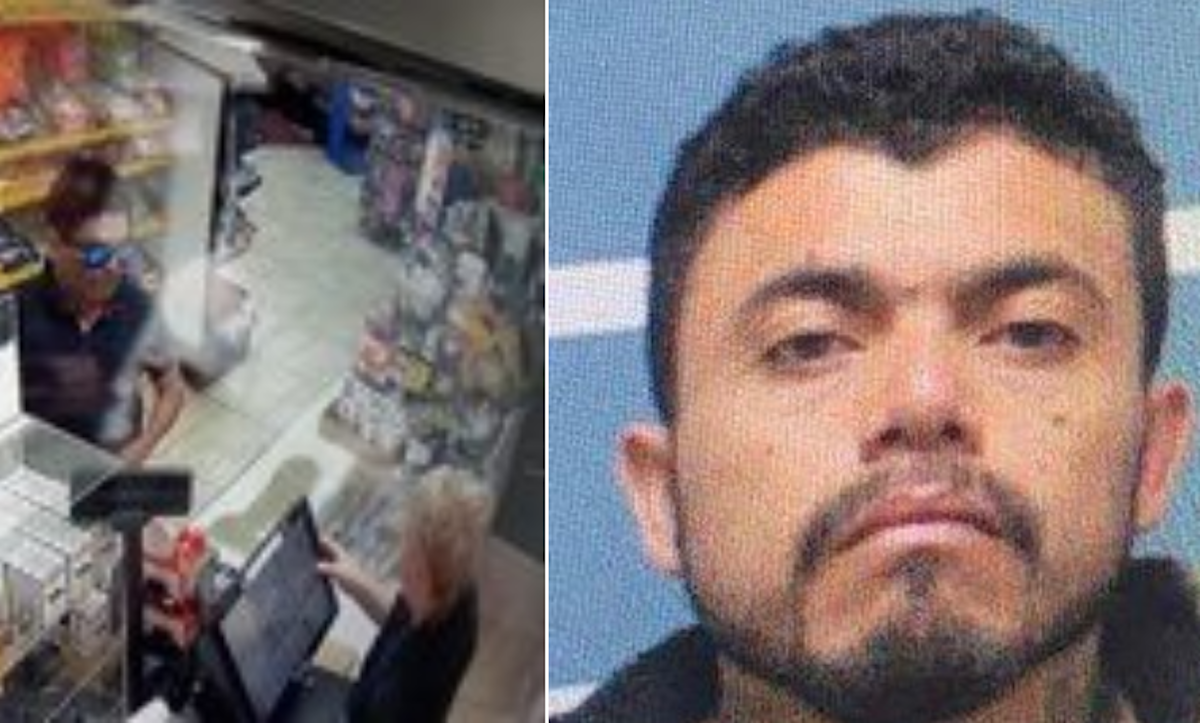 Gustavo Garcia: A California man previously deported in 2014 goes on a robbing, shooting and carjacking and deadly car chase rampage- killing one, injuring four others before dying.
A man previously deported in 2014 has died after going on a rampage in Central California which saw him rob a gas station, fatally shoot a worker, carjack a vehicle before crashing during a high speed car chase after seeking to intentionally smash into other cars.
Authorities say 36-year-old Gustavo Garcia of Visalia killed a man at a gas station and wounded several other people in apparently random shootings that started Sunday. He also robbed a convenience store, carjacked a truck, fired shots at his ex-girlfriend's house, and finally injured four people in wrong-way car crashes on State Route 65 before he was flung from a stolen truck in Porterville and dying Monday morning.
In attacks on apparently random strangers, Garcia shot and wounded a farmworker in an orchard and a woman at a motel, carjacked other farmworkers.
Tulare County Sheriff Mike Bourdreaux says a motive is unclear but may have involved an ended relationship.
BREAKING Exeter PD now looking for this man who had been with Gustavo Garcia, man who carried out robbery, shootings. He walked into store within moments of Garcia, believe he had been with him in a Honda Pilot. pic.twitter.com/EMylWv5A5x

— Liz González (@LizKMPH) December 17, 2018
Gustavo Garcia Sunday afternoon rampage: targeting random victims
Bourdreaux said Garcia's rampage started Sunday afternoon in Exeter, with the apparent random shooting off a farmworker, before robbing a gas station of $2K and firing rounds at employees and customers – where miraculously no one was hurt.
Garcia resurfaced at a Tulare hotel Sunday evening where he shot at a woman sitting in a parked car outside Motel 6. Hours later, Garcia killed a man at a Visalia gas station- identified as Rocky Jones, 51.
Shortly after, Garcia opened fire at his girlfriend's north Visalia home. She fled with her children, who were home asleep at the time, and managed to escape harm.
But Garcia was soon on the run again. A Tulare County sheriff's deputy eventually spotted the man's vehicle and initiated a pursuit, following Garcia to the intersection of Avenue 256 and Road 148, just outside of Visalia.
The suspect and deputy exchanged gunfire until the suspect ran into a nearby orchard and carjacked a vehicle. Nobody was injured in the crossfire.
The suspect fled down Highway 65 toward Porterville in the stolen vehicle at speeds in excess of 100 mph, colliding into several motorists as deputies and Visalia officers followed close behind.
Garcia was moving against traffic on the highway when he struck a vehicle near Linda Vista Avenue. He was ejected from the vehicle and died at the scene.
'We have one man that essentially (has) been on a personal reign of terror,' Boudreaux said at an afternoon news conference.
An autopsy was scheduled to determine whether there were any drugs or alcohol in Garcia's system.
#UPDATE: Suspect in this case has been identified as 36-year old Gustavo Garcia —-> Homicide in Visalia leads to officer-involved shooting, chase and fatal crash https://t.co/Yid9pGMzjy

— Connie Tran (@MissConnieTran) December 17, 2018
Video of car burning following deadly crash on Highway 65. Wanted suspect Gustavo Garcia was killed. (Video courtesy Carlos Calderon) Story: https://t.co/WjPVDMkw5p pic.twitter.com/siRHVP8IFG

— FOX26 News (@KMPHFOX26) December 17, 2018
Gustavo Garcia: A history of Immigration woes and criminal activity
The Fresno Bee reported Garcia having a long criminal history stemming back to 2002- including arrests for drugs, assault with a deadly weapon, vandalism and contributing to the delinquency of a minor along with previously being in trouble with immigration officials several times before being deported in 2014.
Prior to his 2014 deportation, abc30 reported Garcia having immigration holds in 2004, 2012, and 2014..
Garcia's recent immigration status was not immediately understood. Not clear is how the man was able to re-enter the US after being previously deported and whether he had illegitimately returned.
51-year-old Rocky Paul Jones was one of the many victims of Gustavo Garcia's shooting spree in the South Valley. The Farmersville father was in the parking lot of Visalia's ARCO gas station Monday when Garcia fatally shot him. His family talks to us tonight at !! @ABC30 pic.twitter.com/B7NFltoYJM

— Christina Fan (@ChristinaABC30) December 18, 2018
"What has to happen for these criminals to be held accountable?" asks the brother of the man killed overnight in #Visalia by Gustavo Garcia, a convict who went on a tear for 24 hours in Tulare County. pic.twitter.com/41iXSq3ZOb

— Liz González (@LizKMPH) December 18, 2018