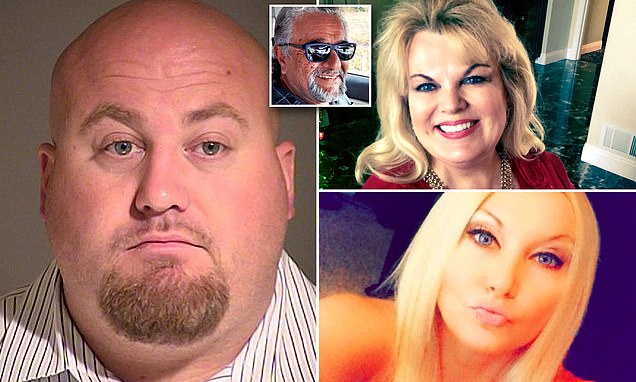 Orcutt triple homicide: Former Santa Barbara sheriff's deputy, 

David Gerald McNabb 

stabs and beats sister, mom and roommate at gated community home. 
A former California sheriff's deputy with a history of domestic violence has been identified as the individual who allegedly stabbed to death his mother, sister and another man, Friday night. Following the attack at an Orcutt gated community home- responding police shot dead the suspect.
David Gerald McNabb, 43, is alleged to have killed his sister, Nicole McNabb, 34; his mother, Melania McNabb, 64; and a roommate at the residence- Carlos Echavarria, 63.
Echavarria lived inside the home where the killings took place, according to the Ventura County Star.
The alleged triple murder took place Friday night at a home in the gate community of Oakhill Estates in Orcutt, an unincorporated village of Santa Barbara County.
Sheriff's deputies were dispatched at around 8pm to the 5900 block of Oakhill Drive, according to the San Luis Obispo Tribune.
Dispatchers were notified by a person living a the residence walking into the home whereby they 'found a bloody scene inside.'
'She discovered a victim covered in blood in a bathtub, fled the residence and called for help,' sheriff's spokeswoman Kelly Hoover said.
Deputies make contact with David Gerald McNabb upon arriving at blood-scene: 
When deputies arrived at the home, they concluded that there was a man inside armed with a rifle.
The deputies believed there were multiple wounded inside the home.
'It became a situation where they needed to go in and rescue the people who were inside the home,' Hoover said.
Hoover said that deputies made contact with the armed man inside the home.
It reached a point where the deputies 'were in a position where they had to shoot the subject in order to subdue him.'
Deputies assigned to the Sheriff's Special Enforcement team stormed the home and 'confronted' the suspect.
Hoover said that the suspect was 'initially shot with less-lethal munitions, followed by the use of deadly force.'
The suspect was then rushed to a local hospital and pronounced dead early Saturday morning.
David Gerald McNabb:A man allegedly stabbed to death his mother, sister, and another man https://t.co/embVrbYxpi pic.twitter.com/Pc1V2nmXgS

— infowe (@infowe) December 30, 2018
David Gerald McNabb murder motive:
KSBY reported David McNabb, working as a custody deputy for the Santa Barbara County Sheriff's Office from July 2001 to March 2012.
He voluntarily resigned from that job, according to the Sheriff's Office.
In September 2012, he was arrested by police in Oxnard and booked at Ventura County Jail.
In May 2014, he was convicted of felony domestic violence.
The homicide has since left local residents of the tight knit community of 35K in shock, with long term resident, Edward Crawford saying, 'It's very quiet- very congenial, everyone here is very nice.' 
Adding, 'It makes me want to vomit. it's disgusting, we just don't have things like that happen here'.
To date investigators have yet to establish a motive for the killings.