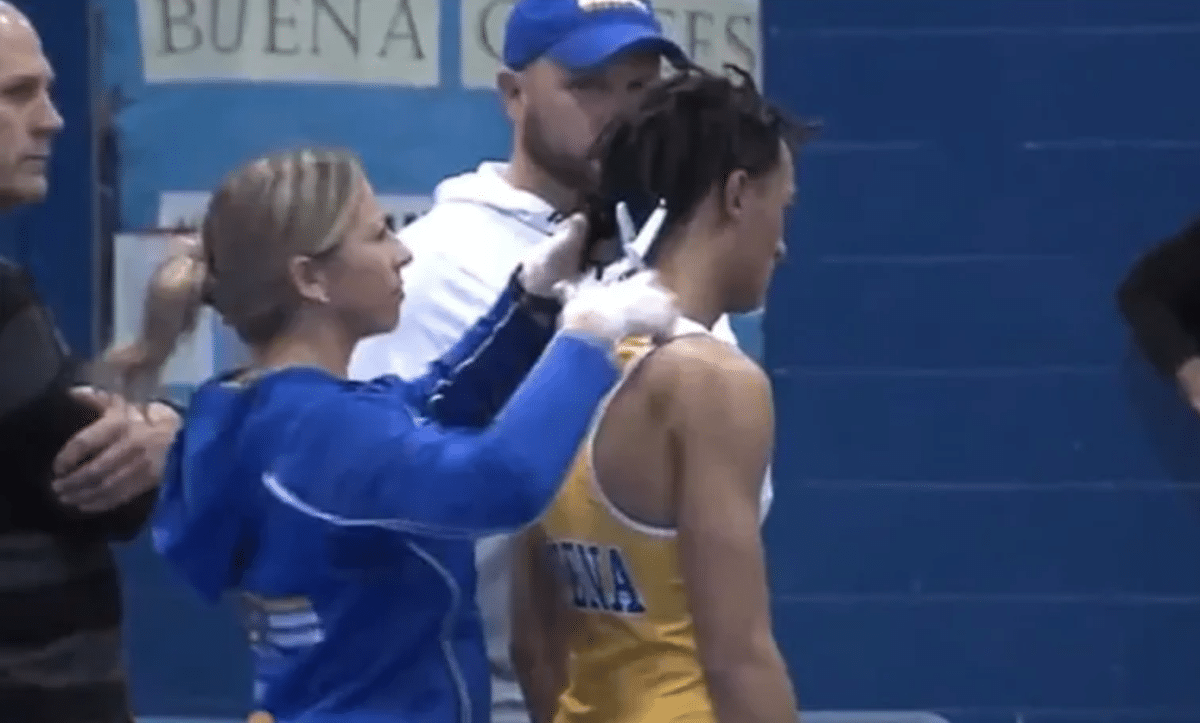 Andrew Johnson 

Buena Regional junior 

high school wrestler forced to have his dreadlocks cut by referee, 

Alan Maloney. Team player or just racial bias? 
Social media has reacted with outrage after a video of a black high school wrestler in New Jersey being forced to cut his dreadlocks by a referee going viral.
Buena Regional High School junior Andrew Johnson attempted to cover his dreadlocks with a head cap before his match at a meet on Dec. 19, but was told that his covering was not in compliance with state rules.
While Johnson's coaches fought back against the ruling, Johnson was told he must cut his hair or face a forfeit. The wrestler opted for the school's trainer to cut his hair.
The referee has since been barred from further officiating pending an investigation into the incident by the New Jersey State Interscholastic Athletic Association.
A New Jersey high school wrestling referee has been benched after forcing wrestler Andrew Johnson to either cut his dreadlocks or forfeit the match. Johnson chose to compete. Outrage over the incident has grown on social media. pic.twitter.com/YtfFIBTkDJ

— TODAY (@TODAYshow) December 22, 2018
Epitome of a team player ⬇️

A referee wouldn't allow Andrew Johnson of Buena @brhschiefs to wrestle with a cover over his dreadlocks. It was either an impromptu haircut, or a forfeit. Johnson chose the haircut, then won by sudden victory in OT to help spark Buena to a win. pic.twitter.com/f6JidKNKoI

— Mike Frankel (@MikeFrankelSNJ) December 20, 2018
Andrew Johnson high school wrestler: Winning the match but not winning indoctrinated racism.
This is not the first time this referee has been involved in an incident closely related to race. In 2016, the referee, Alan Maloney, reportedly poked his finger in the chest of a black referee and called him the N-word.
An opinion piece via USA TODAY called for a lifetime ban as the only acceptable option for Maloney after making Andrew Johnson cut his dreads.
In the end, Johnson would win his 120-pound match with a takedown in overtime. 
While some labeled the incident as a 'feel-good story,' describing Johnson as courageous and a 'team player,' many social media users instead saw it is an obvious instance of racism and discrimination. 
It is clear that @MikeFrankelSNJ saw Andrew Johnson choosing to have his dreadlocks cut off as a selfless, All-American sacrifice. But to ignore how wrong it was for that choice to be forced—upon a child, no less—isn't merely white blindness. It is journalistic malpractice.

— Jamil Smith (@JamilSmith) December 21, 2018
Every adult in there failed Andrew Johnson…especially his coach and the ones cutting his hair.

— Bongi Gwamanda (@HoustonsBongiG) December 21, 2018
The framing of this story is problematic. This isn't overcoming adversity, but a person of color having to succeed in the face of prejudice. https://t.co/nKDwnVfi5D

— Jemele Hill (@jemelehill) December 21, 2018
So irritated seeing these white folks call Andrew Johnson a "team player" for having to cut his locs off at the whim of a racist referee and an uninformed coach.

— Amanda Seales 🇬🇩 (@amandaseales) December 22, 2018