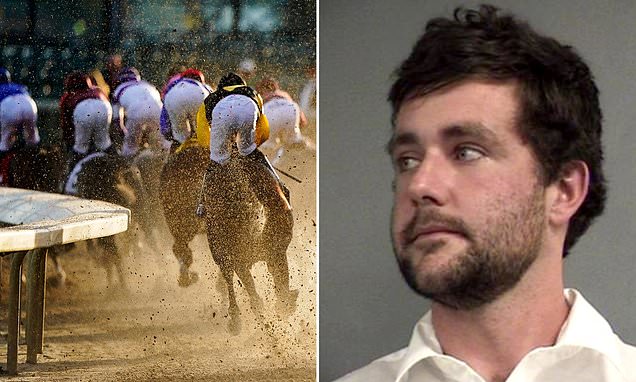 Michael Wells-Rody is arrested after the 'manifestly drunk' man tries riding a horse during 'Breeder's Cup Race,' at Churchill Downs.
Don't we all want to be sporting heroes? Also making their tabloid debut is Michael Wells-Rody, 24, after the visibly 'inebriated' man mounted a horse at a Kentucky derby seeking to take his 'rightful' place in glory among other jockey riders.
Witnesses told of the spectator at one point during Saturday's 'Breeder's Cup Race,' mounting a horse and attempting to ride it along the track at Louisville's, Churchill Downs. 
The Lexington Herald-Leader reported the man being apprehended after having 'snuck into a restricted area he was not authorized to be in'.
Police say Wells-Rody managed to make it out of the tunnel and 'into the track entrance,' before being 'apprehended'. Alas.
'When asked to leave the horse and the area, the subject became loud and disorderly by causing an alarm to Churchill staff members,' police said.
Wells-Rody was booked in the Jefferson County Detention Center and charged with public intoxication and disorderly conduct.
An arrest warrant noted the man 'manifestly under the influence'. 
The Breeders' Cup is an annual, two-day event featuring thoroughbred horse races.
The site of this year's Cup, Churchill Downs, is known primarily as the host site for one of the sport's main events – the Kentucky Derby.  
Our collective hero is due in court for arraignment on Monday. Indeed.
His name is Michael Wells-Rody, a hero of our times:https://t.co/74hzg6TNp9

— James C. Higdon, III (@jimhigdon) November 4, 2018
Breeders Cup ended with a trip to jail for Michael Wells-Rody. Police say he was drunk and snuck into a restricted area at Churchill Downs, got on a horse and rode out of the tunnel area into the track entrance. He's charged with disorderly conduct. pic.twitter.com/Bt6cErzZBy

— Carolyn Callahan (@CarolynWLKY) November 4, 2018