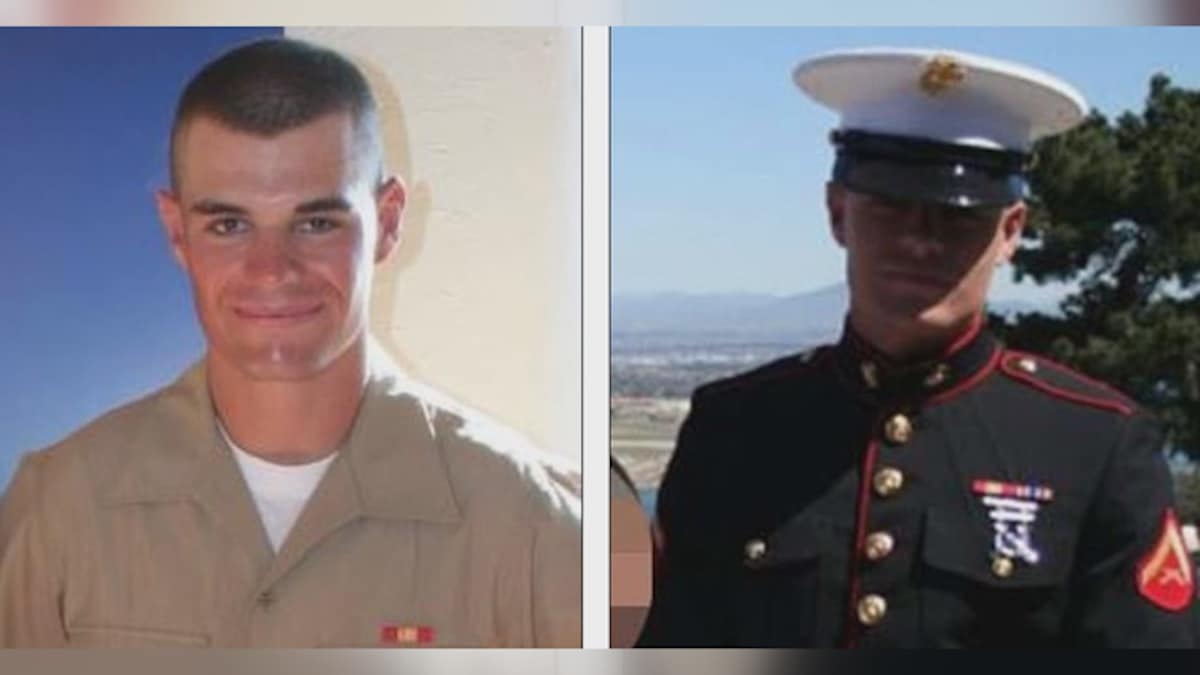 Thousand Oaks shooting suspect: What led to Ian David Long a former marine opening gunfire at California Borderline Bar & Grill nightclub? 12 dead plus gunman.
The shooter who gunned down 12 people at a country music bar in southern California on Wednesday night has been identified as a former marine. 
Ian Long, 29, opened fire on the Borderline Bar and Grill in Thousand Oaks at 11.20pm. The shooting suspect is alleged to have killed 11 people inside the bar and one of the first cops on the scene before taking his own life 
ABC News reports that Long, whose motive is still unclear, is a former marine.
According to a neighbor, who knew the gunman, Long suffered from Post traumatic stress disorder (PTSD).
Long is alleged to have arrived at the crime scene after driving his mother's car to the crowded bar. The gunman is understood to have been a resident of nearby Newbury Park.
Shooting witnesses said Long looked 'like he knew what he was doing' as he repeatedly fired his Glock .45 semi-automatic pistol. In all up the former marine fired up to 30 gunshots into the crowded venue which housed circa 200 college bound revelers. 
Attendees ran for their lives, hid beneath pool tables and used bar stools to shatter the windows to escape, Long continued firing and also threw smoke grenades to confuse the crowds. 
The gunman shot himself before SWAT teams got inside. He was dressed in all-black, wearing a baseball cap, sunglasses and a mask covering the bottom part of his face. 
People jumped out of windows and hid in bathrooms to escape the shooting in Thousand Oaks, California. Witnesses say the gunman came out of nowhere. 12 people plus the shooter are dead: https://t.co/r3XN7oKmTP pic.twitter.com/pDq7Am0mA7

— HLN (@HLNTV) November 8, 2018
California shooting suspect 28-year-old Ian Long was veteran and in the United States Marine Corps, according to authorities. https://t.co/tpWYS7pPSt pic.twitter.com/HaC87G119i

— CBS News (@CBSNews) November 8, 2018
PHOTO: Law enforcement image of Sgt. Ron Helus, Ventura County Sheriff's Department deputy shot and killed during Wednesday evening's mass shooting incident at Borderline Bar in Thousand Oaks, California. pic.twitter.com/D1CmcV1XHW

— Matthew Keys (@MatthewKeysLive) November 8, 2018
Ian David Long Thousand Oaks gunman: 'He knew he looked like what he was doing.'
When the first police officers arrived at the scene three minutes later, the gunman shot one of them multiple times before shooting himself. By the time SWAT teams arrived, he was dead. The sheriff's sergeant who was shot later died in hospital. 
Sgt. Ron Helus was revealed as the slain deputy with reports of the sheriff's deputy scheduled to be retiring next year, according to authorities. The revered officer had 29 years of experience in the force and leaves behind a wife and son.
In total, 13 were shot dead; 11 victims inside the bar, the sheriff's sergeant and the gunman. 
An additional '10 to 15′ victims were injured during the mass shooting, including the bouncer, a young female cashier and college students. 
"I turned around and saw him shoot" – A witness recalls being on the dancefloor when a gunman opened fire in a California bar.

Follow live updates on the story here: https://t.co/Ab06DWVoO4 pic.twitter.com/rVqZX1QyJJ

— Muhemmed Asfand Yar (@muhemmedasfand) November 8, 2018
Ian David Long Thousand Oaks gunman says nothing as he picks off his victims. 
Ian David Long walked up to the entrance at 11.20pm and shot the bouncer before making his way into the venue. He then shot a young female cashier before throwing smoke grenades onto the dance floor and letting off rounds into the crowd. 
The bar is popular with college kids because it allows under 21s in on Wednesday nights.  Those who were not old enough to drink had black X's stamped on their hands. 
Pepperdine University confirmed on Thursday morning that some of its students were among those in the bar. It is unclear if they were among those killed. 
Ventura County Sheriff Geoff Dean said the scene was the worst he had seen in 41 years. 
Told the sheriff: 'It's a horrific scene in there, there is blood everywhere and the suspect is part of that, and I didn't want to get that close and disturb the scene and possibly disturb the investigation. 
'This, by far, is the most horrific thing I've seen in my 41 years,' he said. Dean was due to retire on Thursday, the day after the shooting.
Long had been on active duty with the Marines from August 2008 to March 2013, according to the Department of Defense.
His handgun was designed to hold 10 rounds plus one in the chamber – but the extended magazine, which is illegal in California, carried more bullets, Dean said. The exact number was unclear.
Dean said his officers had several interactions with Long, including an April call to his home.
'We've had several contacts with Mr. Long over the years, minor events, a traffic collision,' he said. 'In April of this year, deputies were called to his house for a subject disturbing. They went to the house, they talked to him. He was somewhat irate. Acting a little irrationally.'
Mental health professionals sent to evaluate him concluded he did not need to be taken into custody, he said.
Of intrigue, Long also was the victim of a battery at a local bar in 2015, the sheriff said.
Thousand Oaks shooting victim's id: Dad told son, 'I love you' hours before.
Thousand Oaks gunman ex veteran highly decorated but mom lived in fear of him.
Thousand Oaks gunman roommate: 'He wasn't violent-just a weirdo.'
Thousand Oaks shooting: Country music bar gunman killed with 12 others dead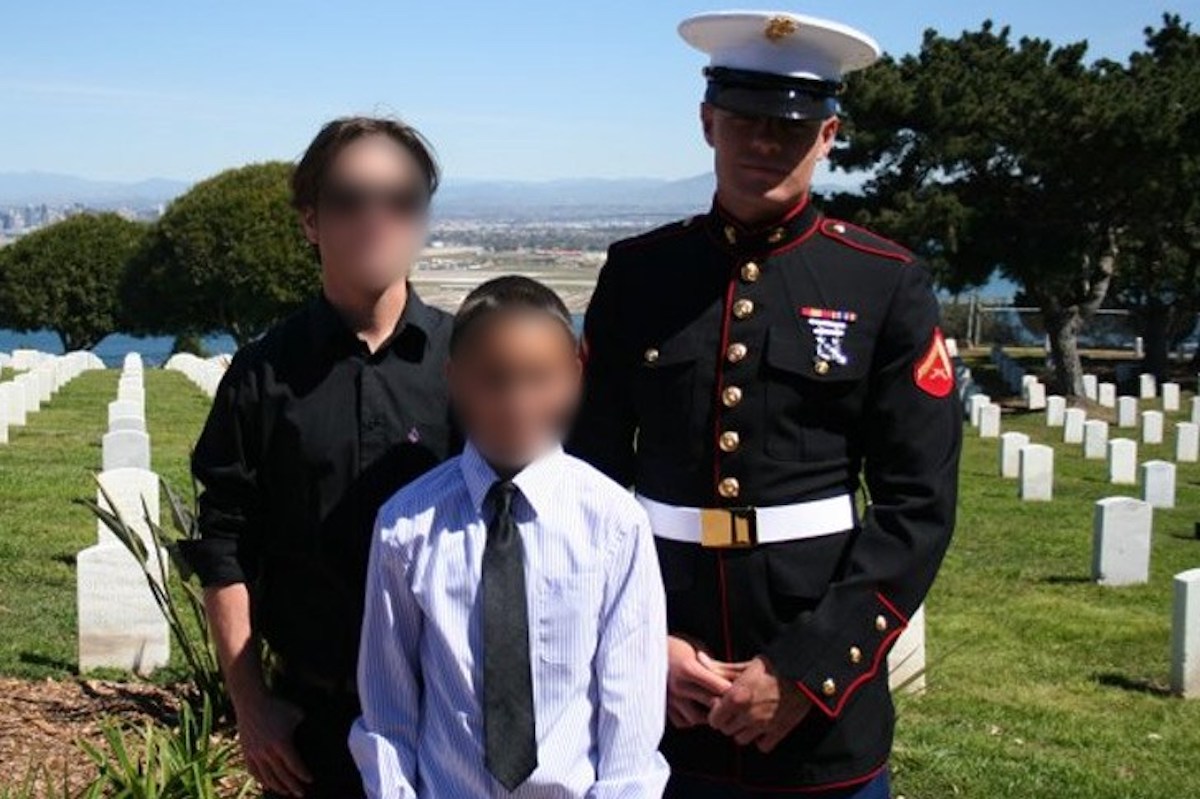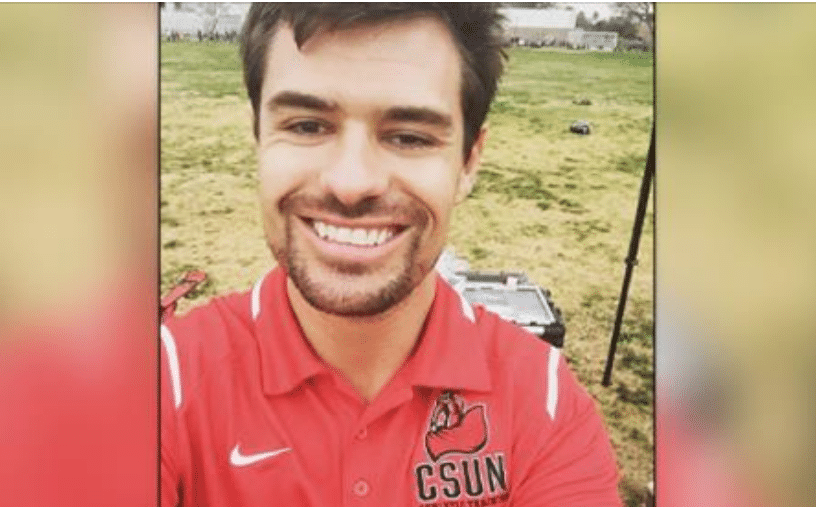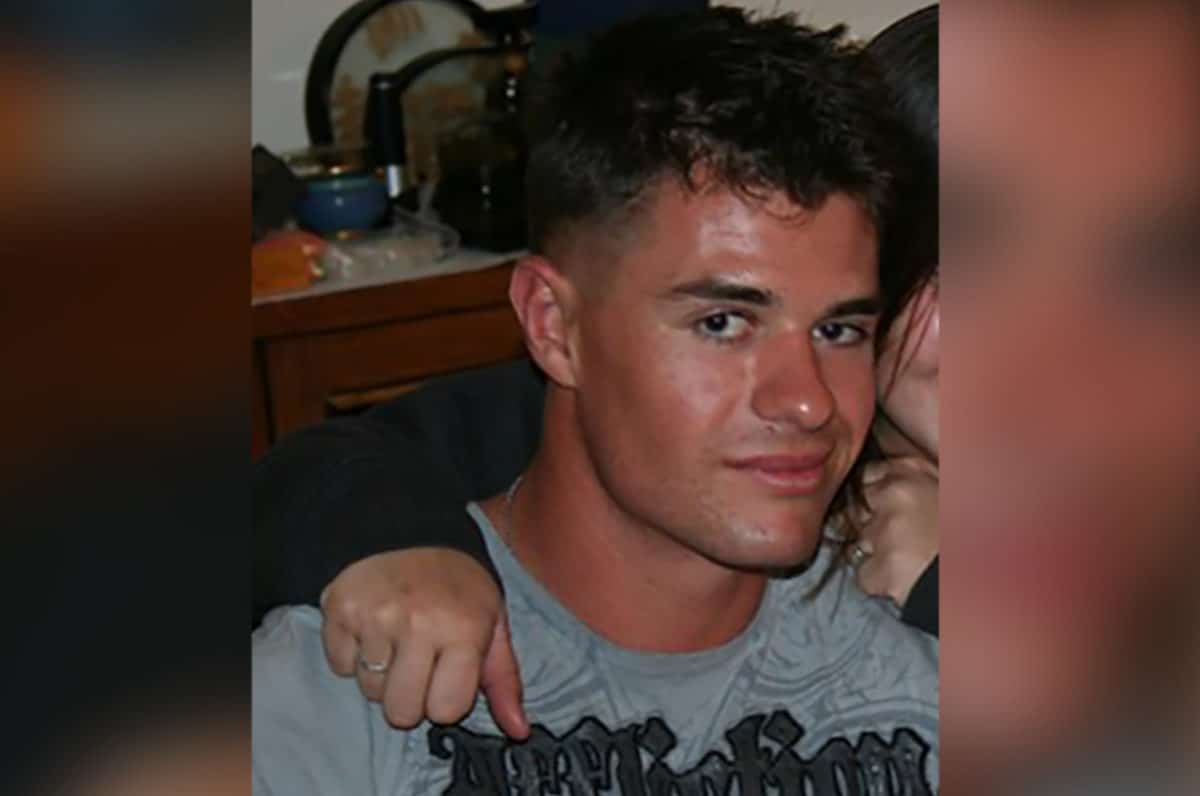 Ian David Long Thousand Oaks gunman: He was shooting at everything. 
Told a witness via ABC7: 'I was at the front door talking to my stepdad. I heard these big pops.
'There were three or four and I hit the ground. The security guard was dead and the man had a handgun. 
'He threw in smoke bombs and he kept firing. People threw chairs out of the windows to try to get away.
'The gunman had glasses and a black jacket. He had a big hand gun.' 
Told another witness, 'This maniac came in. Threw in smoke to confuse people and opened fire on the dance floor. He's taken many young lives'. 
'This guy just came out of nowhere and came out with a gun and shot people in Thousand Oaks, California,' attendee, Holden Harrah said. 'And that's what's really blowing my mind, it's a really safe area.'
'He was shooting everything, from the speakers to anything,' Kayla Simmons said.
Teylor Whittler, another witness, said the gunman had 'perfect form' and 'looked like he knew what he was doing.' 
'I saw three people get shot by him. As soon as he walked in, he had perfect form. I'm born in a military family and I've been around guns my entire life so I know a bit about them.
'He looked like he knew what he was doing. He had practiced, he had been shooting before,' she told Fox News. 'She added that while the bar was popular among students, it attracted patrons of all ages.'
College students go there, high school seniors go there, elderly people go there. Everyone who loves country goes there,' she said. 
Several minutes after the gunman opened fire, a SWAT team arrived and found the 11 victims dead inside. 
There were 100 people inside the bar when the gunman opened fire, police said, and the number of casualties is 'very likely' to go up. 
Local hospitals have been inundated with victims who've transported themselves to emergency rooms with injuries seeking medical help.
One witness, who was at the bar with his step-son, described the sequence of events. He said:  'He shot the front doorman, who was just a young man.
'Then he shot the cashier, just a young girl. Then he started moving to the right. He wasn't looking at us. Then he went into the office, where all the cash and stuff is. 
'He didn't say anything at all. He just started shooting.'