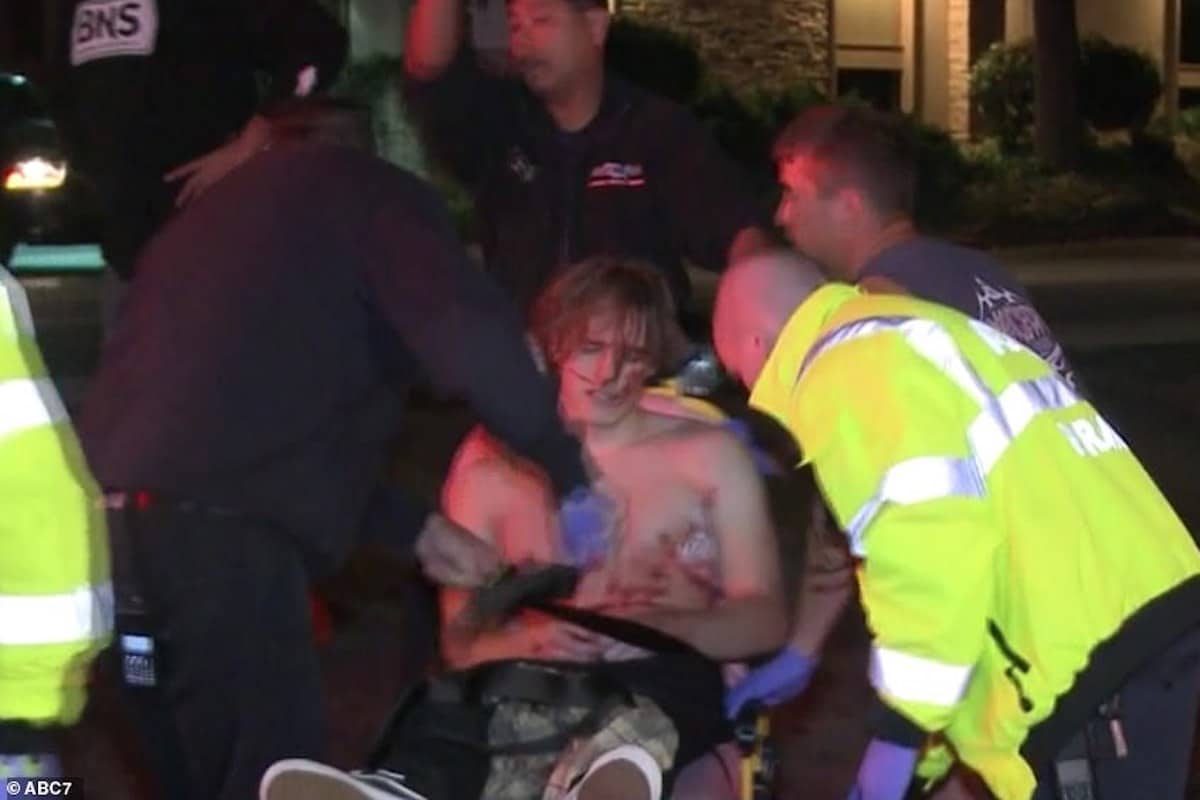 Thousand Oaks shooting at California Borderline Bar & Grill nightclub leaves gunman dead, and at least 12 others dead. 
A gunman has caused pandemonium after opening fire at a county music bar packed with college students in the city of Thousand Oaks, California, killing at least 12 people before turning his weapon on himself- bringing total casualties to 13. Another 11 were injured.
Reports told of the shooter storming a student night at Borderline Bar and Grill, about 40 miles west of Los Angeles– wearing a black trench-coat armed with a 'high capacity' pistol and smoke grenades.
Among the victims was a deputy sheriff and a doorman – as well as a cashier and college students. The lifeless body of a suspected male victim was seen outside the venue.
Sgt. Ron Helus was revealed as the slain deputy with reports of the sheriff's deputy scheduled to be retiring next year, according to authorities. The revered officer had 29 years of experience in the force and leaves behind a wife and son.
Venutra County sheriff's Sgt. Eric Buschow confirmed there were fatalities, but could not say how many as authorities first responded to the scene.
People jumped out of windows and hid in bathrooms to escape the shooting in Thousand Oaks, California. Witnesses say the gunman came out of nowhere. 12 people plus the shooter are dead: https://t.co/r3XN7oKmTP pic.twitter.com/pDq7Am0mA7

— HLN (@HLNTV) November 8, 2018
Breaking: Witness says that a man shot a security guard before entering Borderline Grill and Bar in Thousand Oaks, California, then set off a 'smoke' device and started shooting people inside. The bomb squad and FBI are on the scene. pic.twitter.com/lMM1ZeXNjj

— PM Breaking News (@PMBreakingNews) November 8, 2018
PHOTO: Law enforcement image of Sgt. Ron Helus, Ventura County Sheriff's Department deputy shot and killed during Wednesday evening's mass shooting incident at Borderline Bar in Thousand Oaks, California. pic.twitter.com/D1CmcV1XHW

— Matthew Keys (@MatthewKeysLive) November 8, 2018
Thousand Oaks shooting gunman was shooting at everything: 
Police initially indicated they were engaged in a standoff with the shooter. At some point authorities said the suspect was 'no longer a threat' but was still inside the bar. Reports later indicated the gunman had been 'neutralized' and was now dead.
The perpetrator, dressed in all-black, wearing a baseball cap, sunglasses and a mask covering the bottom part of his face, walked up to the entrance at 11.20pm and shot the doorman before making his way into the venue.
He then opened fire on a young female cashier before throwing smoke grenades onto the dancefloor and letting off rounds into the crowd.
Told a witness via ABC7: 'I was at the front door talking to my stepdad. I heard these big pops.
'There were three or four and I hit the ground. The security guard was dead and the man had a handgun. 
'He threw in smoke bombs and he kept firing. People threw chairs out of the windows to try to get away.
'The gunman had glasses and a black jacket. He had a big hand gun.' 
Told another witness, 'This maniac came in. Threw in smoke to confuse people and opened fire on the dance floor. He's taken many young lives'. 
'This guy just came out of nowhere and came out with a gun and shot people in Thousand Oaks, California,' attendee, Holden Harrah said. 'And that's what's really blowing my mind, it's a really safe area.'
'He was shooting everything, from the speakers to anything,' Kayla Simmons said.
"I turned around and saw him shoot" – A witness recalls being on the dancefloor when a gunman opened fire in a California bar.

Follow live updates on the story here: https://t.co/Ab06DWVoO4 pic.twitter.com/rVqZX1QyJJ

— Muhemmed Asfand Yar (@muhemmedasfand) November 8, 2018
Thousand Oaks gunman fired 30 rounds into club:
A Ventura County Sheriff's Office official said approximately 30 shots had been fired inside the building.
People were hiding from the shooter in bathrooms and attic spaces, while others who managed to escape fled to nearby gas stations for medical help.
Some had to use chairs to break windows inside the bar to escape.
Before the shooter opened fire, revelers were enjoying a country music night aimed at college students.
It's thought that a man opened fire at the bar with a semi-automatic gun at about 11.20pm.
The gunman was still believed to be inside the bar an hour later, according to a police official.
The attack has been upgraded to a level 2 mass casualty incident, according to local reports.
A SWAT team have been pictured surrounding the venue in their formations, while the FBI's Joint Terrorism Task Force is also at the scene.
Borderline is a country music bar that hosts live music events.
Tonight's event was aimed at college students, according to the bar's website and Instagram page.
Not immediately understood is why the gunman targeted the weekly venue and what ultimately motivated the bloodbath….
Thousand Oaks shooting victim's id: Dad told son, 'I love you' hours before.
Thousand Oaks gunman ex veteran highly decorated but mom lived in fear of him.
Thousand Oaks gunman roommate: 'He wasn't violent-just a weirdo.'
Thousand Oaks shooting suspect identified. Gunman motives examined
I liked a @YouTube video https://t.co/jutxFTLN7T Thousand Oaks shooting: Stepdad, son recall terrifying moments gunfire erupted | ABC7

— Sagar Maiti (@Sagarmaiti2410) November 8, 2018
Mass shooting at Borderline Bar and Grill in Thousand Oaks, California. It is the 307th mass shooting in the United States this year. ⁦@NRA⁩ and ⁦@GOP⁩ are killing people. https://t.co/BAsuecAf3Y

— Lisa Borden (@lisawborden) November 8, 2018
These women escaped the Borderline bar shooting Wednesday night in Thousand Oaks pic.twitter.com/xA4PenRT0f

— Alene Tchekmedyian (@AleneTchek) November 8, 2018