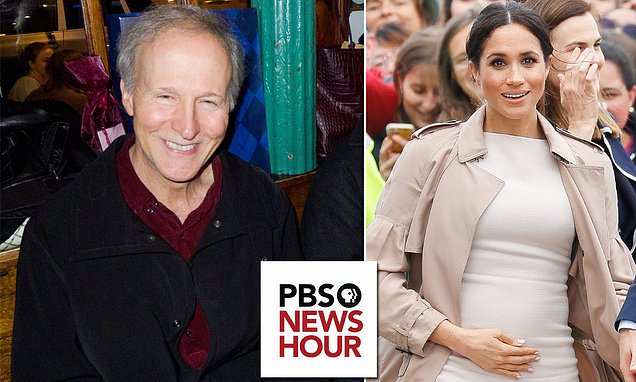 Fired PBS journalist Hugh Heckman sues former employer claiming wrongful termination following Meghan Markle comments construed to be sexual harassment. Metoomovement gone wrong. 
In a sign of perhaps how much identity politics and the notion of sexual harassment may have overplayed itself (and how) a PBS journalist is suing his former employer after being fired after two female employees accused him of being denigrating of the female form. His crime? Being overhead exclaiming, 'not bad' upon being presented pictures of Meghan Markle.
Hugh Heckman, 72, filed a complaint against the outlet in a U.S. District Court in New York last Thursday, claiming wrongful termination and sex discrimination.  
In his suit, the sacked reporter claims he was terminated because of 'sex and sex stereotyping' after his 'innocuous remark' was only interpreted to constitute sexual harassment because of his gender.
Which is to wonder is sexual harassment simply an issue of being a male and saying and behaving in a way that would not cause offense had it been done or said by the opposite gender? Which is to further wonder- is being male in 2018 already a stacked and loaded conundrum liable to get any male in the gallows – should a man be perceived conducting oneself outside the preferred pre-defined spectrum?
In his suit, Heckman further holds that PBS 'assumed incorrectly that a male must be guilty of a sexual harassment if a female employee complained, even though the remark was a stray and isolated remark that had no sexual intent nor harassing intent and was not direct at any co-workers'. 
Would the complaint against Heckman have been taken seriously had it been an offended male who'd gone to superiors? (we already know the answer to that one). Or is it only women who can be offended and presumably threatened by predatory male behavior. Never mind the many instances were it is simply the other way round.
Or were company officials beholden to act for fear of alienating female staff and finding themselves ripe to the suggestion/accusation that they too were allowing a culture of sexual harassment at their offices? Hardly the billboard starring role corporate America is seeking to see ratified on the national media click bait headlines.
Hugh Heckman lawsuit: Presumed guilty for nothing more than one's gender?
According to the suit, Heckman at the time of his sacking was working on a news story regarding the Royal Family, specifically, Prince Harry and the duchess on November 25, 2017, when he and another male employee viewed a picture of Markle.
At some point Heckman said, 'not bad' to his co-worker in a lone tone of voice, which he claims intended to convey Markle had 'charm and beauty and was a suitable match for her fiance.'  
Pay attention ('hey look at those knockers', 'hey I'd like to have a go at her', 'I wonder what she's like in bed?'- anyone see the difference?).
But it would be the uttering of those two loaded words that soon turned one male reporter's life upside down when two female colleagues sitting nearby, heard the remark and criticized Heckman for being inappropriate- particularly given that employees had recently attended training about sexual harassment in the workplace. 
One of the women then said to him, 'haven't you learned?' in a disparaging tone, according to the suit.
Raise your hand if you smell the scent of female sanctimony and a desperate rush of misplaced female empowerment? Shouldn't positive female virtues be about positive acts and goal attaining as opposed to questionable semantics if a woman's sense of worth is deemed to have been sullied by a matter of speech?
Have women really become that atrophied and emblazoned in the #metoomovement political identity politics doctrine-where common sense has gone out the window?
Hugh Heckman lawsuit: No investigation, no due process, guilty as sin. 
Heckman in his suit claims a the time being 'embarrassed and upset' by the criticism (and rightly so) while immediately explaining his words were not intended to be sexual in anyway. 
But it didn't matter- Heckman was fired two days later. 
In his suit, the NY based journalist contends PBS not having conducted a investigation on the matter (how could it- it had its hands tied by the feminazi at the offices) and failing to get his side of the story before terminating him.
PBS allegedly stated that Heckman was fired because 'his services were no longer needed' yet proceeded to hire another person to take over his job shortly after. Which is a backhand hand way of saying- we do as we please and use clever euphemisms that suit us- especially since we're in the position of being your paymaster and not the other way round.
Heckman also accused the station of holding a double standard claiming the same two women who complained had previously looked at a picture of Prime Minister Justin Trudeau and said he is 'hot,'.
But that's not sexual harassment because the media world constantly would like to remind us that females can never be sexual predators – when the reality is they most certainly are capable of being the very thing men are so often accused of being by nature. 
Heckman in his suit is seeking unspecified damages for lost wages, emotional distress, humiliation, loss of enjoyment of life, damage to his professional reputation, and other losses.
So much for the freedom of the press, so much for being afforded the benefit of the doubt, so much for being vilified for nothing more than your gender and so much for identity politics that simply has gone overboard and seemingly only sows the seeds of discord and divide.
And then there were these responses on social media that piqued this author, see what you think?
but the latter isn't trivial. Ask Hugh Heckman, latterly fired for sexually harassing … a photograph of Megan Markle. Two words–"not bad"–cost him his career at PBS. He's 72. Does this sound like a climate of freedom to you? pic.twitter.com/aSSDsaIBzG

— Claire Berlinski (@ClaireBerlinski) October 28, 2018
Lord knows I hope he wins this suit. That's some major bullshit!!#HughHeckman

Hugh Heckman, Fired After Seeing Meghan Markle's Photo and Saying 'Not Bad,' Files a Lawsuit Against PBS https://t.co/iL5XzriYHY

— #MikeCon #Photography #GermanFitnessPhotographer (@MikeConPhoto) October 28, 2018