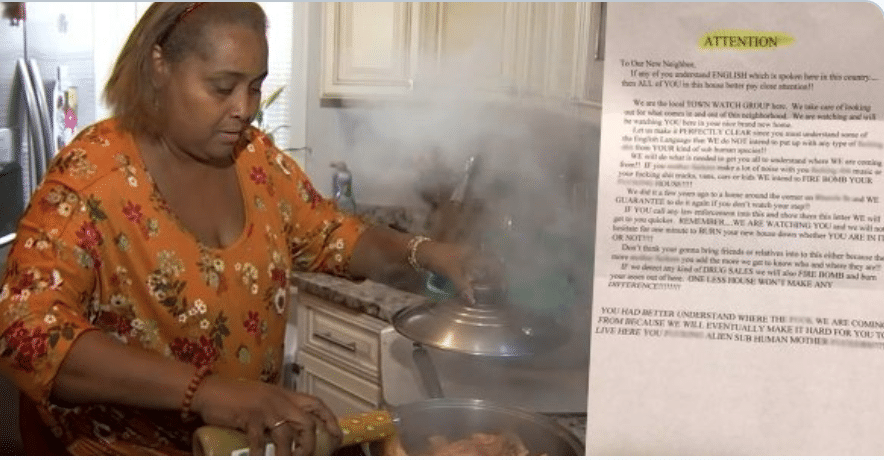 Connie Mella moves into her new

 Tacony, Philadephia area home only to be met with hate letter threatening her and her family, 'we speak English here'. 
A Hispanic woman has told of receiving a 'hate' filled letter upon moving into a Philadelphia area suburb home.
Having moved into the new home with her mother, husband, and 7-year-old daughter, Connie Mella was soon after met with a shocking letter when she went to the mailbox.
WPVI-TV reported the 'latina' woman finding a note addressed to 'our new neighbor' Thursday morning– some two months after the family moved into the Tacony area home.
The note started off by saying, 'if any of you understand English, which is spoken here in this country, then all of you in this house better pay close attention.'
'We do not intend to put up with any type of (expletive) (expletive) from your kind of sub-human species,'
'If you make a lot of noise with your music, your trucks, vans, cars or kids we intend to firebomb your house.'
All the joking you hear in the video aside…Connie Mella, who is Dominican, had a very hateful letter show up in her mailbox in Tacony. It was addressed to "Our New Neighbor". She's called a subhuman species. The writer threatens to firebomb her home. More @ 4:30 & 5:30 @6abc pic.twitter.com/XQ41aYEO6q

— Bob Brooks (@BobBrooks6abc) November 2, 2018
Connie Mella son: 'She waited so long to get her house, and this is how they welcomed her to the neighborhood'.
Mella, whose family hails from the Dominican Republic, is an American citizen and has lived in the United States for nearly two decades, WCAU reported.
According to Mella, the letter left her distraught, with the understanding her family could be in danger. Her son, Elvis, said his mother is the type of person 'who likes to make sure everybody likes her.'
Mella turned over the letter to police, who are checking it for DNA and fingerprints.
'She waited so long to get her house, and this is how they welcomed her to the neighborhood,' the woman's son told WPVI.
The letter led to some locals responding to the the threat against their new neighbor.
'I've never had any problems with them. I think who ever sent it is a coward,' Carl Wilson offered via WPVI-TV.
While Juliette Underwood reflected, 'There's no excuse for it. There's been no problems'.
To date Philadelphia police have not indicated if they identified the writer of the hateful male and whether any arrests are forthcoming.
Welcome to a brave new America….