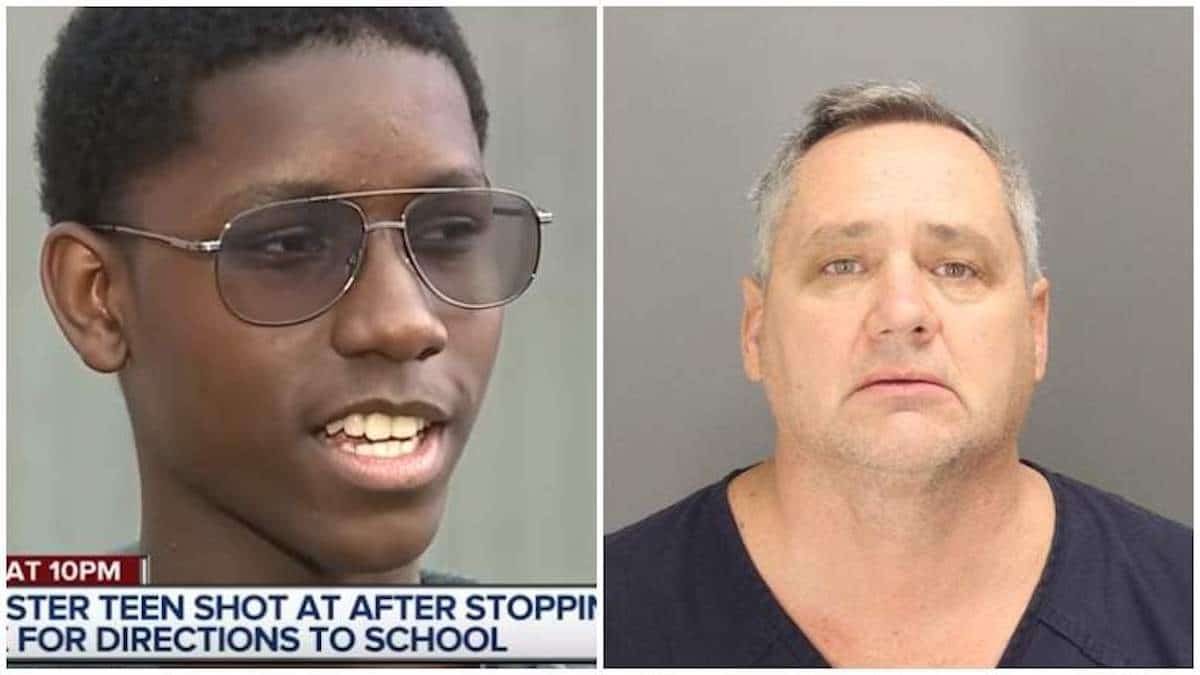 Jeffrey Zeigler trial: Was Brennan Walker shot at because he was black? Rochester HIll, Michigan man insists he feared being robbed.
A Michigan courtroom was shown video this week of a 'white' homeowner owner allegedly shooting at a black teen with a shotgun after knocking on the man's door asking for directions.
Charged with the attempted murder of Brennan Walker, 14 was ex firefighter, Jeffrey Zeigler, 53.
Oakland Press reports the alleged 'hate crime' which took place at a Rochester Hills area home being captured on Zeigler's home security system on the morning of April 14th.
During trial testimony earlier this week which included Zeigler also being charged with possession of a firearm in the commission of a felony, jurors heard Walker approached Zeigler's home after missing the bus.
The high school freshman was lost and knocking on the doors of houses, asking for directions, the Oakland County Sheriff's Office said.
1. Brennan, a 14 year-old kid, misses his school bus, gets lost trying to walk to school
2. Brennan knocks on the door of a Jeffrey Zeigler seeking help

See what happens next…#WhyWeKneel #BLM pic.twitter.com/MiZ5ArLPLG

— cory provost (@coryprovost) October 11, 2018
Jeffrey Zeigler:  'I'm tired of being a victim'.
'I was trying to explain … that I wanted to get directions to go to my school,' Walker told WDIV after the incident.
Zeigler, however, claimed he was just defending himself — and told cops that Walker was attempting to break in. One of many previous incidents according to the man and his wife. 
The ex firefighter also claimed that his shotgun accidentally went off after tripping outside. Surveillance footage appeared to show otherwise.
'When I saw that video…I was shocked,' detective Shawn Pace explained in court Tuesday.
'I knew which direction I had to go,' he said, according to The Oakland Press.
'I was offended by what I had seen.'
Pace said that Zeigler's behavior during his interrogation didn't sit well with him, either.
'He took a big drink of water, looked at me and said, 'I'm tired of being a victim,'' Pace testified. 'That was it.'
Also tired of being a victim was the teen boy's mother, Lisa Wright, with the woman saying, 'It definitely was a hate crime'. 
Jeffrey Zeigler trigger happy?
Told the ex firefighter's wife, Dana Zeigler during testimony on Wednesday, 'I was screaming as loud as I possibly could, saying somebody is breaking into my house,'
'I saw a black person standing at my door and I screamed at him and I asked him what he was doing there,'
'He tells me that he is going to school and at that point he approaches the door, forward momentum, comes forward, opens the screen door, and puts his hand on the door handle again, as though he's coming into my house.'
Dana Zeigler testified that she panicked. Her screams woke up her husband, Jeffrey Zeigler, who was in a deep sleep.
She said Brennan did not look like an innocent student.
'He didn't look like a child,' she told the court.
'He was a rather big man standing there, and also, if he was going to school, we have no schools in our area.'
Of note, a detective testified the Zeiglers having been burglarized three times between 2009 and 2010.
In 2004, Zeigler pleaded guilty to firing a weapon at another driver. It was a misdemeanor charge and he did not serve any jail time.
Final arguments in the trial are scheduled for Friday. The jury will then deliberate before rendering a verdict.
Hate crime? White Rochester Hills man shoots black teen after knocking on door asking directions.
THAT is bullshit! All Jeffrey Zeigler had to do was ask Brennan "how may I help you?". Too easy. Instead he pulls out his rifle & tries to kill him! What a psycho! A bigot! A racist!
I must say..it really has gotten worse since Trump's campaign!

— Ginger (@Im_Pebbles) October 11, 2018
Jeffrey Zeigler should serve Federal Jail time for attempted murder. If not then it's a clear case of White Privilege.

— FarSear (@Padreus) October 11, 2018