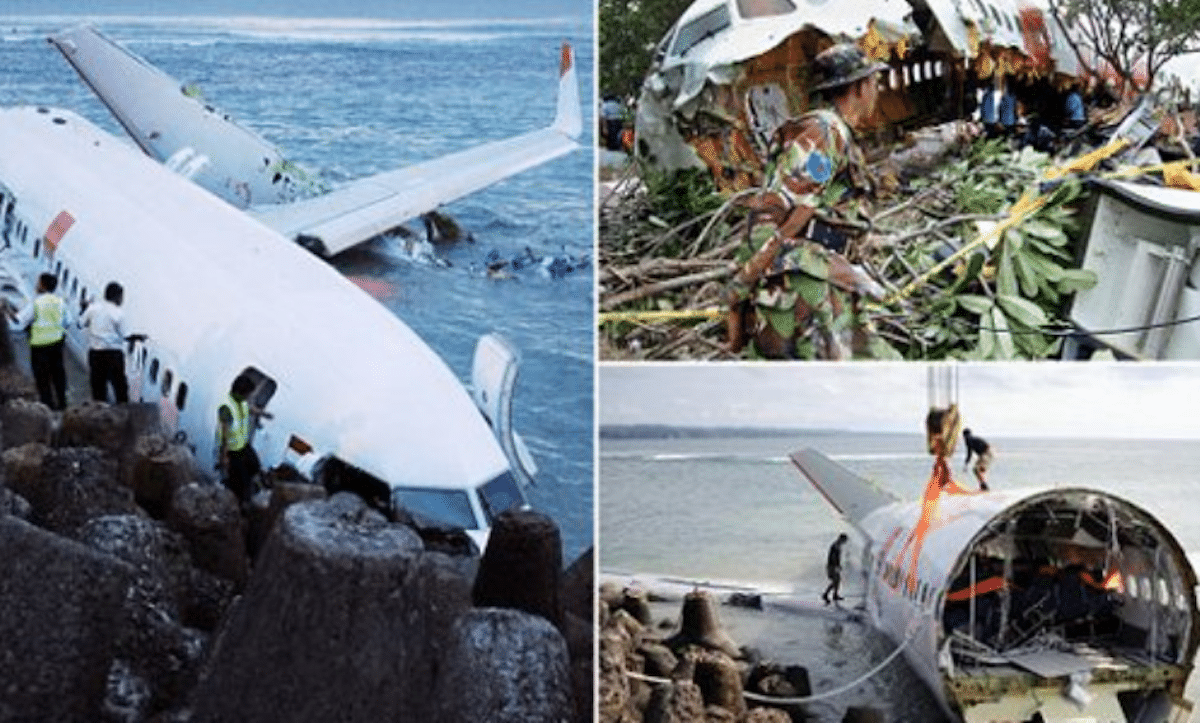 Indonesia Lion Air plane crash: Flight JT-610 from Jakarta to Sumatra mystery crash: 189 on board with no survivors. Boeing

737 MAX 

was new acquisition in August. 
A Lion Air plane carrying 189 people traveling from Indonesia's Jakarta to Pangkal Pinang, near the island of Sumatra, has crashed. Initial suggestions point to the plane plunging 5000 feet to the sea- the result of 'technical difficulties', as the pilot sought to circle back. 
To date despatch rescue teams haven't discovered any survivors- with photos on social media showing many discarded parts broken with great force – confirming apprehension no survivors were expected to be found.
Of the 189 traveling on the Lion Air's flight JT-610, local media confirmed there being 178 adults, one child, two babies, two pilots and five flight attendants on board. There were also 20 staff from the Ministry for Finance on board.
Local media identified pilots, Bhavye Suneja and co pilot Harvino commandeering the flight. Suneja had 6,000 flight hours of experience and the co-pilot has 5,000 flight hours, according to news agency Bloomberg.  
My hope and pray for all Lion Air plane crash victim and families 🙏🙏 pic.twitter.com/hI43r7xLMo

— Arya Manggala (@AryaManggala87) October 29, 2018
Lion Air plane crash: timeline of turmoil
The plane, a Boeing 737 MAX, lost contact 13 minutes after taking off from the Indonesian capital at 6:20am local time, before crashing into the sea. Reuters reports that wreckage was found on the ground near where the jet lost contact with air-traffic control.
Shortly before crashing, the plane's pilot, Indian national Bhavye Suneja, had reported 'technical difficulties' and, minutes after take-off, asked to return to the airport, an official said. Traffic control allowed the return, but the aircraft then vanished from radar.
Lion Air's president said the Boeing 737 MAX 8, which went into service just months ago, had gone in for repairs ahead of the flight.
'It got repaired in Denpasar (in Bali) and then it was flown to Jakarta,' Edward Sirait told AFP. 'Engineers in Jakarta received notes and did another repair before it took off' on Monday. That's the normal procedure for any plane.' 
Sirait who insisted the issue had been resolved before departure, declined to say what exactly the aircraft had been serviced for.
Data from FlightRadar24 indicated the first sign of something amiss was around two minutes into the flight, when the plane had just reached 2,000 feet (610 m).
Then it descended more than 500 feet (152 m) and veered to the left before climbing again to 5,000 feet (1,524 m), where it stayed during most of the rest of the flight.
It began gaining speed in the final moments and reached 345 knots (397 mph) before data was lost when it was at 3,650 feet (1,113 m).
'We don't dare to say what the facts are, or are not, yet,' Edward Sirait, the chief executive of Lion Air Group, told Reuters. 'We are also confused about the why, since it was a new plane.'
Here's more on the Boeing Max-8 aircraft in the Lion Air #JT610 plane crash

Click through to @business' Live Blog for more updates 👉 https://t.co/wQnvCCa5e6 pic.twitter.com/ZYi7AENbfQ

— TicToc by Bloomberg (@tictoc) October 29, 2018
Lion Air plane crash pilots collectively clocked 11K hours flying time.
In a statement, the privately owned airline said the aircraft, which had only been operated since August, was airworthy, with its pilot and co-pilot together having accumulated 11,000 hours of flying time.
Boeing said it was monitoring the situation. Lion Air, a domestic low-cost carrier in Indonesia, purchased 50 of the Boeing jets in April, on top of the 200 planes it bought from the company last year, as carriers in Southeast Asia compete to meet rapidly growing demand for travel in the region. The accident is the first one involving the 737 MAX, a new, more fuel-efficient model introduced last year, according to Reuters.
The head of Indonesia's transport safety committee said he could not confirm the cause of the crash, which would have to wait until the recovery of the plane's black boxes, as the cockpit voice recorder and data flight recorder are known.
Of note, officials indicated the weather at the time of the crash as being clear.
Lion Air said it would give a news conference later on Monday.
More Plane Stuff. There's something happening with Planes lately, am I the only one noticing this? https://t.co/Fqb4Q0QVnO

— Mark Kennedy 🇺🇸 (@RealMarkKennedy) October 29, 2018
Video: Rescue workers at the site of Indonesia Lion Air plane crash pic.twitter.com/SSZHCInz3p

— Khalid khi (@khalid_pk) October 29, 2018
Indonesia plane crash Live Updates: Several pieces of Lion Air aircraft found; rescue operation on https://t.co/NUTz1bwFwK #LionAirCrash #PlaneCrash #AirlineCrash pic.twitter.com/s92Lpcvvk3

— Business Today (@BT_India) October 29, 2018
last picture from Indonesia Lion Air flight#crash#plane_crash#indonesia#lion_air_carrier#iranpress#Last_picture pic.twitter.com/w6e5kW3l0h

— Iran Press News Agency (@iranpress_com) October 29, 2018