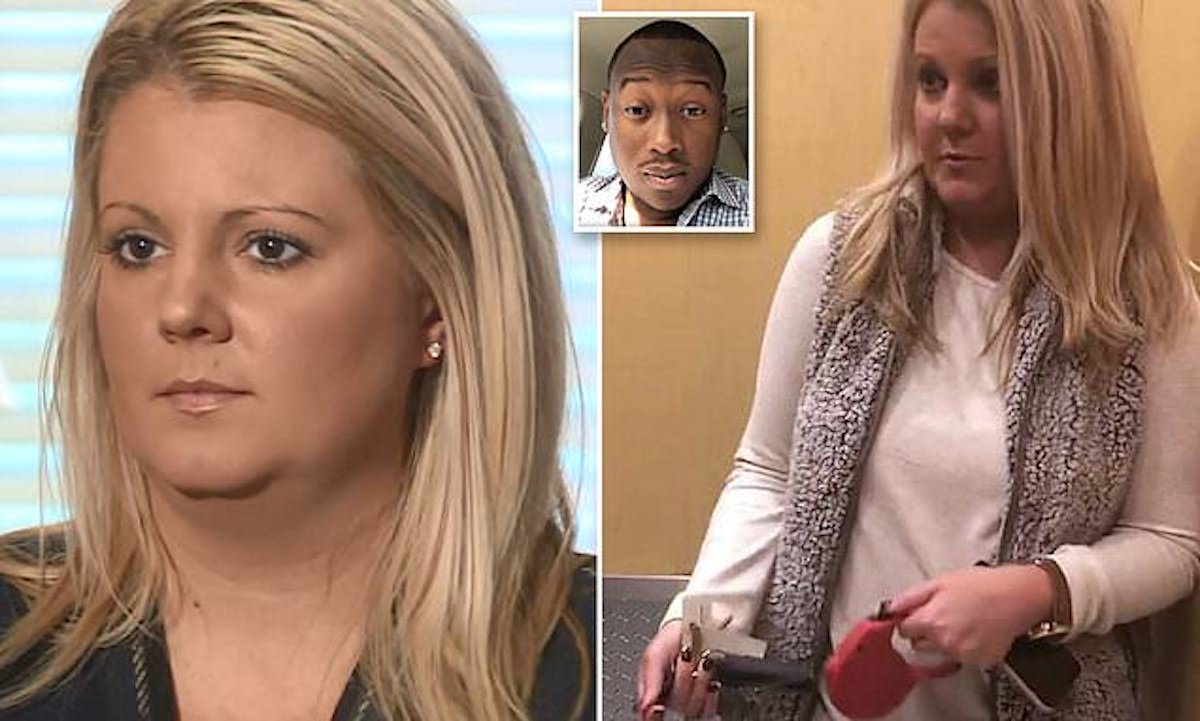 St Louis, Missouri woman, Hilary Brooke Thornton insists that she isn't racist and was only following rules when she blocked 'black' man, D'Arreion Toles from entering their building. 
A white St Louis, Missouri woman who was filmed blocking a black man from entering the building where they live has denied she is a racist and was, 'only concerned for my safety'.
The comments come after Hilary Brooke Thornton, 32, was fired on Sunday from her job as the realtor after viral footage showed her confronting D'Arreion Nuriyah Toles at their luxury condo building in Missouri City going viral.
In video D'Arreion Toles posted on Facebook, the CEO of a entrepreneurial start up said he was coming home from work on Friday night when Thornton physically blocked him from entering. 
The 24-year-old 'black man' filmed the incident as Thornton demanded to know what apartment he lived in.  
Hilary Brooke Thornton: D'Arreion Toles forced his way in.
Speaking out about the incident, Hilary Thornton told KTVI that Toles didn't have an electronic key fob and had forced his way inside.
According to the woman, Toles was only able to gain entry into the building after she'd cracked the from door while she was taking out her dog.
Thornton claims she was only following the condo board's instructions to not allow strangers inside when she repeatedly asked whether the man lived there.
'I simply asked if he lived there because the direction from the association is… that if you don't know the person, you don't let them in,' she said.
Thornton said she told Toles she couldn't let him in and asked if he had a security key fob.
'It's the only indicator any resident has that they live in the building and he wouldn't answer me. He would not show me one,' she said.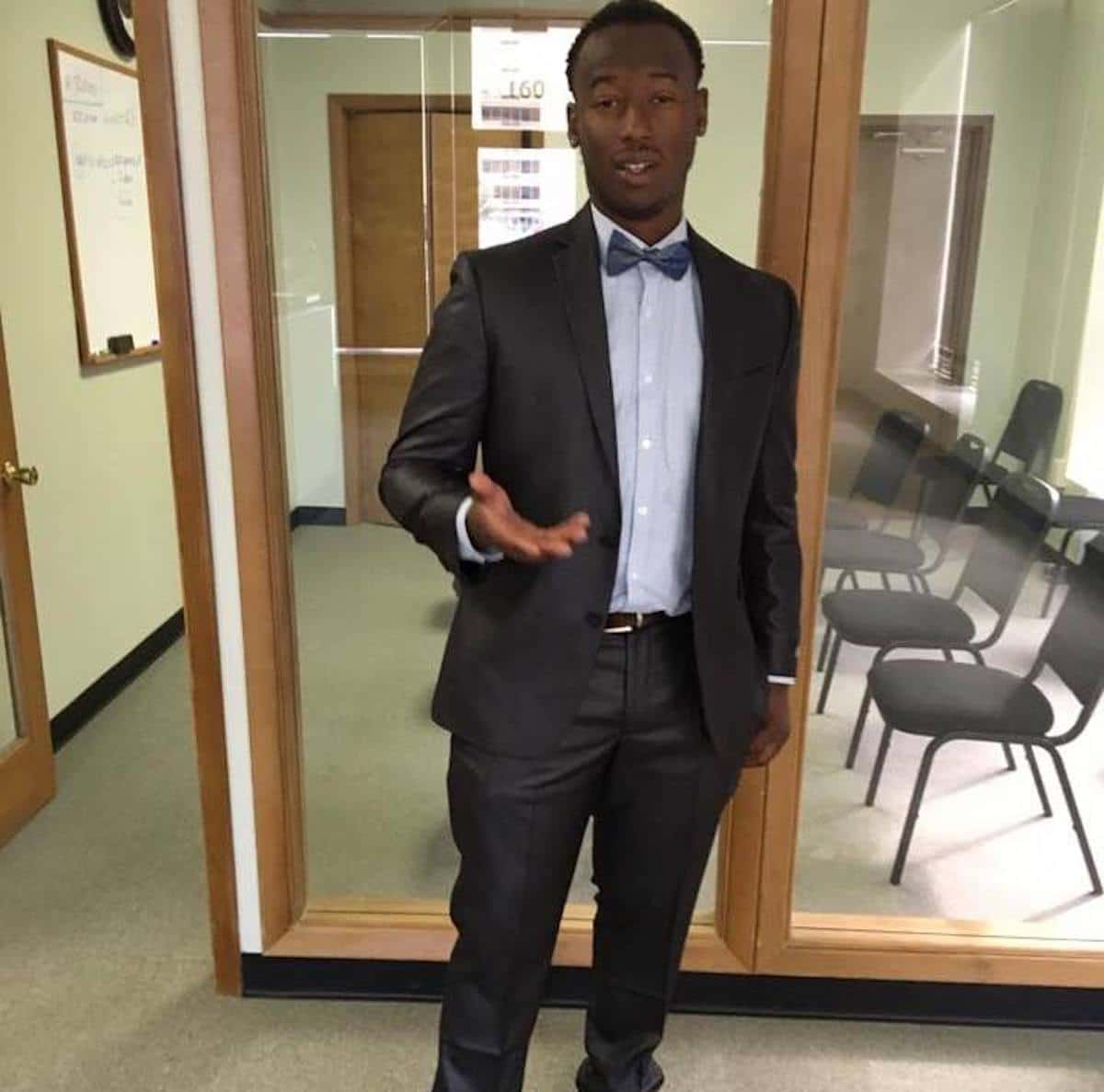 Hilary Brooke Thornton vilified on social media:
In the video, Toles can be heard saying: 'You're blocking me into my building, it's my building as well, so can you just get out of my way. I live here and your blocking my way. I've already buzzed in.' 
Thornton, who says she's been getting death threats since the video went viral, has denied she is racist. 
'That's false and heartbreaking. Those are words that cut deep,' the woman said.
Thornton was filmed asking him: 'Do you live here?… I'm uncomfortable'.
'You can be uncomfortable. That's your discretion. You're uncomfortable because you're you,' Tole replied. 
Thornton claims her neighbor eventually forced his way inside, but says the 'altercation' wasn't filmed because the camera was facing toward the ground. 
She can be heard saying 'are you kidding me?' as Toles made his way into the building. 
The video Toles posted online shows Thornton then following him into the elevator and to the door of his unit to make sure he actually lived in the block. 
'I want to see who you are going to see,' she said in the elevator. 
After Toles opened his front door with a key, Thornton could be heard saying: 'As a record, I just want to say hi, what is your name?' 
Police responded about 30 minutes later after being called by Thornton but they didn't cite anyone. 
Thornton's employer, property management company Tribeca-STL, in a released statement said that they found the interaction 'disturbing' and terminated her employment for racial profiling. 
The company said the incident did not happen at one of its properties.   
Read the company statement, 'The Tribeca-STL family is a minority-owned company that consists of employees and residents from many racial backgrounds,'
'We are proud of this fact and do not and never will stand for racism or racial profiling at our company. After a review of the matter the employee has been terminated and is no longer with our company.' 
White woman blocks black man from entering luxury St Louis loft (fired).
The good part? The woman, HILARY BROOKE THORNTON, has been fired. I suggest if anyone sees her in their apartment complex and feels uncomfortable, they should block her and immediately call the police as she's unemployed and may be a homeless intruder.

— ILoveLadybugs (@Sheri_Hill) October 15, 2018
Sometimes I think my black brothers & sisters are more forgiving toward their victimizers than the victimizers deserve. White ppl & all racists shld be held to acct. As a white woman, Hilary Brooke Thornton Mueller disgusts me & I want her exposed as punishment & to deter others.

— LindaMilazzo (@LindaMilazzo) October 15, 2018
Hilary Brooke Thornton is a nasty piece of work. This is becoming an epidemic of black people being harassed due to racist people who feel empowered by Donald Trump & can't mind their own business. It wasn't even that long a black man got shot dead in his own home by a cop.

— JoJo (@DomajorReminor) October 15, 2018