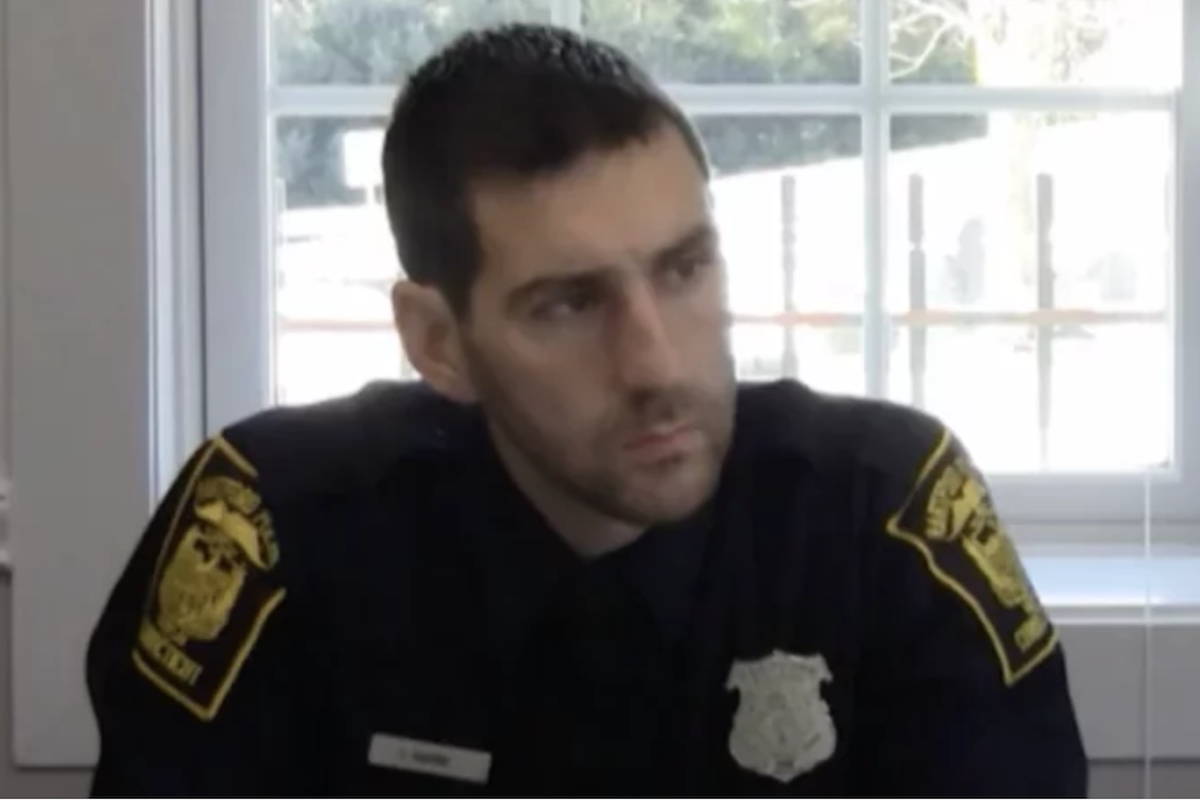 Officer Stephen Barone fired. White Hartford, Connecticut police officer filmed terrorizing black & Latino youths, 'I'm trigger happy'. Rotten apple or endemic of a broken system? 
A white Hartford, Connecticut police officer caught on video warning a group of mostly black and Hispanic young people not to fight or run away because he was 'trigger-happy' has been fired.
Hartford Police Chief David Rosado announced the termination of Officer Stephen Barone during a Wednesday press conference.
'This officer's conduct does not reflect the values of our agency,' Rosado said. 'I did not make this decision lightly. We hold ourselves to high standards, and when we fall short, we take responsibility for it. After reviewing the findings … it's clear to me that there's no scenario in which Mr. Barone can return to his duties as a productive member of the Hartford Police Department.'
The encounter between Barone and the youths was filmed during a trespassing call by a a bystander and police video- this past August.
'If anyone wants to fight or run … I'm a little trigger-happy, guys. I'm not gonna lie, and I get paid a ton of money in overtime if I had to shoot somebody. Don't do anything stupid,' Barone is heard saying in the video.
Officer Stephen Barone: 'Maybe I could have used a better choice of words.' 
Barone was also recorded saying he made the comments because he was outnumbered and needed to keep control.
Barone further told the group that he could lose thousands of dollars if he shot somebody because he would be under investigation and unable to work overtime. He also said people from the wealthy suburb where he lives only go to Hartford because they're junkies.
Barone, a 10-year veteran of the force, was assigned to desk duty and demoted from sergeant to officer after an internal investigation found that he violated the department's code of conduct.
Hartford Courant reported the police officer's salary was lowered from $89,200 to $76,800 after last month's demotion. But it didn't end there.
The Courant reported that in an interview for the internal investigation, Barone reportedly said he could have used 'a better choice of words,' but thought his words were 'effective in maintaining control.' He also said he felt 'very apologetic' for how the media had portrayed the incident.
Despite the officer's misgivings, it was by then all too late, with video angering members of the black community and religious leaders- especially in light of national instances of police brutality– with civic leaders calling for Barone to be fired- forcing Hartford Police's hand.
Reiterated Rosado, 'As a department, we are committed to building and rebuilding a strong relationship with residents across our city based on mutual respect, accountability, transparency, and a shared desire to live in a strong Hartford.'
Barone and a police union official declined to comment Wednesday.
"It is good news that Barone is no longer employed by Hartford, but the department never should have promoted him in the first place. Hartford's overall lack of police accountability guarantees a bad system, not just bad apples." – Our statement: https://t.co/OcV7YQhHSQ

— ACLU of Connecticut (@acluct) October 17, 2018