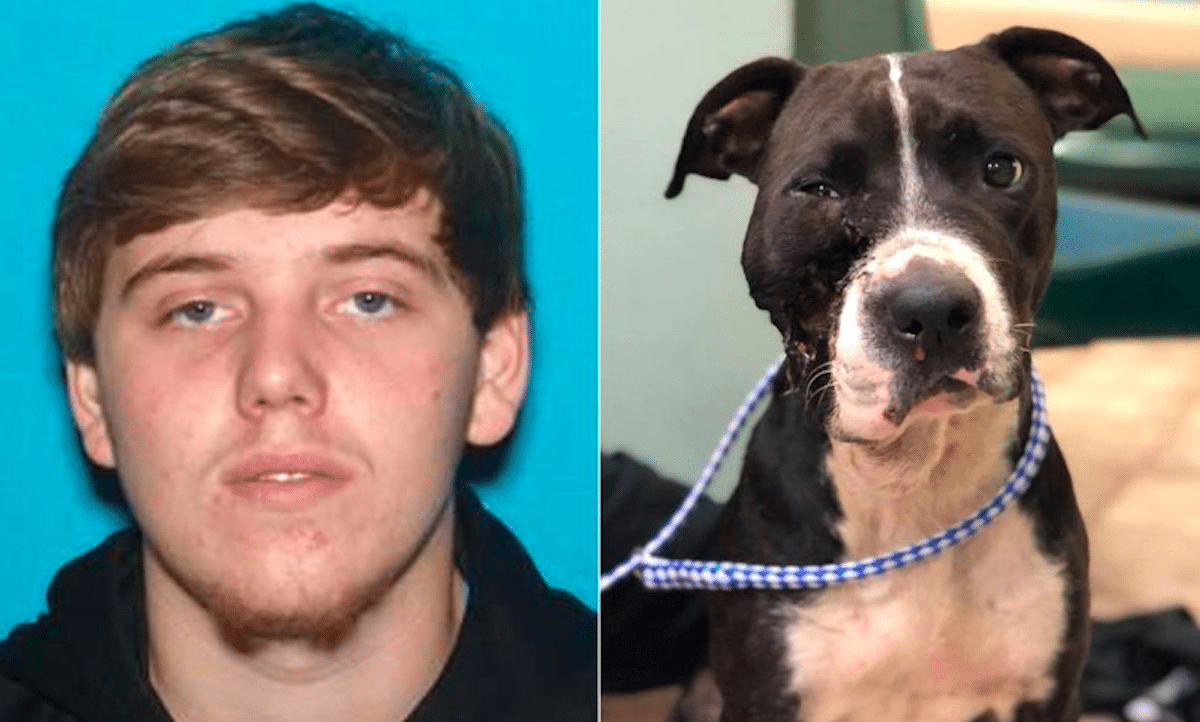 Harley Mobley Missouri teen charged with animal cruelty after shooting dog in face he thought had rabies and didn't have time to go to the vet that morning. Left for dead makes recovery.
A Missouri teen has been charged with animal cruelty after the 18 year old owner shot his two old dog in the face.
Harley Mobley of Slater was arrested after a Good Samaritan found the discarded the pit bull mix who had been left for dead by the side of a road.
SWNS.COM reported the pooch avoiding immediate death after a fired off bullet narrowly missing her brain and instead going through her cheek.
A police report noted Mobley shooting his newly acquired dog after allegedly believing the animal had acquired rabies and not having time to take her in for treatment.
Mobley remains in police custody on $7,500 cash bail.
According to workers at Unleashed Pet Rescue, an animal rescue in Mission, Kansas, the dog was found wandering the streets and smelling like 'rotting flesh'.
Incredibly upon receiving urgent medical care at the facility, Gloria was able to pull through following her October 9 discovery.
A few days later on Oct. 16, the pet rescue filed a report of animal abuse.
Harley Mobley gunshot: 'Bullet was fired point blank.'
Danielle Reno, 33, who founded Unleashed Pet Rescue, said: 'The bullet was fired point blank at her face and it blew her cheek off.'
'It just makes me sick. It had to have been a violent individual.'
'She smelled like rotting flesh because her wound was so badly infected that parts of it were rotting off already.
'As soon as she saw me she ran up to my face and tried to give me kisses. 'Despite everything, she was just as sweet as can be, and so very forgiving.'
'When they found her she had rotting tissue on her face because she had been by herself for several days,'
Adding, 'The bullet went through her mouth and into the other side, it perforated her nasal cavity, and it shattered the maxilla bone.'
'There was a bunch of swelling around one eye and the bone under her eye was shattered.'
'It's going to take several surgeries for the wound to stay fully closed because there wasn't enough tissue there.'
'They had to take a couple of teeth out and she has a broken jaw, but it could have been a lot worse.'
'It went through her cheek so she might have some physical abnormality, but she won't be affected by it long-term.'
'It's just good that the bullet didn't hit her brain.'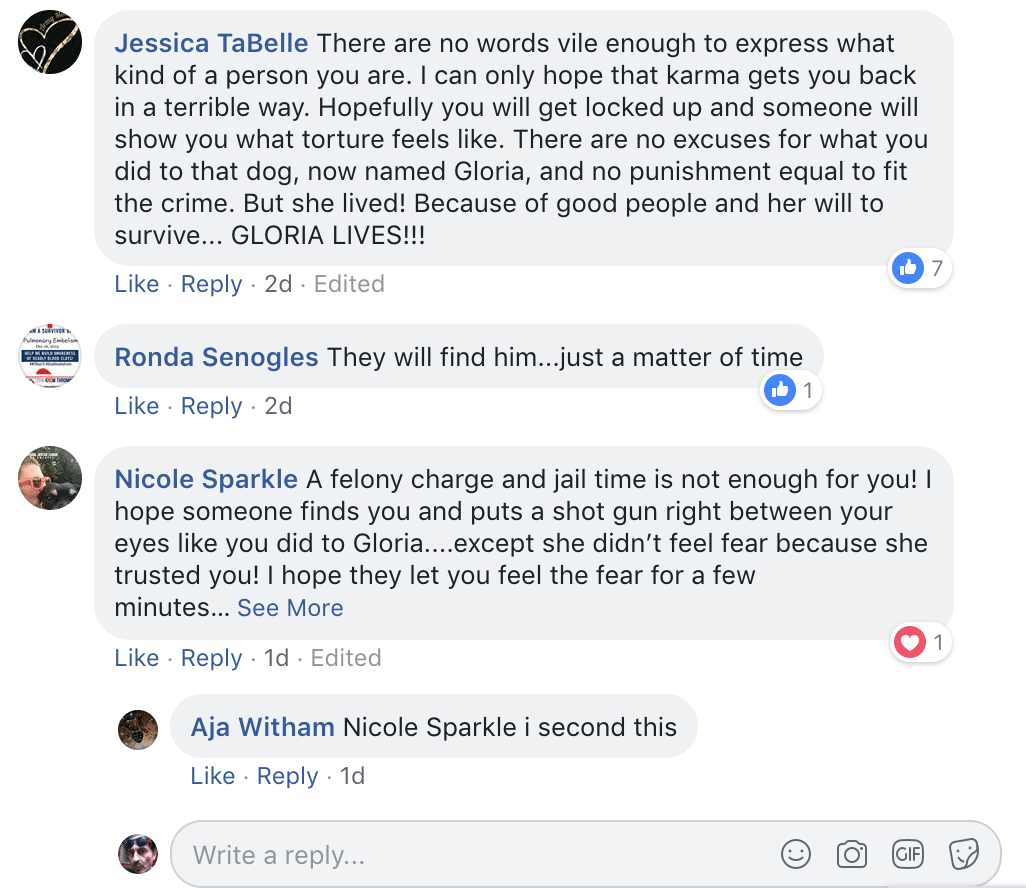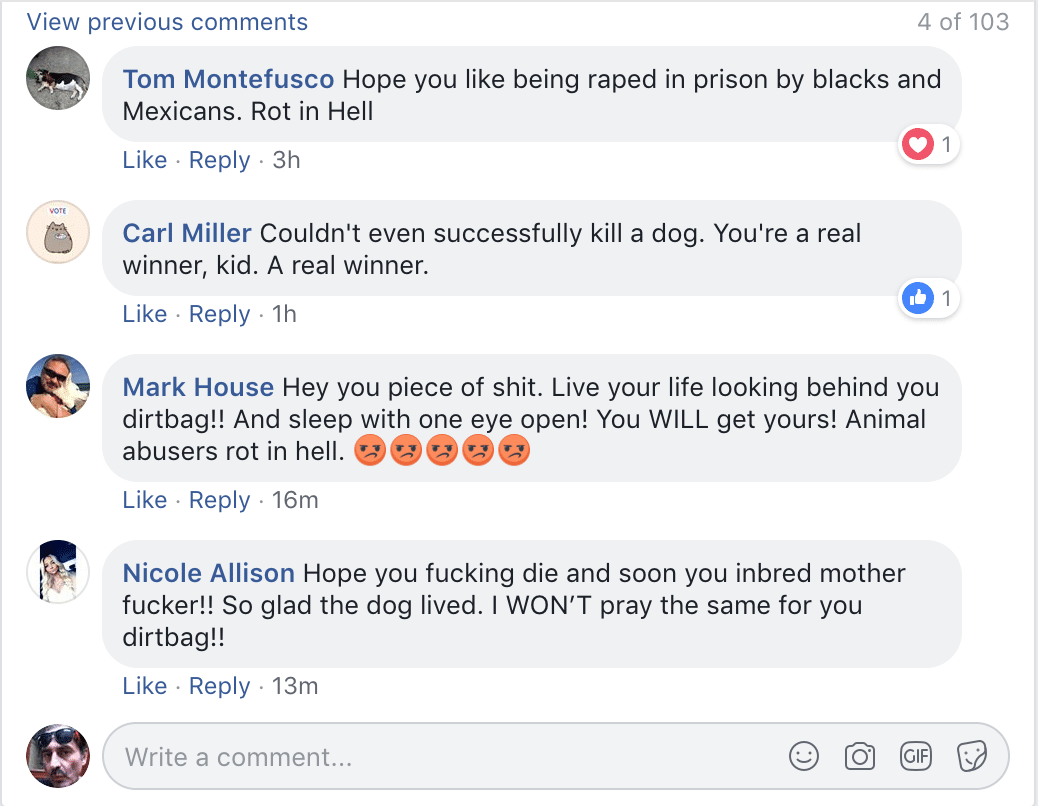 Harley Mobley Missouri teen shoots new dog shortly after previous owner gave her away.
Gloria's previous owners arranged for her to be given away earlier in the month, and it is thought that she was shot soon after she encountered her new owner.
Danielle said: 'The shot was all in the same spot in her cheek, so the shooter must have been very close to her.'
'What is remarkable about her, is that even though she was in an extreme amount of pain, she was still very, very, loving.'
'She wasn't nervous or fearful and that's the most satisfying thing to me – she still loves everybody. She still trusts everybody.'
'Now, she's going to a foster home that is going to love her until she's better.'
'Ultimately, she needs to go to a home that can devote their life to her, and give her the life that she deserves to have.'
'She has been dealt a crappy hand of cards so far in life so far and I don't want that to ever happen again. She deserves the world.'
Gloria is now on the road to recovery and rescuers are searching for a kind new owner who can give her 'the world'.