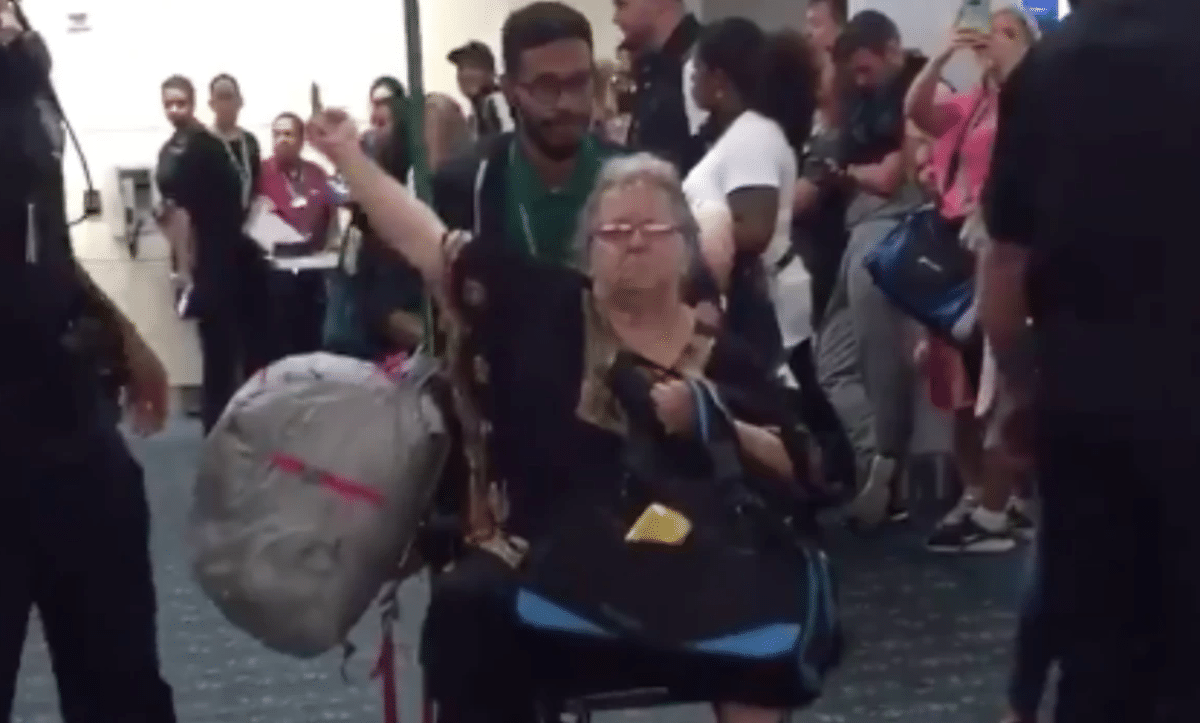 Frontier Airlines emotional support squirrel becomes an eyesore and a two hour delay after passenger is forced off flight (after surprise furry friend flyer).
Video has caught the moment a woman being booed after being 'escorted' off a Frontier Airlines plane in Orlando after attempting to board the flight with a squirrel she'd insisted was her emotional support animal.
WKMG reported the un-named passenger denoting in travel arrangements planning on flying Tuesday night with an emotional support pet-while leaving out the part that the emotional support animal was in fact a squirrel. Aka rodent. Albeit a cuddly rodent. 
A matter of fact which didn't sit too well with Frontier.
Asked to disembark the Cleveland bound flight- the passenger refused- leading to the crew summonsing police to the delight chagrin of fellow passengers who had become stymied by the flight delay.
Fellow passenger nerves were further frayed when they were asked to deplane so authorities 'could deal' with the recalcitrant passenger.
'Police eventually escorted the passenger off the aircraft and took her to the main terminal.' Frontier told in a statement. 'Rodents, including squirrels, are not allowed on Frontier flights.'
EMOTIONAL SUPPORT SQUIRREL?? Passengers on a Frontier flight in Florida were forced to evacuate after a woman brought her pet squirrel onboard https://t.co/eiAnirsuWo pic.twitter.com/o22x6a5WWE

— CBS News (@CBSNews) October 10, 2018
— Julia Papesch (@julia_papesch) October 10, 2018
Frontier Airlines emotional support squirrel conflicts with flying policy:
Footage shared on Twitter showed the woman being removed from the plane in a wheelchair — as she flashed a middle finger to jeers from other passengers.
The flight took off for Cleveland after a two-hour delay.
'The joke of the plane was hashtag squirrel so you'll probably see it all over social media,' passenger Amber Calhoun told news5cleveoland.com.
Notes Frontier's policy on its website, 'We do not accept unusual or exotic animals including but not limited to rodents, reptiles, insects, hedgehogs, rabbits, sugar gliders, non-household birds or improperly cleaned and/or animals with foul odor.'
The incidents follows airlines cracking down on what animals passengers are allowed to use for emotional support following questionable claims from insistent passengers, including this one and this one. 
According to a recent study, 61 percent of flight attendants say they have seen an emotional support animal cause a disturbance mid-flight within the last two years.
The Association of Flight Attendants called on the Department of Transportation to regulate 'rampant abuse' fostered by lax rules on emotional service animal designations — leading to a "safety, health and security issue.'
It was not known if Tuesday night's unidentified woman would face charges.</p
— Brandon Nixon (@bnix4) October 10, 2018