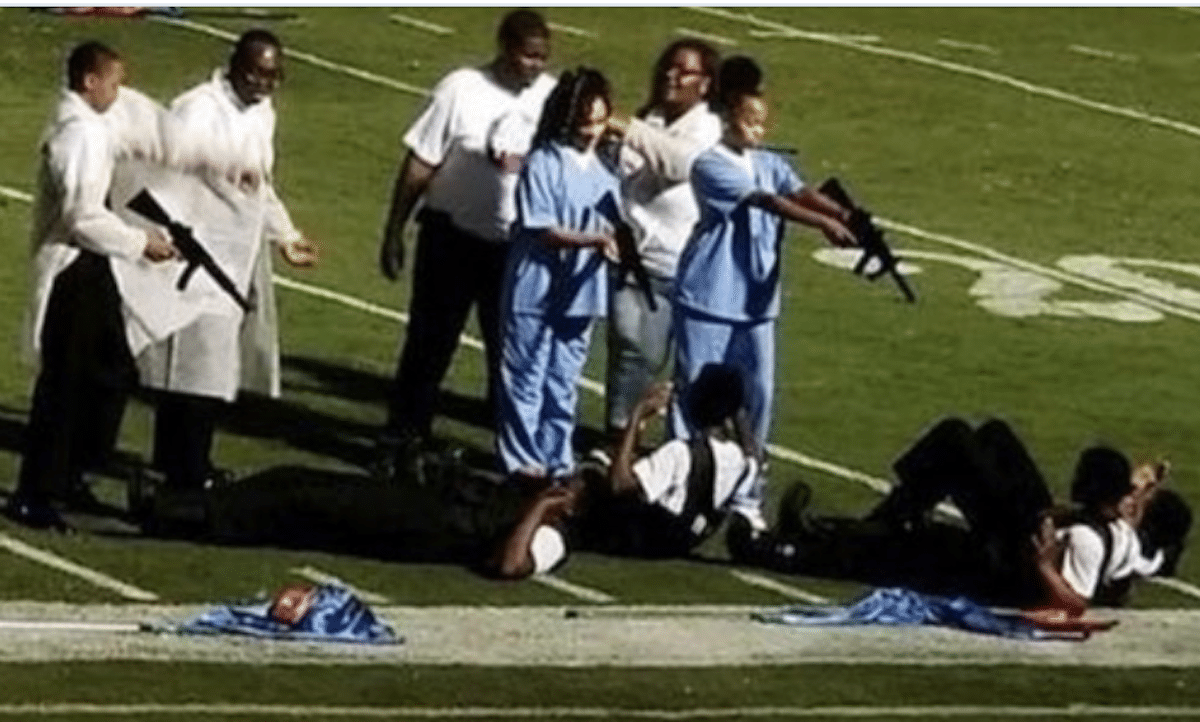 Mississippi, Forest Hill High school band halftime show infuriates community after students dressed as medical personnel holding SWAT team members at gunpoint.
A Mississippi high school has come under scrutiny following halftime band practice showing students 'mock-holding' of police at gunpoint.
Infuriating parents and community members were images of the Forest Hill High School band's performance showing students dressed as medical personnel holding SWAT team members at gunpoint as the band played.
The performance took place Friday at a football game between Forest Hill and Brookhaven High School, just days after two Brookhaven police were killed by a suspect.
Jackson Public Schools Superintendent Dr. Errick L. Greene apologized in a statement and said the skit was 'loosely' based on a movie that had a hostage scene and was not intended to depict 'people in our community.'
Read the statement in part, 'The band's performance does not depict the values and people in our community, and was incredibly insensitive to the students, families, law enforcement officials and the entire Brookhaven community. For this we sincerely apologize to all, and we pledge to do better in the future.'
Apology or not, the 'stunt' as some characterized Friday's events led to The Forest Hill High School band director being suspended after what the town's mayor said involved provoking public outrage at Friday night's halftime show.
Come Saturday, Mississippi Gov. Phil Bryant tweeted, 'This is unacceptable in a civilized society. Someone should be held accountable.'
To date it remained unclear what inspired the skit and whether students had sought to sensationalize recent events or draw attention to other themes? While others wondered whether the performance lacked tact and good taste given recent school shootings and recent shootings in the community. While others even decried the 'politically correct' brigade.
And then there were these responses on social media. See what you think?
Community outraged over Forest Hill's "insensitive" band performance at Brookhaven High School https://t.co/r96UgCDnEv pic.twitter.com/Fy0WyLQdJR

— WLBT 3 On Your Side (@WLBT) October 6, 2018
This has to be the sickest thing imaginable. For Forest Hill High School to have the audacity to come to a school in a town that just 48 hours ago buried two officers is beyond words. Where their families, friends and coworkers could have been in attendance. This is unbelievable. pic.twitter.com/eyjdsR2gv8

— Brandon Berry (@wp_berry1) October 6, 2018
This is unacceptable in a civilized society. Someone should be held accountable. https://t.co/hq3hJnj4xA

— Phil Bryant (@PhilBryantMS) October 6, 2018
Forest Hill High School mocked the death of the Brookhaven, Ms police officers during their halftime show at BROOKHAVEN tonight. I'm so beyond disgusted with @JPSDistrict that I could puke. WTF? @ChokweALumumba @WLBT @clarionledger https://t.co/QwMvPtkPXM

— THE Clay601 (@Clay601) October 6, 2018
So apparently Forest Hill's high school band did a halftime skit at Brookhaven, where fake guns were used to shoot police officers. In all places, a town where two officers were recently killed.

— Chunky Little (@TogeySprings) October 6, 2018