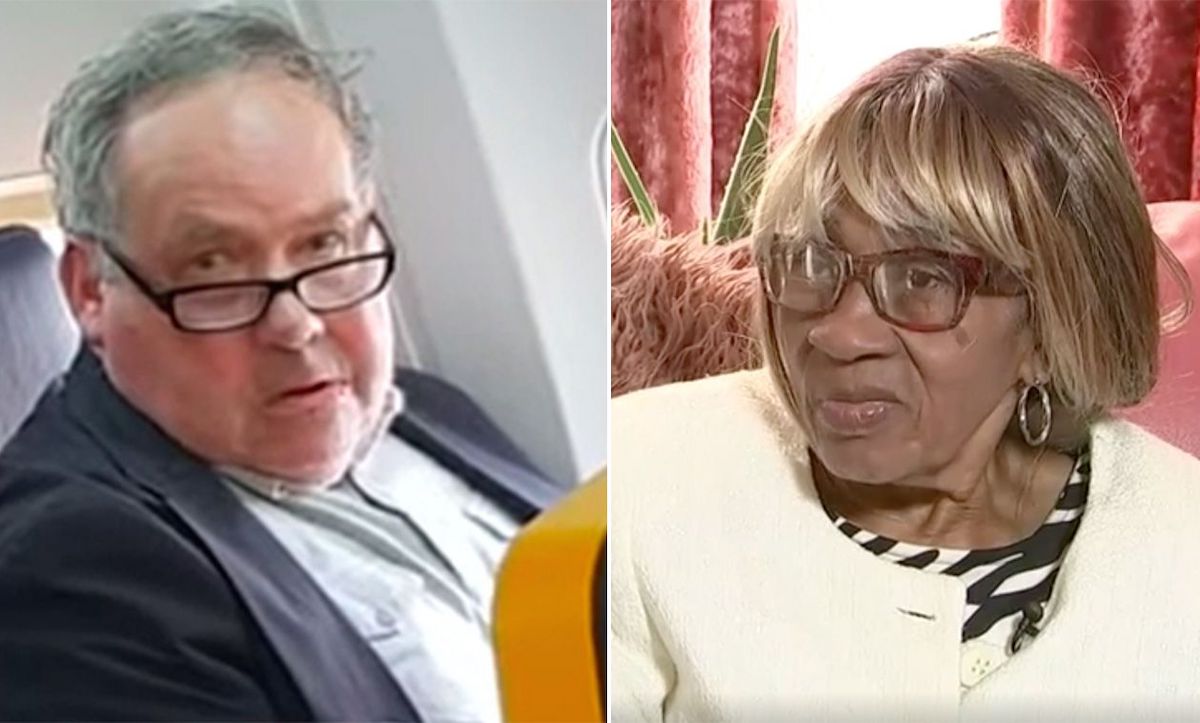 Ryanair black passenger, Delsie Gayle endures racist bile after a white man (David Mesher) savages her for not moving quickly enough- with the airline yet to apologize.
A 77 year old UK disabled widow has told of having yet to receive an apology after finding herself being racially abused by a white male passenger during a Ryanair flight from Barcelona to London.
Delsie Gayle was returning from a vacation in Spain when a white man seated by the window in the same row began yelling at her, calling her an 'ugly Black bastard' and a 'stupid ugly cow.'
'I tell you this: If you don't go to another seat, I'll push you to another seat!' the man was heard yelling in captured video (see below).
Media reported the 'outburst' apparently occurring after the disabled black passenger was unable to move out of her aisle seat quickly enough to let the abusive man sit down in his window seat.
At one point, Gayle's daughter tells the abusive man her mother is disabled- but to no avail.
'I don't care whether she's f****** disabled or not – if I tell her to get out she gets out,' the man was heard to respond.
At one point- a fellow passenger tries to intervene, asking the man to stop being abusive.
Responds the abusive man, 'I will carry on as far as I can with this ugly black bastard.'
'I feel really depressed about it. I go to my bed and say, 'What have I done?' I haven't done anything (for him) to attack me because of the color of my skin,' she told ITV News.
Gayle's daughter said that the trip abroad had been planned to raise her mother's spirits, since her husband of more than 50 years passed away nearly a year ago.
Racist white passenger revealed as David Mesher:
Come Tuesday night, the dailymail revealed the racist white male as Birmingham, UK, man, David Mesher.
Reported the Dailymail: 'Last night Mesher hid behind the front door of his sheltered accommodation flat in Birmingham when confronted.
'He refused to apologise for his vile rant towards 77-year-old Delise Gayle and said: 'Go away, there's nothing to say.'
Delsie Gayle daughter: Had the skin color been reversed police would have been called.
Mrs Gayle's daughter told ITV News that after a passenger began shouting at her mother she assumed cabin crew who had been called over would stop the abuse.
The 53-year-old therefore went to the toilet – but when she returned she found little had been done to help her mother, and Mrs Gayle was moved to another seat.
David Lawrence, a 56-year-old musician who recorded the racist rant- posted the incident on social media on Friday.
The daughter said: 'Nothing was done and I know if that was a black person racially abusing an elderly woman the police would have been called.
'When I saw the video I felt he was the victim – that's the way Ryanair was treating it. It's so upsetting to believe that this is still going on.
Describing Ryanair's approach, she added: 'On the plane it was unprofessional, and after it was unprofessional. It's all wrong, I just believe they need more training'.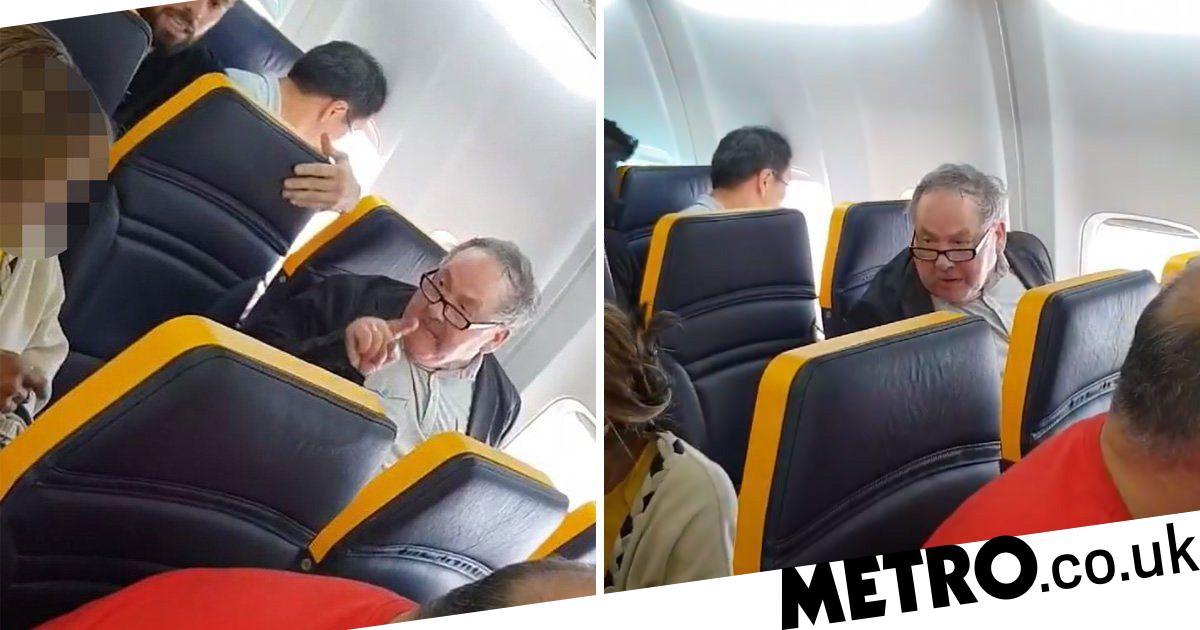 After a video of 77-year-old Delsie Gayle receiving horrific racial abuse on a Ryanair flight this weekend went viral, Delsie and her daughter Carol open up about the ordeal and their disappointment at how the airline has handled the incident pic.twitter.com/OqTGn8ZCBA

— This Morning (@thismorning) October 23, 2018
Ryanair yet to apologize after demands to boycott the airliner catch support:  
Told David Lawrence, a 56-year-old musician man who captured the incident via CNN: 'When you watch the footage, you'll see it starts to unfold where this man starts a torrent of abuse, absolutely disgusting, despicable words thrown at this elderly Black woman. If that was another situation where that was a Black man doing that to an elderly white woman, they would have escorted him off the flight. He probably would have ended up in a Spanish jail even today.'
For reasons not immediately clear, Ryanair reportedly declined to remove the racist passenger, who remains unidentified, from the flight. Instead, Gayle was the one who was forced to change seats. To boot, Ryanair- according to Gayle- has yet to apologize to her for having to endure the onslaught against her. 
The Irish-based airline tweeted that it had been in contact with authorities on Sunday, two days after the incident.
Essex police confirmed to BuzzFeed News that it is investigating the incident. 'Essex Police takes prejudice-based crime seriously and we want all incidents to be reported. We are working closely with Ryanair and the Spanish authorities on the investigation,' it said.
And then there were these reactions on social media which made this author wonder, see what you think?
When are you going to apologise to Delsie Gayle and her daughter? What a horrible level of customer care you deliver.

— Jasmine Dotiwala (@jasminedotiwala) October 22, 2018
@Ryanair you, ought to be ashamed & take action, Delsie Gayle is traumatised by what you allowed to happen, she can't sleep, she has depression. She is disabled & 77 & you, treated Her like she's nothing. Shame on you. #BoycottRyanAir https://t.co/X5zuMiP1tn

— BARAC (@BARACUK) October 22, 2018
@Ryanair unless I see some sort of evidence that you will no longer allow that man that verbally assulted a Delsie Gayle 77 year old women on the plan for no reason, I will never, nor will anyone I know ever fly with you. #racism

— Amith A (@Shimy1985) October 22, 2018
@Ryanair Shame on you Ryanair! Your handling of the Delsie Gayle incident was shocking and your continued silence is worse!! #BoycotRyanair

— deeps (@deep99) October 22, 2018
for me it's a straight boycott @ryanair situ… I don't want to contribute or comply with an airline that STILL takes no responsibility and shows no remorse for the treatment toward Delsie Gayle.

— LOLA COCA (@lolacoca) October 22, 2018