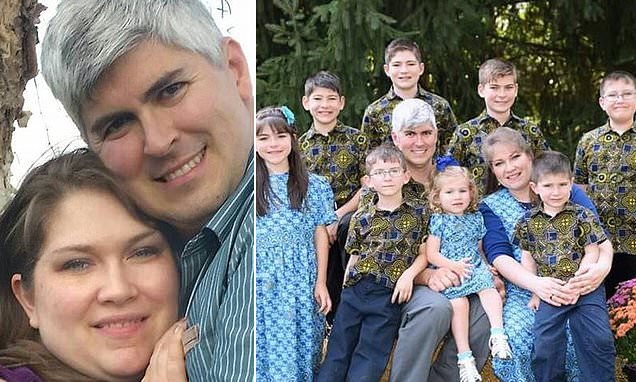 Was Charles Trumann Wesco targeted in Cameroon missionary shooting? An Indiana man who'd moved his family of 8 to the African state is killed just 12 days later. 
An Indiana man and father of eight who had moved with his family to Cameroon to perform missionary work was shot and killed, 12 days after moving his Indiana family to the troubled African state.
The Indianapolis Star reported Charles Trumann Wesco dying, October 30, after sustaining a bullet wound to the head en route from picking up provisions.
According to Kingue Thomson Njie– the director of a regional hospital where Charles Wesco was rushed- the  man's death came amid fighting between armed separatists and soldiers.
According to a Facebook post, Wesco, 44,  and his wife, Stephanie had joined fellow missionary, Ben David Sinclair to pick up provisions from a local market in Barmenda.
Tragedy struck as the trio were making their way when a bullet shattered the car window, striking Charles Wesco who was siting in the front seat- in the head. Despite efforts to save Wesco's life, the missionary later died at hospital.
Charles & Stephanie Wesco arrived as missionaries to Cameroon, Africa two weeks ago. Please earnestly pray for this family. Brother Wesco was shot in the head on their way into town. He is Heaven. Pray for the family! pic.twitter.com/QbMRlGg1AJ

— Ben Turner (@BenTurner32) October 30, 2018
Charles Wesco brother: 'Their objective was to share the love of Christ with people in a very poor and strife-ridden country,'
Following Wesco's shooting death- questions arose whether the missionary had been specifically targeted.
The Wesco family who'd done many missions to Africa before deciding to make a permanent move- now believe the missionary was specifically targeted.
Speaking to ABC News– Wesco's brother, Indiana state Rep. Timothy Wesco, said it appeared Charles, had been 'targeted'. The claim comes counter to military officials who say the missionary dying after being caught in crossfire.
Told the brother, 'It was quite probable he was targeted because he was a white, English-speaking American'.
'Their objective was to share the love of Christ with people in a very poor and strife-ridden country,' reiterated Wesco's brother. 'That was their passion, and that was their life — to share Jesus Christ.'
"My dear husband, Charles, is now with the Savior whom he has worshiped and faithfully served for many years". ~ Stéphanie Wesco, wife of deceased missionary Charles Wesco. Biya of #Cameroon needs to end this stupid war. @RepWesco @GovHolcomb @SenToddYoung https://t.co/oducU0fpLD

— Israel Ayongwa (@iayongwa) October 30, 2018
Charles Trumann Wesco killed despite the US Embassy issue warning.
Armed separatists have been fighting with the military in a revolt to create an independent state in the English-speaking northwest region of Cameroon, a former French colony.
At least 400 civilians have been killed in the last year since the English-speaking militants declared independence, according to the International Crisis Group.
Armed groups staged an attack Tuesday to thwart the reopening of the University of Bamenda and the military fought back.
Regional Gov. Deben Tchoffo said Wesco may have been caught in the crossfire between the two.
The military killed at least four people over Wesco's death and arrested a slew of others, according to military spokesman Col. Didier Badjeck.
Defense Minister Joseph Beti Assomo called the shooting a 'terrorist ambush' on state radio, adding that an inquiry had been launched.
The Wesco family raised money to perform missionary work in Cameroon for two years. They were fully aware of the risks, penning a September-October newsletter about a curfew where 'English section civilians are not allowed to safely leave their homes or operate their businesses without risking loss or death.'
'Keep praying earnestly for a return of peace to the English and French sections of Cameroon!' the couple wrote.
Of note, the United States embassy has not reacted to the shooting, but it has for some time warned U.S. citizens against travel to the country's restive regions.
Stephanie and the eight children are still in Bamenda, with Timothy Wesco sayiing the family hopes to get them out soon.