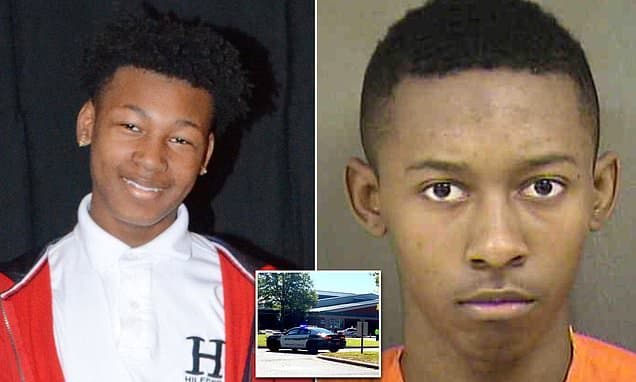 North Carolina, Charlotte teen, Jatwan Craig Cuffie arrested in shooting death of fellow Butler High School classmate, Bobby McKeithen. Shooting death case of escalating bullying. 
Charlotte police have identified the identity of the North Carolina high school student fatally shot by a fellow classmate, Monday- in a case of bullying, 'escalating out of control'.
Gunned down in a crowded hallway at Butler High School was tenth grader, Bobby McKeithen. Arrested with his fellow classmate's murder was 16 year old teen, Jatwan Craig Cuffie.
WBTV reported McKeithen dying shortly after being rushed to hospital.
Upon his arrest, Jatwan Cuffie, a ninth grade student was charged with first degree murder. The teen is scheduled to be charged as an adult. 
School authorities described the shooting happening just before classes at 7.15am in the main hallway of the school- with the unfolding scene caught on video.
Footage on Instagram showed screaming students fleeing the hallway after the suspect pulled a gun on the victim. 
At Butler High School, site of a fatal school shooting. Expecting updates throughout the day. pic.twitter.com/ODXFENbj9A

— Adam Bell (@abell) October 29, 2018
MURDER SUSPECT AT BUTLER HIGH SCHOOL WAS 16

Jatwan Cuffie, 16, (Left) is the young man police say murdered Bobby Mckeithen (Right) during a shooting at Butler high school in Matthews, NC.

The shooting occurred during a fight between the two boys. Jatwan was arrested. pic.twitter.com/POYOZIXvI8

— Charlotte Alerts News (@AlertsCharlotte) October 29, 2018
never thought there would be a day where i wouldn't see your smile, you are always going to have the biggest chunk of my heart. thank you bobby mckeithen for making my life better. thank you for everything❤️ #LLB pic.twitter.com/2iwu2O25gJ

— Jonna Henry (@issajonna1) October 29, 2018
Jatwan Craig Cuffie a victim of bullying?
Matthews Police Department Captain Stason Tyrrell said a school resource officer was in the school cafeteria when he and security officers heard a commotion and encountered students running in an adjacent hallway.
The resource officer found the injured victim, tried to give aid and immediately called for a school lockdown.
Shortly after the shooting, Cuffie confessed to the shooting- before surrendering to authorities. 
Charlotte-Mecklenburg Schools Superintendent Clayton Wilcox said the shooting appears to have stemmed from a case of bullying 'that escalated out of control.' 
Neither Wilcox nor Tyrrell said which student was being bullied. Nevertheless social media postings indicated Cuffie being a victim of bullying. It remained unclear if the teen had intended to use the weapon as retribution against his tormentor(s) or had brought it along as an act of deterrence and defense.
Also not clear is to what degree educators were aware of tensions at the school and what actions, if any, that were taken?
Of note, classmates relayed the two students having an altercation over the weekend with tensions continuing in the school hallway, Monday morning. 
High school student Jorge Sanchez told WSOC-TV that the shooting happened as the result of an argument that escalated. 
He said the victim, a friend of his, was shot in the back as he walked away.
'I saw the gun and I had to run,' Sanchez said, adding that the gunshot sent students scurrying through the halls.
'This is really sad to see someone go that… has been your friend, for I don't know how many years,' Sanchez said.
Another student told WCNC she witnessed the altercation, noting she heard 'a pop' before the two people involved started 'wrestling on the ground'. 
BUTLER HIGH SCHOOL SHOOTING: Text messages from a student inside Butler High.

Police confirm a student shot another student at Butler High School.

The school is on lockdown. https://t.co/9B9VYxRdYo pic.twitter.com/Ko5XQTxGwj

— NBC Charlotte (@wcnc) October 29, 2018
One student has been injured and another taken into custody following a shooting at Butler High School in Matthews, North Carolina. https://t.co/j4NZKq6nGE

— Twitter Moments (@TwitterMoments) October 29, 2018
Could Butler High School shooting have been preempted? 
Police said several people apparently knew there would be an altercation at the school, but police had no information on it prior to the incident.
'Someone asked me how could someone, especially a student, come onto one of our campuses with a loaded gun, and I wish I had an answer to that,' Wilcox said. 
'There really is no easy answer. We do not have metal detectors in our schools. We do not search our students on the way into school. Our schools and students rely on cooperation between and among each other. And today, that simply wasn't enough.'
Wilcox said that many students witnessed the shooting, and counselors and psychologists were available.
'There were many kids in the hallway when this happened,' he said.
'We're incredibly saddened by the fact that we had a loss of life on one of our campuses today. What makes it doubly difficult is that it was one of our students who was the shooter,' he said. 
While police have not confirmed what kind of gun was used, Wilcox said: 'I don't know how a young person gets a handgun in the state of North Carolina.' 
He said the system was reviewing its security procedures. 
School officials lifted the lockdown after two hours and said families could pick up students at the main entrance. 
Classes were proceeding for students who remained on campus. The diverse student body of about 2,000 at the school in North Carolina's most populous county is about one-third white, one-third African-American and one-quarter Hispanic.
In 2014, Butler High School was named as the fifth highest rated high school in North Carolina, by U.S. News and Report. In 2018, the school's graduation rate was over 91 percent. The school's website says that there are 2123 students enrolled in the school.
"You could see it in the kids eyes when they came out of the building… A lot of them were crying."

Parents and students react to fatal shooting at Butler High School.

FULL STORY » https://t.co/AnTHERcXud #CLT pic.twitter.com/QfKxniIiJL

— Mark Davenport WBTV (@TheDavenReport) October 29, 2018
🙏🏽 Prayers up to the family and friends of Bobby McKeithen. He is the teen who tragically lost his life today at Butler High School. pic.twitter.com/nha0iUjTdb

— Traci Young Fant (@Fantastik1) October 29, 2018